NHL hobby stars of the week: Scott Hartnell, Sidney Crosby, Henrik Zetterberg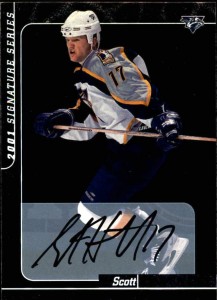 By Eric Norton | Beckett Hockey Analyst
It's Wednesday, and that means we run down the three Hobby Stars of the Week and let collectors know why they should examine their cards.
Scott Hartnell, LW, Columbus Blue Jackets
Hartnell paced the league as he netted five goals (5-0-5) last week as he and the Blue Jackets picked up wins in three of their four games. He opened the week with his fifth multi-goal effort this season as he scored twice (2-0-2) in a shootout win over the Hurricanes. The Blue Jackets then traveled to Detroit where Hartnell scratched out his first game-winning goal of the season (1-0-1) in a 3-1 victory over the Red Wings. Back home against the Oilers, Hartnell reached the 20-goal mark on the season (1-0-1) as Columbus earned its third win in a row coming by way of a 5-4 shootout. The week came to a close as Hartnell added the tying goal (1-0-1) in an eventual loss to the Hurricanes on home ice. Hartnell made his debut in the 2000-01 campaign and has been a solid NHLer ever since. Collectors should note that of his 900 cards in the Beckett database he has just 69 autographs which seems low for someone who has been in the league for 14 seasons. The good news is that for a veteran of his caliber he is affordable on the secondary market and will not break the bank if you would like to start collecting his cards now.
Cards to Grab:
2000-01 Upper Deck #226 YG RC, $20
2000-01 BAP Signature Series Autographs #237, $20
2012-13 The Cup Limited Logos Autographs #LLHT JSY/50, $50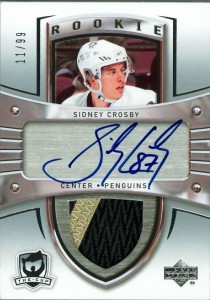 Sidney Crosby, C, Pittsburgh Penguins
"Sid the Kid," who isn't a kid anymore, shared second place with Hartnell in points last week with five (2-3-5). Crosby and the Pens opened the week in San Jose where they feel to Sharks in 2-1 shootout loss that saw Crosby net Pittsburgh's lone goal on an assist from David Perron to send the game into overtime. There nights later the Pens played host to the Oilers in a game that saw 10 total goals as Crosby (1-2-3) led the Pens to a 6-4 win over Edmonton. Crosby closed the week by adding an assist to his point total on the Pens only goal in a 5-1 loss to the Red Wings. In the collecting world there isn't much that can be said about Crosby that hasn't already been said. Simply put, he is this generation's Greatest Thing on Ice and his prices on the secondary market prove it. The Beckett database shows he has 3,966 cards, 18 of which are Rookie Cards, and a grand total value of $208,471.25 excluding rarities. That is nearly a quarter-million worth of card-collecting bliss.
Cards to Grab:
2005-06 Upper Deck #201 YG RC, $300
2005-06 Upper Deck Ice #106 RC/99, $3500
2005-06 The Cup #180 JSY AU RC/99, $6000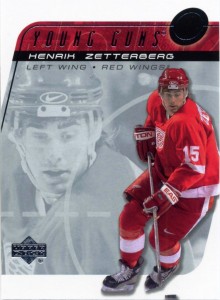 Henrick Zetterberg, LW, Detroit Red Wings
Zetterberg was an assist machine last week as he dished out five helpers and added a goal for good measure (1-5-6) as the Red Wings split wins and losses in their four games. Detroit opened the week with a 5-2 win over Edmonton as Zetterberg helped out on goals (0-3-3) by Niklas Kronwall, Justin Abdelkader and Pavel Datsyuk. Detroit then dropped a game to Columbus 3-1 in which Zetterberg was held off the board. Detroit was back on the ice two nights later in Philadelphia where it lost 7-2 but Zetterberg did add an assist (0-1-1). The Red Wings closed the week with a 5-1 routing of the Penguins that saw Zetterberg score a goal and add an assist (1-1-2) to Marek Zidlicky both coming in the second period. He has been a popular player since he came into the league in 2002-03 season, and his team's fan base has driven his popularity on secondary market. The collector won't need to cash out that 401k to invest in Zetterberg, which is a good thing, but bidding wars should be expected.
Cards to Grab:
2002-03 ITG Used #198 RC/100, $100
2002-03 Private Stock Reserve #160 RC/99, $120
2002-03 Upper Deck #234 YG RC, $200
Young of the Week – 2010-11 Upper Deck # 219 Taylor Hall, $50