NHL Hobby Stars of the Week: Price, Seguin, Tarasenko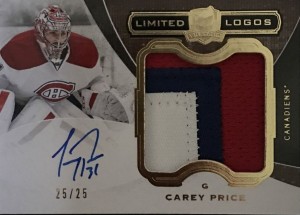 By Eric Norton | Beckett Analyst
It's Tuesday and that means we run down the players that collectors should be making note of.
Carey Price, G, Montreal Canadiens:
Price and the Canadiens have started the 2015-16 campaign absolutely on fire. Last week behind his goaltending they were a perfect 3-0-0 and he posted a .963 save percentage and very nice one goals-against average as well. He opened the week with 31 saves on the road in Pittsburgh as Montreal skated to 3-2 win. In their next outing, Price notched the 35th shutout of his career in a 3-0 win over the Rangers. Montreal closed the week with a 4-1 win over the Red Wings as Price turned away 21 of the 22 shots taken by Detroit. Price is no stranger to this list at all, and collectors are well aware of the price the tag that can come along with cards. With that being said, there are a few options from the 2014-15 season that won't break the bank.
Cards to Grab:
2014-15 SP Authentic '94-95 SP Retro Die Cut Autographs #45B AU – $60
2014-15 The Cup Limited Logos Autographs #LLCP AU/25 – $125
2014-15 Ulitmate Collection '04-05 Retro Ulitmate Signatures #RUSCP B – $50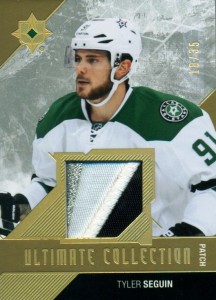 Tyler Seguin, C, Dallas Stars:
The second entry is no stranger to this list either. Seguin was tied for first in scoring in the NHL last week with three goals and four assist (3-4-7) helping the Stars to a trifecta of wins. He opened the week with a single assist versus Edmonton as Dallas cruised to a 4-2 win. Things picked up for the Ontario native against Tampa Bay as Seguin added a goal and an assist (1-1-2) in the Stars next outing. By the end of the week, Seguin was in his zone doubling his scoring totals from the previous game (2-2-4) which included the game-winning goal in 4-2 win against Florida. As mentioned before Seguin was featured several times last season on this list, and collectors are well aware of this young star by now. Just like Price there are some very nice cards that can be had from the 2014-15 season.
Cards to Grab:
2014-15 The Cup Trios Patches #C3GOALS Seguin / Nash / Pavelski/10 – $60
2014-15 Ultimate Collection Gold Spectrum #51 Patch/35 -$25
2014-15 Upper Deck Premier #135 JSY AU/49 -$80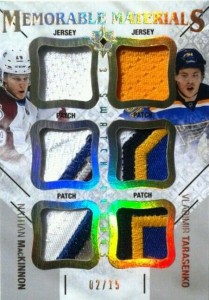 Vladimir Tarasenko, RW, St. Louis Blues:
Tarasenko was second in scoring last week netting three goals and adding three helpers as well (3-3-6) which helped the Blues rack up four wins in a row. Early in the week Tarasenko grabbed an assist in Calgary (0-1-1) and a goal in Edmonton (1-0-1) as the Blues kicked off a swing through Canada with wins and set the tone for the rest of the week. Tarasenko then added two assist (0-2-2) against Vancouver in a 4-3 win and closed the week with two goals (2-0-2) against Winnipeg as the Blues skated to a 4-2 victory.  There is a theme here as collectors are well aware of the value found in Tarasenko, and the St. Louis fan base is as well.
Cards to Grab:
2014-15 The Cup Trios Patches #C3ST Backes / Tarasenko / Oshie/10 – $50
2014-15 Ultimate Collection Memorable Materials Triple Swatch Combos #MM3MT MacKinnon / Tarasenk/15 – $40
2014-15 Upper Deck Premier Mega Patch Chest Logos #PMPVT /19 – $120
On The Rise,  2015 Sports Illustrated for Kids #400, – NA