NHL Hobby Stars of the Week: Kuznetsov, Markov, Quick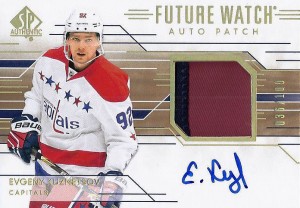 By Eric Norton | Beckett Analyst
It's Tuesday and that means we run down the players that collectors should be making note of.
Evgeny Kuznetsov, C, Washington Capitals:
Kuznetsov was the standard for scoring last week posting three goals and six assists (3-6-9) helping the Caps to wins in all three of their outings. He opened the week with three assists in a 6-2 victory over the Flames. In their next outing, he had a lone assist, but it was to Alex Ovechkin for the game winner in a hard fought 3-2 win over Vancouver. He closed the week with a hat-trick and two more helpers (3-2-5) setting career marks for goals, points, and plus/minus in a single game in a 7-4 win over the Oilers.  Kuznetsov is no stranger to the fan base in Washington nor to collectors either. He had a stellar rookie season and the secondary market is a reflection of that. The Caps are off to a hot start and Kuznetsov figures to be a big part of any future success that Washington may have. Picking up some key singles may not be a bad idea.
Cards to Grab:
2014-15 SP Authentic Limited #288 JSY AU/100 – $50
2014-15 The Cup #173 JSY AU RC/249 – $80
2014-15 UD Masterpieces Autographs Red Framed Cloth #167 /30 – $60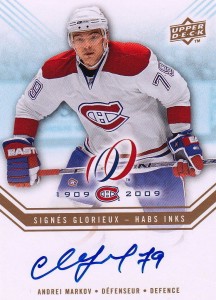 Andrei Markov, D, Montreal Canadiens:
Markov posted a 1-5-6 week which was good enough for a share for the lead in scoring among defensemen as the Canadiens continued burning through the league. All was quiet on the scoring front for Markov when the week opened as the Habs skated past the Blues in a 3-0 win. However, in their next outing Markov more than made up for being held off the scoring sheet with four helpers and a goal of his own (1-4-5) in an impressive 7-2 win over Buffalo. In their final game of the week, Markov added one more assist for good measure in a 5-3 victory over the Leafs.  Markov has spent his entire career with the Habs and fans of Montreal are well aware of just how important his. Despite his long career he has less than he has just 47 autographs in Beckett Database, and the prices range from just a few bucks to upwards of $200.
Cards to Grab:
2008-09 Upper Deck Montreal Canadiens Centennial Habs INKS #HABSAM AU – $25
2009-10 SP Authentic Rookie Review Autographed Patches #RRMV /100 – $40
2012-13 Fleer Retro Autographics 1999 #99AM D – $10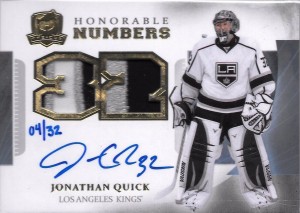 Jonathan Quick, G, Los Angeles Kings:
Quick recorded a 1.00 goals-against average and a .971 save percentage last week as he posted a 2-0-0 record. He opened the week with a shutout denying all 40 shots the Hurricanes took and the Kings skated on to victory 3-0. Quick followed that up with 26 saves against the Oilers helping the Kings to a 3-2 win in Edmonton. Quick is a popular player and has a large following with collectors. The prices that his cards demand on the secondary market are no fluke. The Kings seem to go as he goes, and currently that is on a nice little winning streak.
Cards to Grab:
2011-12 Crown Royale Veteran Silhouette Patch Autographs #32 /25 – $120
2012-13 SP Authentic Signature Stoppers #SSJQ EXCH AU/25 – $120
2014-15 The Cup Honorable Numbers #HNJQ AU/32 – $80
On the Rise, 2015-16 Upper Deck Team Canada Juniors Patch Autographs #103 Max Domi /125 -$60