NHL Hobby Stars of the Week: Jonathan Quick, Henrik Sedin, Max Pacioretty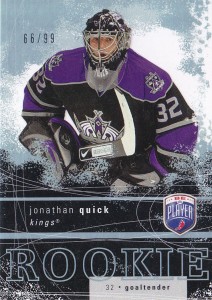 By Eric Norton | Beckett Hockey Analyst
It's Wednesday, and that means we run down the three Hobby Stars of the Week and let collectors know why they should take notice of their cards.
Jonathan Quick, G, Los Angeles Kings
Posting a 3-0-0 record with a .959 save percent average and a 1.33 goals against average, Quick was on fire last week. He began the week with 21 saves in an outing against the Lightning as the Kings outlasted Steven Stamkos and the Bolts in a 3-2 victory. He followed that performance up by doubling his saves as the Kings beat the Avs 4-1. Quick ended the week with a victory over the rival Sharks at Levi's Stadium in a 2015 Stadium Series game which extended the Kings winning streak to seven games. Quick is no stranger on the collecting front either. He has three Rookie Cards all of which will cost you a pretty penny on the secondary market.  The hardest to find of these is his Be A Player which is numbered to 99.
Cards to Grab:
2007-08 Be A Player #247 RC/99, $300
2007-08 SP Authentic #177 RC/999, $200
2011-12 Crown Royale Veteran Silhouette Patch Autographs #32 /25, $120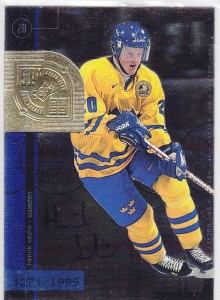 Henrik Sedin, C, Vancouver Canucks:
Sedin was on top of his game last week as he shared the lead league with eight points helped by his four consecutive multi-point games. Leading off the week against the Wild, Sedin posted a goal and an assist (1-1-2) in a close 3-2 win. The Canucks next outing was even closer as they topped the Rangers in a 5-4 shootout victory in a game that saw Sedin score two goals including the tying one with just 2:00 left in regulation. Rounding out the week he added a pair of helpers in games games against the Devils and the Islanders respectively. Sedin is another guy who doesn't have too many Rookie Cards to be found; in fact he has just one from 1997-98 Black Diamond set. But he and his brother Daniel Sedin have created a following of their own with Canucks fans. Given his popularity his cards aren't tough to find but can sometimes demand a premium for high end cards.
Cards to Grab:
1997-98 Black Diamond #136 RC, $12
1998-99 SPx Top Prospects Radiance #80 AU/100, $60
2000-01 Swedish Upper Deck Game Jerseys #HS, $30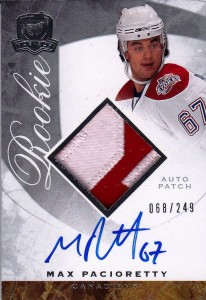 Max Pacioretty, LW, Montreal Canadiens
Pacioretty help lead the Canadiens to five of the possible eight points in the standings last week as he had a +6 rating and shared the league lead with four goals. In a 2-0 win over the Red Wings he scored once and had a helper (1-1-2) early in the week He then went on to getting on the boards with at least a point in losses to the Senators and Panthers. He closed the week with two goals (2-0-2) in a win over the Blue Jackets. Pacioretty has been stellar this season for the Eastern Conference leading Canadiens and is heating up at the right time looking ahead to the playoffs. He is also heating up on the secondary market as well. Pacioretty has six Rookie Cards in the Beckett database and 63 autographs, and given his popularity in Montréal he is a guy whose cards are collected widely by Canadiens fans.
Cards to Grab:
2008-09 The Cup #112 JSY AU RC/249, $135
2008-09 The Cup Auto Draft Boards #DBMP AU/25, $150
2008-09 Be A Player #199 RC/99, $50
Young Gun Of The Week – 2002-03 Upper Deck #232 Rick Nash, $200