NHL Hobby Stars of the Week: Abdelkader, Lindberg, and Smith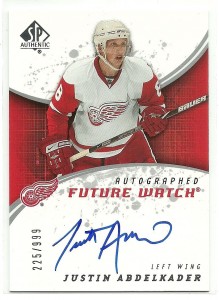 By Eric Norton | Beckett Analyst
It's Tuesday, hockey is back, and that means we run down the players that collectors should be making note of.
Justin Abdelkader, LW, Detroit Red Wings:
Abdelkader was tied for the league lead in goals this last week as his netted four of them and added an assist (4-1-5) to help the Red Wings open the season 2-0-0. He came out of the gates firing on all cylinders Friday night against Leafs and racked up his second career hat trick (3-0-3) becoming just the third player in franchise history to net three goals in Detroit's season opener. The next night in Carolina, Abdelkader added to his point total with another goal and an assist (1-1-2) scoring the go-ahead goal in a fierce 4-3 comeback win for the Motor City. Abdelkader is a hometown kid who has spent the entirety of his career with the Red Wings. With that being said his cards don't exactly command a premium on secondary markets, however, if the opening week was any indicator, that might not be the case for long.
Cards to Grab:
2008-09 SP Authentic #193 AU RC/999 -$15
2008-09 The Cup #98 JSY AU RC/249 – $50
2008-09 SPx Spectrum #165 JSY AU/25 – $60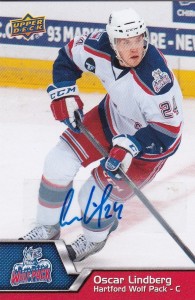 Oscar Lindberg, C, New York Rangers:
Lindberg also netted four goals last week as he helped the Rangers get off to a 3-0-0 start. In just his second career game, Lindberg opened the season with a bang scoring in a little over 90 seconds after the puck dropped against Chicago. The Rangers then traveled to Columbus where Lindberg netted his second goal of the season (1-0-1) as the Blue Jackets proved no match for the New York, falling 4-2. The Rangers then hosted Columbus on the back end of a home and home where Lindberg added two more goals (2-0-0) extending his scoring streak to three games. Obviously, since Lindberg is very early in his career he doesn't have much to offer to collectors yet. In fact, he only has 10 total cards in the database. Getting a jump on a Lindberg PC may not be a bad idea.
Cards to Grab:
2014-15 Upper Deck AHL Autographs #124 AU – $6
2014-15 Upper Deck AHL Box Set Autographs #32 AU – $8
2015-16 O-Pee-Chee Rainbow Black #528 /100 -$8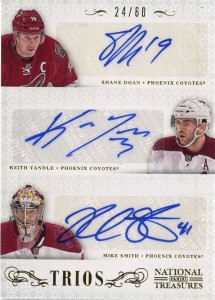 Mike Smith, G, Arizona Coyotes:
Smith and the Coyotes went 2-0-0 last week behind his solid netminding as he posted a .971 save percentage and 1.00 goals-against average. Smith opened the season by turning away 40 shots from kings which lifted Arizona to a 4-1 win over their conference foe. The following night the Penguins came calling and were sent out of town behind Smith's 27 saves as he help fend off the Pens in a 2-1 win. Smith has been around for a while making stops in Dallas and Tampa before finally finding a home in net down in Arizona, and is fairly affordable on the secondary market.
Cards to Grab:
2006-07 Between The Pipes Autographs #AMSM  AU – $20
2013-14 Panini National Treasures Trio Autographs #4 Yandle / Smith /  Doan AU/60 – $30
2014-15 Upper Deck Premier Mega Patch Chest Logos #PMPMS /26 – $100
On the Rise -2014-15 ITG Draft Prospects Pride of a Nation Jersey Blue #PN8 Dylan Larkin -$12