NHL great Phil Esposito to sell collection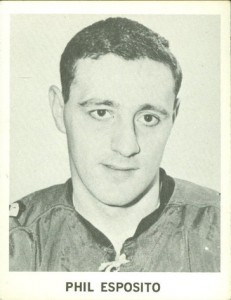 By Susan Lulgjuraj | Beckett Hockey Editor
Hall of Fame hockey player Phil Esposito is selling his personal collection, which includes awards, portraits and even a signed leg cast from a playoff injury.
Esposito's collection will be sold through Legendary Auctions in November.
Esposito kept a vast collection of items through his 18-year playing career with the Chicago Blackhawks, Boston Bruins and New York Rangers.
"Through the years, I collected items that meant something to me personally," Esposito said in a release. "They represent pieces of me and I want to leave that legacy in good hands. I wanted to be the person who decided what happened to my collection."
Legendary Auctions is calling Esposito's collection one of the most interesting hockey assemblies in existence. It includes items from his fabulous run with the Bruins from 1969-74, the 1972 Summitt Series and his time as an NHL franchise owner.
Some of the items include:
・ 1969/70 Boston Bruins Stanley Cup Award – Esposito's First Stanley Cup
・ 1972 Team Canada "Team of the Century" Award and Ring.
・ 1973 Signed Leg Cast from Playoff Injury
・ 1973/74 Lester B. Pearson Trophy won with the Boston Bruins
・ 1977 LeRoy Neiman Original Sketch Portrait
・ Historic 1979/80 Signed and Inscribed 700th Goal Game Used Stick
・ 1980/81 Signed and Inscribed Final Game Used Stick With the New York Rangers
・ 1984 Hall of Fame Induction Plaque and Ring
・ 1992/93 Tampa Bay Lightning Inaugural Season Ring, which is just one of three made.
Esposito's collection will be the cornerstone of other hockey items in the auction. Other items showcased in the auctions are:
・ Historic 1970 Bobby Orr Stanley Cup-Winning Puck – "The Goal"!
・ Bobby Orr 1975/76 Boston Bruins Signed Game Used Home Jersey – Final Boston Season
・ Wayne Gretzky Early-to-Mid-1980s Edmonton Oilers Game Used Helmet
・ Wayne Gretzky 1990s L.A. Kings Signed Game Used Jersey
"We are thrilled with the privilege of bringing Phil Esposito's items to the public," said Jeffrey Marren, VP Operations at Legendary Auctions. "The collection contains the type of memorabilia that our collectors crave – fresh, significant and unquestionably authentic. Really what this sale amounts to is yet another historic event in Phil's amazing career and an incredible opportunity for collectors to be part of it."
Susan Lulgjuraj is the editor of Beckett Hockey magazine. You can email Susan here with ideas, comments and questions. Follow her on Twitter here.