NHL 3 Hobby Stars of the Week; Carey Price, Devan Dubnyk, Cedric Paquette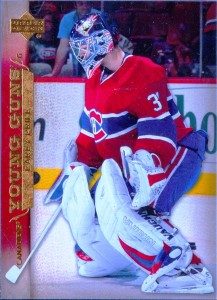 By Eric Norton | Beckett Hockey Analyst
It's Wednesday, and that means we run down the three Hobby Stars of the Week and let collectors know why they should take notice of their cards. Below are the three stars of last week.
Carey Price, G, Montreal Canadiens
Price was impressive last week as he led the Canadiens to a 3-0-0 record with a .980 save percentage, a .066 goals against average, and posting two shutouts along the way. Those two shutouts came late in the week against Eastern Conference foes New York Rangers and the Washington Capitals in which Price registered 24 and 36 saves respectively in 1-0 tallies in both outings.  Early in the week Price earned his second 40-plus-save game this season as the Canadiens topped the Dallas Stars in a 3-2 victory. Price has been a mainstay in the hobby since the 2007-08 season when his Rookie Cards hit the market. With the added benefits of a strong fan base and being a top goalie his cards have carried value since his debut.  The good news is that for the most part his cards are affordable but there are some higher-end autographs and memorabilia cards that could make the causal collector do a double take.
Cards to Grab:
2007-08 Upper Deck #227 YG RC ($80)
2007-08 OPC Premier #108 JSY AU RC/299 ($100)
2013-14 The Cup Signature Patches #SPCA JSY AU/99 ($80)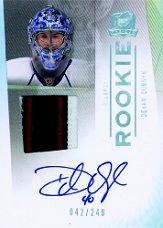 Devan Dubnyk , G, Minnesota Wild
The Wild net-minder also posted a 3-0-0 week with a .967 save percentage and 1.00 goals against average. He also added a shutout just for good measure. He started the week strong helping the Wild to a 2-1 win over his former team, the Edmonton Oilers, as he posted 23 saves in the game. Two nights later against the Calgary Flames, he stopped all 30 shots he faced in a 1-0 win, and then closed the week with a 35-save performance as the Wild laid waste to the Vancouver Canucks in a 4-2 win. Debnyk has been a bit of a journeyman in his career although he is only 28 years old. He has only appeared in eight games this season but has posted a 6-1 mark in those games. Collectors have noticed as his play has stepped up. He has just 373 cards in the Beckett database with only 10 Rookie Cards and just 38 autographs, all of which are very affordable on the secondary market.
Cards to Grab:
2009-10 The Cup #176 JSY AU RC/249 ($100)
2009-10 Upper Deck YG RC ($12)
2012-13 Panini Prime Quad Jerseys Prime #12 Ovechkin/Malkin/Stafford/Dubnyk JSY/15 ($80)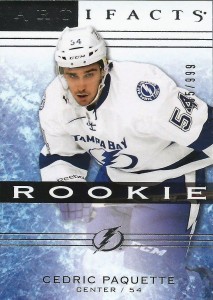 Cedric Paquette, C, Tampa Bay Lightning
The Bolts' young rookie had a very nice week netting five goals as he scored in each of three games Tampa played last week. He notched his first career hat trick in a 5-1 victory over the Detroit Red Wings and then closed the week by netting his third career game winning goal as the Lighting downed the Columbus Blue Jackets in a 3-1 win. Paquette is a perfect opportunity for collectors to invest.  With just 15 cards in the database and a lone autograph from an AHL set, there could be a nice upside to jumping on the Paquette bandwagon now.
Cards to Grab:
2014-15 Artifacts #144 RC/999 ($5)
2014-15 O-Pee-Chee Black Rainbow #519 ($12)
2014-15 SP Game Used #135 RC/54 ($30)
Young Gun of the week: 2013-14 Upper Deck #230 Vladimir Tarasenko