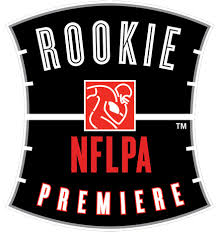 By Susan Lulgjuraj | Beckett Football Editor
The NFLPA has confirmed the list of attendees heading to the Rookie Premiere this year.
It features 36 players such as Johnny Manziel, Teddy Bridgewater and Jadeveon Clowney.
Every year, the NFLPA Rookie Premiere is used by card companies to secure elements for future releases such as autographs and jerseys. There are also pictures taken of players in their new uniforms, giving the companies a chance to capture action and head shots – no Photoshop required.
The lists are usually compiled by the card company officials, selecting about 40 players who they want to be featured in their products. It's usually highly offensive skill position heavy. So collectors can expect to see autographs of guys like Jimmy Garoppolo and Donte Moncrief throughout 2014 releases.
Breakdown by position
WR: 13
QB: 10
RB: 9
TE: 2
DE: 1
LB: 1
Players attending the NFLPA Rookie Premiere
Davante Adams, WR; Green Bay
Dri Archer, RB; Pittsburgh
Odell Beckham Jr., WR; New York Giants
Kelvin Benjamin, WR; Carolina
Blake Bortles, QB; Jacksonville
Tajh Boyd, QB; New York Jets
Teddy Bridgewater, QB; Minnesota
Ka'Deem Carey, RB;Chicago
Derek Carr, QB; Oakland
Jadeveon Clowney, DE; Houston
Brandin Cooks, WR; New Orleans
Eric Ebron, TE; Detroit
Mike Evans, WR; Tampa Bay
Devonta Freeman, RB; Atlanta
Jimmy Garoppolo, QB; New England
Jeremy Hill, RB; Cincinnati
Carlos Hyde, RB; San Francisco
Jarvis Landry, WR; Miami
Cody Latimer, WR; Denver
Marqise Lee, WR; Jacksonville
Johnny Manziel, QB; Cleveland
Khalil Mack, LB; Oakland
Tre Mason, RB; St. Louis
Jordan Matthews, WR; Philadelphia
AJ McCarron, QB; Cincinnati
Donte Moncrief, WR; Indianapolis
Aaron Murray, QB; Kansas City
Paul Richardson, WR; Seattle
Allen Robinson, WR; Jacksonville
Bishop Sankey, RB; Tennessee
Tom Savage, QB; Houston
Austin Seferian–Jenkins, TE; Tampa Bay
De'Anthony Thomas, RB; Kansas City
Logan Thomas, QB; Arizona
Sammy Watkins, WR; Buffalo
Terrance West, RB; Cleveland
Susan Lulgjuraj is an editor at Beckett Media. You can email her here with questions, comments or ideas. Follow her on Twitter here. Follow Beckett Media on Facebook and Twitter.