By Susan Lulgjuraj | Beckett Football Editor
The sixth week of the NFL season was highlighted by the rookies. Everyone was essentially talking about Robert Griffin III on Sunday with a small dose of Russell Wilson beating the New England Patriots.
However, there were other performances this week that certainly stood out.
Veteran of the Week
Aaron Rodgers, Green Bay Packers: The Packers' quarterback had an impressive game against the previous unbeaten Houston Texans. Rodgers completed 24-of-37 passes for 338 yards and six touchdowns. Additionally, it brought Green Bay back to .500 on the season and looking like the team many expected this season.
Chase cards
– 2012 Elite Aspirations /88

– 2012 Prestige Stars of the NFL Materials #13 /185

– 2012 Topps Field General Medals /50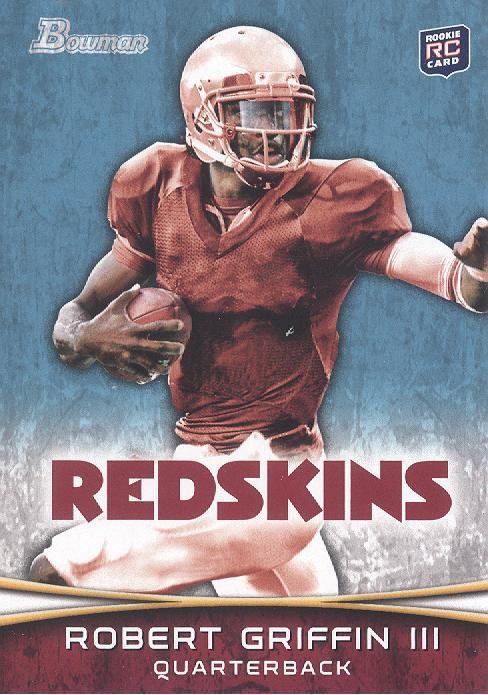 Rookie of the Week
Robert Griffin III, Washington Redskins: Griffin nearly single-handedly beat the Minnesota Vikings. He finished 17-for-22 for 182 yards with a touchdown and an interception. But he also added 138 yards on the ground and two touchdowns, including a 76-yarder.
RG3 led Washington to a 38-26 win, and now NFL fans just want to see what he could do next.
Chase cards
– 2012 Bowman #200 SP (running pose)

– 2012 Topps #340 SP (scrambling pose)

– 2012 Upper Deck 1993 SP inserts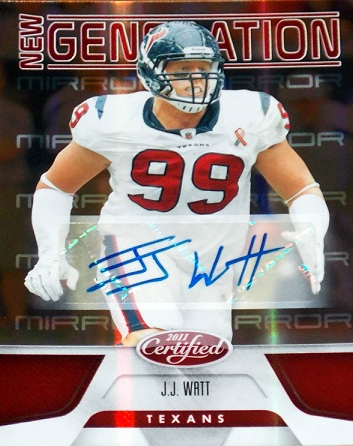 Breakout Performance of the Week
JJ Watt, Houston Texans: The defensive end has solidified himself as a top pass rusher this season. The second-year player has 9.5 sacks through six games, already more than he had last season (5.5 in five games).
Watt is turning heads with his breakout season. He's recorded at least one-half sack in every game.
Chase cards
– 2011 Absolute Memorabilia Spectrum Gold Autographs /299

– 2011 Certified Mirror Red Signatures /250

– 2011 Prime Signatures /199
Susan Lulgjuraj is an editor of Beckett Football. You can email her here with questions, comments or ideas. Follow her on Twitter here.