NFL Week 4: Monday Morning Collector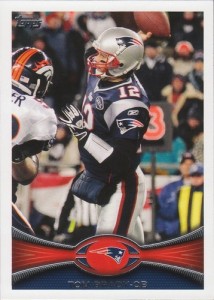 By Susan Lulgjuraj | Beckett Football Editor
With the official NFL referees back on the field, the focus is back on the game.
Week 4 saw some crazy blowouts – sorry New York Jets – and veterans returning to form.
Let's look at this week's Monday Morning Collector.
Veteran of the Week
Tom Brady, New England Patriots: The New England Patriots had a rough start to the season by their standards, and it seemed as though things would get worse as New England trailed the Buffalo Bills 21-7 early in the third quarter.
Then, Brady took over and led New England to six consecutive scoring drives in a 52-28 win over the Bills. Brady completed 22-of-36 passes for 340 yards and four touchdowns, including a rushing score.
Chase cards: Let's look at some newer Brady cards.
– 2012 Topps Quarterback Milestones Coins

– 2012 Panini National NSCC Promo cards

– 2012 Topps #440 SP photo variation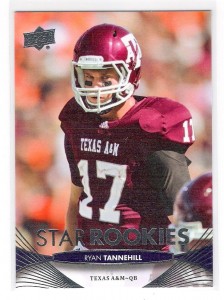 Rookie of the Week
Ryan Tannehill, Miami Dolphins: The young quarterback showed promise and gave Dolphins fans hope for the future. He didn't have a clean game, but he completed 26-of-41 passes for 431 yards and a touchdown. Unfortunately, he had two interceptions and lost a fumble in Miami's 24-21 overtime loss to the Arizona Cardinals (who are now 4-0!).
Tannehill also broke Miami's rookie throwing record, surpassing Dan Marino's 322 yards. Tannehill's mark was also one shy of the NFL record of 432 yards set by Carolina Panthers' Cam Newton last season.
Chase cards
– This 2012 Finest Superfractor
could be a fun one to own with autographs of Andrew Luck, Robert Griffin III and Tannehill. Speaking of Superfractors, here is Tannehill's base variation
from Platinum.
– 2012 Finest Atomic Rookies autograph

– 2012 Leaf Valiant Draft Football autograph

– 2012 Panini Prominence Letter Patch auto
Honorable Mention
Robert Griffin III, Washington Redskins: RG3 had another stellar outing. He led his team down the field in the final minute to set up the winning field goal over the Tampa Bay Buccaneers. RG3 completed 26-of-35 passes for 323 yards. He also ran for 43 yards and scored.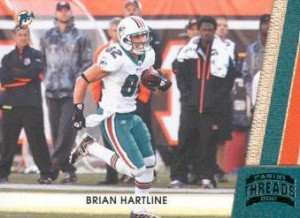 Breakout Performance of the Week
Brian Hartline, Miami Dolphins: Hartline was the big winner on the receiving end of Tannehill's big day. Hartline had 253 yards and a touchdown on 12 catches. His season yardage total of 455 yards is more than halfway to his best mark in four years.
Perhaps all the Ohio State graduate needed was a good throwing quarterback. Hartline's numbers are quickly on their way to becoming career-record statistics.
Chase cards
– 2009 Exquisite autographs

– 2009 Bowman Chrome Refractor autographs

– 2009 National Treasures
Susan Lulgjuraj is the editor of Beckett Football. You can email her here with questions, comments or ideas. Follow her on Twitter here.