NFL Week 1: Monday Morning Collector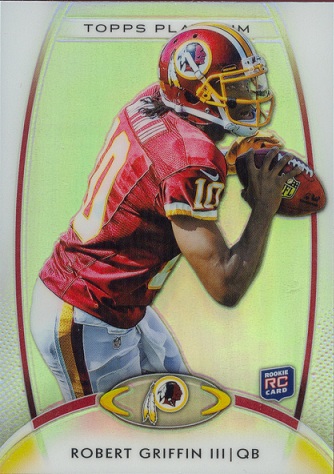 By Susan Lulgjuraj | Beckett Football Editor | Commentary
The first week of the NFL is almost over. We have just two games left on the schedule with a double dose of Monday Night Football tonight.
On Sunday, some of the teams treated us to good games – others weren't as nice. However, through it all there were players that stood out, lived up to the hype or crashed with collectors.
Here's a look at some performances and their potential effect on cards.
Rookie of the Week
Robert Griffin III, Washington Redskins: Of all the rookies – especially out of the quarterback group – he far and away stood out from the pack. RG3 didn't have an easy task either in his first NFL game facing Drew Brees and the New Orleans Saints in the Superdome. However, RG3 connected for 19-of-26 passes, including his first eight passes, for 320 yards and two touchdowns.
If you thought there was an overload of RG3 cards before, get ready. Since the Washington Redskins and New Orleans Saints game ended, there have been more than 200 new RG3 listings on eBay with cards selling high.
Currently, his Finest Rookie Card is selling for $8-$9 on eBay (Need an RG3 checklist or Online Price Guide? Click here.)
How did the other rookie QBs work out?
Andrew Luck: 23-for-45, 309 yards, three interceptions, one touchdown.
Ryan Tannehill: 20-for-36, 219 yards, three interceptions
Brandon Weeden: 12-for-35, 118 yards, four interceptions
Russell Wilson: 18-for34, 153 yards, one interception, one touchdown.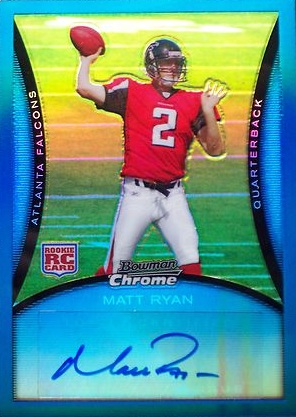 Veteran of the Week
Matt Ryan, Atlanta Falcons (checklist/OPG): The Atlanta Falcons dominated the Kansas City Chiefs in the opener. That was mainly because of Ryan, who completed 23-of-31 passes for 299 yards and three touchdowns. The biggest recipient of Ryan's success with Julio Jones, who had 108 yards and two touchdowns on six catches.
Cards to have
2008 Bowman Chrome Rookie Autographs (including refractors)
2008 Exquisite Collection #168 autograph/jersey
With a great performance, Ryan's cards might be a bump in value, but with a quarterback-heavy league, it will take a few more games like this one to see a significant increase.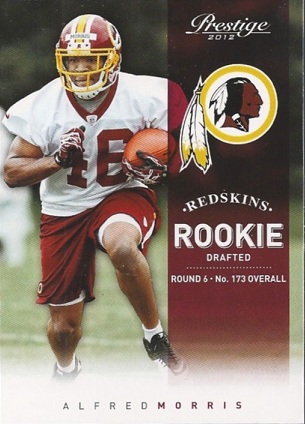 Breakout Player of the Week:
While Kevin Ogletree (checklist/OPG) is definitely a candidate for this, we already wrote about him.
Lost in the performance of the Redskins game was the day rookie running back Alfred Morris (checklist/OPG) had on the ground. The sixth-round draft pick ran for 96 yards and two key touchdowns, both times putting Washington up by two score when New Orleans threatened. Morris' TDs were the only ones scored by the Redskins in the second half as RG3 threw both his touchdown passes in the first half.
Cards to have
2012 Elite Aspirations Autographs /49
2012 Elite Rookie Hard Hats /199
2012 Elite Turn of the Century /399
2012 SPx auto /225
2012 Upper Deck Autographs
Susan Lulgjuraj is the editor of Beckett Football magazine. You can email Susan here with ideas, comments and questions. Follow her on Twitter here.