NFL refs to get attention this weekend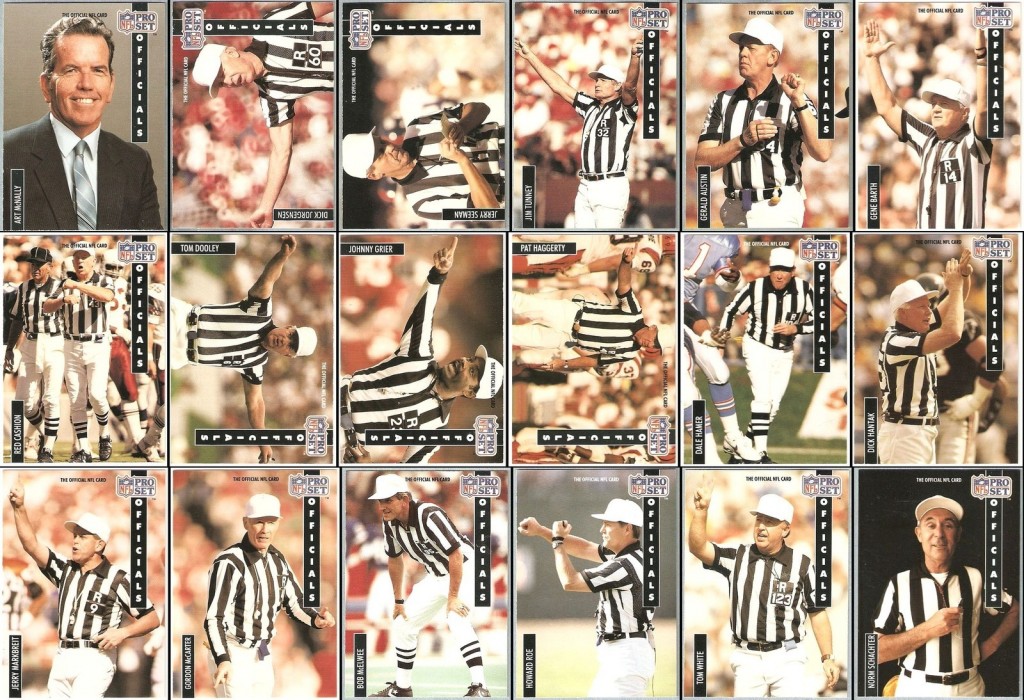 By Dan Good | Contributing Editor
The biggest stars of this weekend's NFL games aren't the players – they're the stripes-wearing, flag-carrying officials.
The 'real' referees are back, ending the league's three-week replacement ref sideshow and bringing the officiating cause into focus, a focus that has received intermittent cardboard attention.
An 18-card subset was devoted to NFL officials in 1991 Pro Set, "the first time the concept has been used in football," the Chicago Tribune wrote at the time.
It was also the last. But the full-bleed cards show the referees doing what they do best – making hand gestures and preparing to use their whistles. Red Cashion motioning for false start. Johnny Grier pointing. Jerry Markbreit signaling for first down.
Diagrams of referees also appeared on cards produced by Philadelphia in the 1960s.
And then there was 1996 Collector's Choice, which featured a Stick-Ums card showing a referee signaling for a touchdown, sharing checklist space with Brett Favre, Dan Marino and Jerry Rice.
While the NFL's officials aren't the stuff of football card legend, this remains the weekend for the referees … at least until they blow the first call, and then everything will truly be back to normal again.
Dan Good has been a journalist for more than a decade. He currently works at the New York Post. You can email Dan here. Follow him on Twitter here.