NFL Playoff Hobby Impact: NFC Teams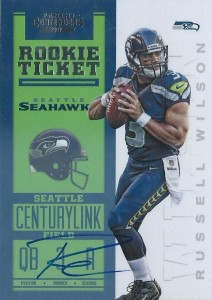 By David Lee | Beckett Football Editor

Every year the NFL playoffs provide a big boost in the hobby for the postseason's top performers. With every game on a national stage, collectors pay attention to teams and players they may have overlooked. We will look at all 12 playoff teams and see which players have already established themselves in the hobby and which have the biggest chance to benefit from a strong postseason run. First we will look at the NFC. Tomorrow we examine the AFC.
NFC
#1 Seed: Seattle Seahawks
The defending champs looked vulnerable at times this season, but allowed the fewest points in the NFL for the third-straight year. They lost four games by a combined 22 points and won nine of their final 10 games. Russell Wilson was the hobby's hottest veteran last year, and it's tough to see his top cards rising much more in value even with another Super Bowl win. His 2012 Playoff Contenders Rookie Card was by far the hottest card in the hobby last season. Running back Marshawn Lynch rushed for 1,300 yards and 13 touchdowns, and had some fantastic runs. He could get hotter if he's the one to carry the team to back-to-back Super Bowl wins. The players with the best chance to gain hobby standing are second-tier names such as receiver Doug Baldwin or rookie Paul Richardson. Of course, the "Legion of Boom" defensive backfield highlighted by Richard Sherman and Earl Thomas is always one to keep an eye on.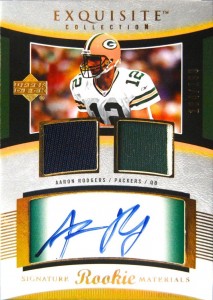 #2 Seed: Green Bay Packers
Aaron Rodgers returned from an injury that sidelined him for half of last season. He threw 38 touchdowns to just five interceptions and posted a 112.2 quarterback rating (second-best in the league). He remains one of the strongest veterans in the hobby, with his top three Rookie Cards having values of $1,000, $2,000 and $2,500. Running back Eddie Lacy was another major factor in the team's success, totaling more than 1,500 yards rushing and receiving. If the Packers win the Super Bowl, we could see his cards getting a significant bump. Receiver Jordy Nelson, with more than 1,500 yards, remains one of the most underappreciated players in the hobby. Maybe a championship will finally vault him to the hobby status of elite receivers like Dez Bryant and Calvin Johnson. Fellow receivers Randall Cobb and rookie Davante Adams also could also greatly benefit from a strong playoff run. On defense, rookie DB Ha Ha Clinton-Dix, and linebackers A.J. Hawk and Clay Mathews stand to benefit most.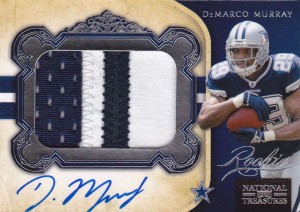 #3 Seed: Dallas Cowboys
The Cowboys have a lot of players who could make a big impact in the hobby with a strong playoff run. After several mediocre seasons and a bleak outlook for 2014, they finally found a strong identity on offense behind the NFL's best offensive line. Tony Romo posted the lowest full-season attempts and yards since he began his career, but was very effective, throwing 34 touchdowns to nine interceptions and finishing with a league-leading 113.2 passer rating. For the first time in his career, the offense focused on the running game, with DeMarco Murray leading the NFL in rushing with 1,845 yards and setting a Cowboys record. His cards got hotter and hotter as the season went on, and could move even higher if Dallas gets back to the Super Bowl for the first time in nearly 20 years. Receiver Dez Bryant also had his best year, making clutch catches and leading the team with 16 touchdowns (a franchise record). Cards of lesser-known players such as receivers Terrance Williams and Cole Beasley also could break out. Also don't overlook kicker Dan Bailey, who currently holds the highest career field goal percentage in history and nailed five field goals of 50 yards or more.
After the jump: Panthers, Cardinals, Lions
#4 Seed: Carolina Panthers
The Panthers snuck into the playoff with a losing record after winning the dreadful NFC South, giving them a No. 4 seed. After tying the Bengals and then losing six games in a row, they finished the season with a five-game winning streak. Of course, quarterback Cam Newton is by far the biggest hobby name. Veteran running back Johnathan Stewart surprised with 809 yards rushing. Tight end Greg Olsen and rookie receiver Kelvin Benjamin each finished with 1,008 yards receiving. Benjamin has been hot as one of this season's terrific rookie pass catchers. In the Wildcard round this weekend, they face a banged-up Cardinals team who finished the season winning just two of their last six games.
#5 Seed: Arizona Cardinals
The Cardinals had the best record in the NFL in mid-November, but after losing two quarterbacks to injury, finished with five loses. Quarterback Ryan Lindley is relatively unknown but could be a big breakout player if they Cardinals go deep into the postseason. He has 26 Rookie Cards from 2012—all of which can be found for less than $20 right now. Running Back Andre Ellington had a disappointing season with just 660 yards at 3.3 yards per carry. Receivers Michael Floyd, Larry Fitzgerald and rookie John Brown pretty much made the same impact in the field. Fitzgerald is an established veteran who has been to the Super Bowl, but Floyd and Brown stand to benefit the most from great postseason performances.
#6 Seed: Detroit Lions
After posting 21 total losses the past two seasons, the Lions put together an 11-5 record this year, with four of their losses coming against playoff teams. Quarterback Matthew Stafford had his worst statistical season in four years, and threw just 22 touchdowns. But if the Lions are to make an impact in the playoffs, it will be in the passing game. They ranked 28th in rushing this season. Running back Joique Bell led the team in rushing with 860 yards and seven touchdowns. With Reggie Bush taking a backseat, Bell could be the offensive player to benefit most. Calvin Johnson is still the top hobby player on offense and led the team with eight touchdowns. Golden Tate, who came over from Seattle, led the team with 99 catches for 1,331 yards. He's gotten better every season and was pretty much overlooked in the hobby this year.
David Lee is the editor of Beckett Football. He can be reached at footballeditor@beckett.com or on Twitter @FreeEnergyDude.