NFL Playoff Hobby Impact: Colts, Pats, Hawks, Pack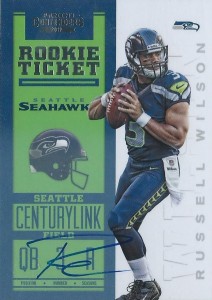 By David Lee | Beckett Football Editor
Seattle Becomes First Defending Champs to Win a Playoff Game Since 2005
It's crazy to think that no defending Super Bowl champion since the 2005 Patriots have won a playoff game, until the Seahawks did it Saturday with a convincing 31-17 win over Carolina. Of course, the Panthers won just seven games and won an NFC South division that had a combined record of 22-41-1. Russell Wilson is the unquestioned hobby star of the team, and had a terrific game with 268 and three touchdowns.
His top cards have remained very strong since getting a significant bump after winning the Super Bowl last season in just his second year. If Seattle wins back-to-back championships, Wilson's card values probably won't see as big of a rise as they did last year, but you have to think they will get some kind of increase. The biggest jump may be with his mid- to low-end Rookie Cards (priced at $135 and below).
Third-year receiver Jermaine Kearse was the surprise offensive weapon in the game with 129 yards and one touchdown—a 63-yarder in the second quarter to put the Seahawks up 14-7. They led the rest of the game. Seattle certainly doesn't have a hobby star at receiver, but keep an eye on Kearse next week. If he has another big game and helps the Seahawks get back to the Super Bowl, he could get hot. But, he was an undrafted rookie in 2012 and he has just two Rookie Cards from that year: Bowman #187A and Topps Magic #11.
The defensive hero of the game was Pro Bowl safety Kam Chancellor, who returned an interception 90 yards for a touchdown in the fourth quarter to seal the game. He also led the team with 10 tackles. Richard Sherman also had a key interception.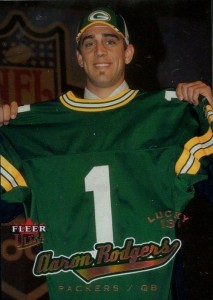 Green Bay Grinds Past Dallas
The Packers were 8-0 at home and the Cowboys were 8-0 on the road. Something had to give, and the game was as close as anyone could have expected. Green Bay outlasted Dallas 26-21, including a controversial call that overturned what was called a catch by Dez Bryant that would have set up Dallas with a first down at the 1 yard-line late in the fourth quarter.
Although the Packers struggled to score at times, and Aaron Rodgers defiantly was not at full strength, the key players stepped up when it mattered. Rodgers ended with three touchdowns, including one 46-yard catch-and-run to rookie receiver Davante Adams. Star Jordy Nelson was held to just 22 yards, but Randall Cobb made up for it with 116 yards. It's not unusual for some star offensive players to be targeted and shut down in the playoffs, opening up opportunities for other players. Adams certainly is set up to be a breakout star for the Packers.
Eddie Lacy quietly had 101 yards rushing, including a few key runs to keep drives alive. Rodgers carries so much star power that Lacy is often overlooked. Nelson is also one of the most overlooked players in the hobby, but he was not a top contributor when the Packers won the Super Bowl in 2010. He is now. Another Super Bowl win could vault his hobby standing.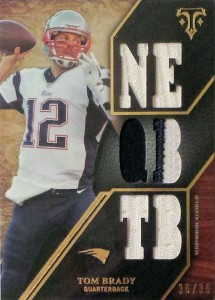 Tom Brady Breaks Records to Make Ninth AFC Championship Game
In perhaps the most entertaining Divisional Round game of the weekend, the Patriots, who had lost to the Ravens in the playoffs twice in the past five seasons, erased two 14-point deficits to get past their postseason nemesis. And, of course, it was Tom Brady who came up with another clutch performance with a terrific touchdown pass to Brandon LaFell late in the fourth quarter to take (and keep) the lead.
With that touchdown, Brady overtook Joe Montana for most postseason passing touchdowns (46). Brady finished with three passing touchdowns and one rushing score. Amazingly, he will play in his ninth AFC Championship Game next week, and it will be his fourth in a row. Brady hasn't won a Super Bowl in 10 years. Although his cards are some of the strongest in the hobby, his first championship in a decade, and his fourth in his career, could reignite interest.
The Patriots rushed for just 14 yards against Baltimore with emerging running back Jonas Gray injured. Look for that to change next week if Gray is active. Tight end Rob Gronkowski had a big game with 108 yards and a touchdown. He has appeared on the Beckett Football Hot List recently, but his card values could get a big boost with a Super Bowl win. Julian Edelman and Danny Amendola also mmade an impact after having quet seasons. Edelman hit Amendola on a receiver pass for a touchdown. LaFell is the team's top wide receiver, and has 34 Rookie Cards with the most expensive one being just $50. A few have received up arrows recently.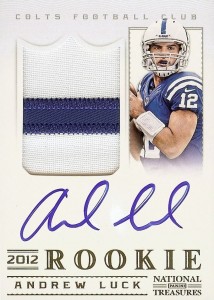 Horse vs. Horse Ends with Colts on Top
While many fans and collectors wanted to see another Tom Brady-Peyton Manning matchup, the rising Colts wouldn't be denied last night to advance to the AFC Championship game with a 24-13 win over the Broncos. The Colts have gotten better every season since drafting Andrew Luck in 2012. Luck—this month's Beckett Football cover boy—led the NFL with 40 touchdown passes this season, and his passer rating has improved by about nine points each of his three seasons. He struggles some in this game, tossing two touchdowns and two interceptions.
The Colts' running game hasn't offered much support, but Luck's cast of overachieving receivers always seem to come up with big plays. T.Y. Hilton could be a hobby star with the Colts make it to the Super Bowl. Luck's top cards have been so strong for two years that it's hard to imagine them rising in value even with a Super Bowl win. His lower-priced RCs do have a chance to get some up arrows or Hot List appearances if the young QB can get his first ring.