NFL Play 60 Kids Have Thier Own 2014 Topps Cards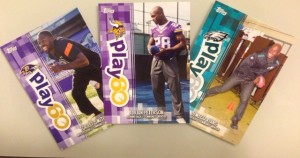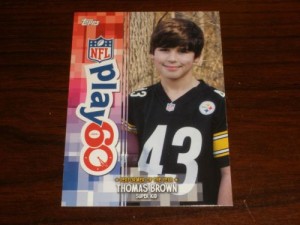 By David Lee | Beckett Football Editor
To celebrate kids across the country who are staying active for 60 minutes a day and leading healthy lifestyles, Topps and NFL PLAY 60 are partnering to include several Play 60 kids in 2014 Topps Football.
The collection will specifically feature the 2013 NFL Punt Pass and Kick Champions, the 2013 Super Bowl Contest local winners and PLAY 60 mentors on cards, featuring NFL players who are ambassadors for PLAY 60 in their communities. The PLAY 60 mentor cards feature NFL players from every team who have taken time out of their busy schedule to support and champion the PLAY 60 cause.
The 2014 Topps Football product features NFL PLAY 60 Super Bowl Grand Prize winner Thomas Brown, the 2013 NFL PLAY 60 "Super Kid." In a release from Topps, the company said "Thomas successfully demonstrated a sincere commitment to playing 60 and staying active and as a result he earned a special appearance at Super Bowl XLVIII (last February) and his very own Topps Trading card in 2014 Topps Football."
With the start of the 2014 season, NFL Play 60 and Topps encouraged kids to Pledge to Play 60 during the Play 60 Kickoff event in Seattle, Wash. Sept. 3-4. For two days, kids and parents participated in physical activities.
These cards are available now in 2014 Topps Football, which released last week.
Twitter: @nflplay60 or @toppscards
Facebook: Facebook.com/NFL Play 60 or Facebook.com/Topps
David Lee
footballeditor@beckett.com
Twitter: @FreeEnergyDude