2016 NFL Draft Round 1 Hobby Impact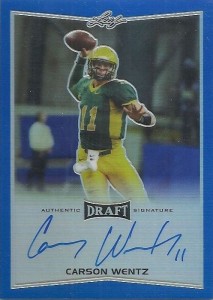 By David Lee
Editor, Beckett Football
The NFL Draft always shakes things up. It can make you think about rookies you may have overlooked or overrated. It also has a big impact on the veterans you are already collecting. Here are four major headlines from round one of the 2016 NFL Draft that could impact your collection the most.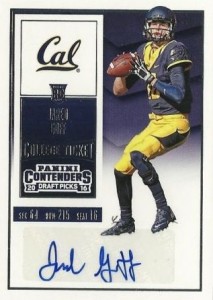 Eagles-Rams Trade QBs then Trade Up to Draft QBs
The first two picks weren't a big surprise. But it's ironic that the Rams and Eagles traded quarterbacks Sam Bradford and Nick Foles a year ago and then traded up to grab rookie QBs in this draft.
I think some of that has to do with the recent success of young quarterbacks such as Marcus Mariota, Jameis Winston, Derek Carr and Teddy Bridgewater. Jared Goff overtakes Carson Wentz as the No. 1 overall pick and joins Rookie of the Year Todd Gurley. There's the interesting connection of Goff being a Califonia kid and the Rams moving back to L.A. That could also bump up his hobby standing through the summer.
Wentz joins the Eagles where Sam Bradford remains. Bradford recently requested a trade, which already creates some drama. The plan with Demarco Murray didn't work out like the Eagles thought, so maybe Wentz gives them the core on offense they need. Wentz is the first non-FBS quarterback to be drafted in the first round since Joe Flacco in 2008. That worked out pretty well.
Just like Mariota and Winston last year, it will be fun to see Goff and Wentz battle for top rookie QB.
WOW, Joey Bosa to the Chargers!
I really thought Joey Bosa would go to the Cowboys at No. 4, but the Chargers snagged him with the third pick. Bosa's cards have been really hot. We ranked him pretty high in our first rookie hot list in the June issue of Beckett Football. This could only help Bosa's hobby standing. Although, the Charges have been underwhelming recently. If they can get Melvin Gordon going on offense and then Bosa breaking out on defense, that could be an exciting.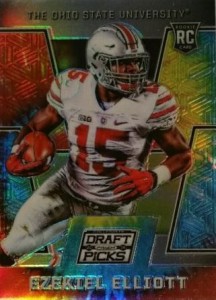 Cowboys Nab Their RB Early in Ezekiel Elliott
Not only did I think Bosa would go to the Cowboys, I figured Jerry Jones would trade down if Bosa wasn't there. But they surprised by taking running back Ezekiel Elliott. He's without questions the top back in this class, but No. 4 is a little high for him. Still, the Cowboys needed at true lead running back. They saw what life was like last year without one.
Dallas signed Alfred Morris so it will be interesting to see how these two new backs work out. The Cowboys are a huge national brand, so this pick can only help Elliott's standing. Plus, Cowboys fans now get to chant "Zeeeeeeek" every time he touches the ball.
Treadwell Slips to Fourth Receiver, Coleman No. 1
The receiver situation was particular interesting. Baylor's Corey Coleman was the first receiver taken, going to the Browns. This creates a cool combo with new QB Robert Griffin—also a Baylor alum. Then, picks 21, 22 and 23 were also receivers. Notre Dame's Will Fuller went to the Texans, TCU's Josh Doctson went to the Redskins and finally, Ole Miss's Laquan Treadwell went to the Vikings.