NFL Championship Games MVPs – Beckett Pricing Insider
This edition of the Beckett Pricing Insider is brought to you by GTS Distribution. Watch Go GTS Live – The Hobby's Web Show, every Thursday at 9 PM EST.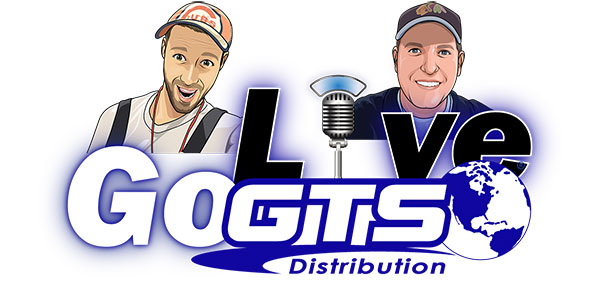 Raheem Mostert
Mostert starred in one of the most dominant performances by a running back in championship game history. The Green Bay Packers had no answer for him as he ran 29 times for 220 yards and four touchdowns. Mostert was so effective that quarterback Jimmy Garoppolo didn't need to throw a pass during the entire third quarter and half of the fourth. The 49ers only threw eight passes the entire game.
The only cards that Raheem Mostert has are in 2017 Panini Contenders. His values rose all year long and after this performance they took a huge jump. His base rookie autograph went from $60 to $250 in a day.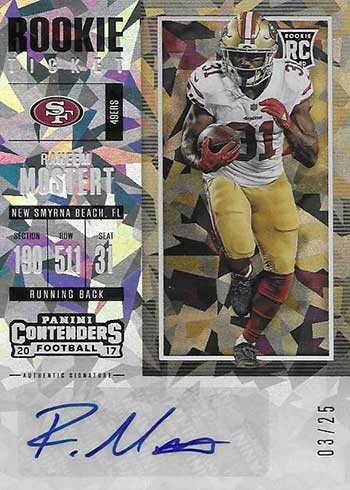 Patrick Mahomes
Patrick Mahomes and the Kansas City Chiefs put an end to the magical run of the Tennessee Titans on Sunday. Twice the Chiefs were down by ten points and, just like they did against the Texans, they took their game to a new level.
Mahomes threw for 294 yards and three touchdowns. He even led the Chiefs in rushing with 53 yards along with an incredible touchdown run. There isn't anything I can say about his card values that hasn't already been said. It will be interesting to see where they go if he leads the Chiefs to a Super Bowl win.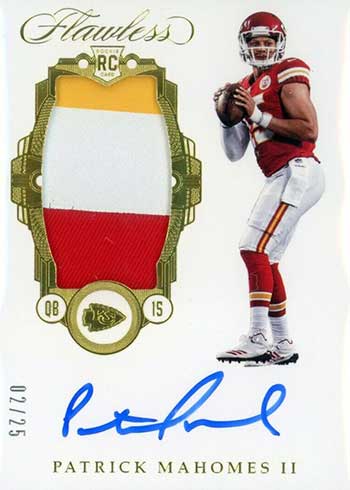 Sammy Watkins
Patrick Mahomes' favorite target on Sunday was Sammy Watkins. He had seven catches for 114 yards and a touchdown.
Watkins started his career with the Bills and had two excellent seasons to start his career. After three years in Buffalo, he went to the Rams for a season before landing in Kansas City.
While not putting up numbers like he did to start his career, he is a solid number two behind Tyreek Hill. If Hill goes down with an injury, Watkins has the skills to lead the receiving squad. His card values have dropped in recent years but don't be shocked if they rise should the Chiefs win the big game.