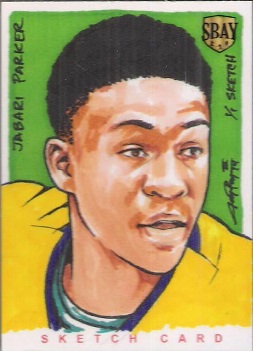 By Susan Lulgjuraj | Beckett Basketball Editor
Duke freshman Jabari Parker declared for the NBA Draft on Thursday, adding to an already stacked draft class for 2014. While at Duke, Parker had 19.1 points and 8.7 rebounds in 30.7 minutes of play as a freshman.
Parker is expected to be a top-three pick with only draft experts picking Kansas' Andrew Wiggins ahead of him in nearly every mock draft. This 2014 draft is poising to be a good one with a number of guys with great talent making their intentions known.
Some of the other top prospects include Wiggins, Kansas' Joel Embiid, Kentucky's Julius Randle, Indiana's Noah Vonleh, Arizona's Aaron Gordon, Australian native Dante Exum, and Oklahoma's Marcus Smart. This is a much better class than the group a year ago.
Of the players in this season's class, just three have seemingly made major impacts on their respective teams this year in Philadelphia's Michael Carter Williams, Orlando's Victor Oladipo and Utah's Trey Burke. With, really, only Carter-Williams and Oladipo being the two choices for Rookie of the Year. Of course, players like the Knicks' Tim Hardaway Jr., and Brooklyn's Mason Plumlee were factors in many games this year, but none of them had the runaway talent that Carter-Williams showed this season.
However, the question boils down to how this all translates into trading cards.
The Double Rookie Class from 2012-13 offered a number of options for collectors, simply because there were so many players to choose from. Panini was able to create intriguing products, especially for the overseas market that shows great interest basketball.
However, the 2013-14 trading card year didn't show much in terms of rookies. Oladipo, Carter-Williams, Hardaway Jr., and Giannis Antetokounmpo showed the most promise as far as values go on cards. But once the new crop of rookies comes out, some of these players may be forgotten about because of the sheer amount of talent in the upcoming June draft.
Parker's declaration on Thursday simply added to what could an exciting year on trading cards.
Loading ...
Susan Lulgjuraj is an editor at Beckett Media. You can email her here with questions, comments or ideas. Follow her on Twitter here. Follow Beckett Media on Facebook and Twitter.