Next chapter of Upper Deck Bounty Program offers limited Aurum White cards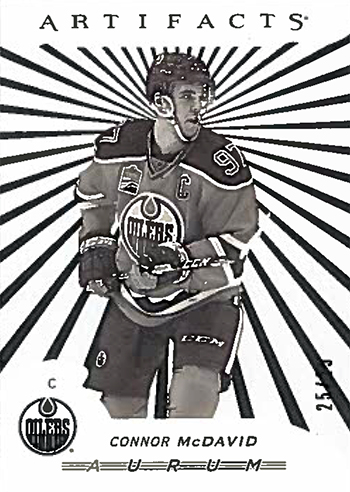 By Stephen Laroche | Beckett Hockey Editor
On the heels of a successful debut a few months ago in 2016-17 SP Authentic Hockey, the Upper Deck Bounty Program is back with the recent release of 2017-18 Upper Deck Artifacts Hockey.
Collectors around the world will be up for a new challenge and this time, it is tailored around the Aurum inserts which debuted last year to some acclaim.
With the aim to get collectors out to their local hobby shops, trading with others, and breaking open boxes, this Bounty will see an ultimate goal of building a 50-card insert set and redeeming all of their codes online via the www.upperdeckbounty.com website. The reward this time around is limited to the first 25 collectors that achieve it, so it is important to act quickly and monitor how many sets have been redeemed.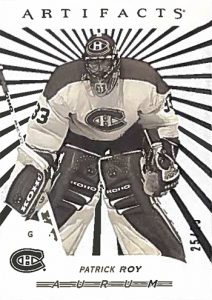 The main reward is a serial-numbered group of six Aurum White cards and the checklist includes legends Pavel Bure and Patrick Roy, current stars Auston Matthews and Connor McDavid, and carryover rookies Clayton Keller and Charlie McAvoy.
It is believed that the Aurum White bounty cards of Matthews, McDavid, Keller, and McAvoy will have different images than those available in Artifacts packs.
If that was not enough to entice you to begin the hunt, there is also an additional bonus which will include up to two more Aurum White cards. These will feature the top two picks in the 2017 NHL Entry Draft, Nico Hischier and Nolan Patrick, provided that they make their NHL debuts before January 1, 2018.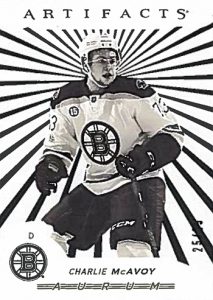 Those wishing to take on this challenge may want to ensure that they do not scratch the back of the cards to reveal the codes until they actually finish the set. However, those that still build a full standard Aurum set after the 25 Aurum White sets are redeemed will receive the bonus achievement cards featuring up to two of the top 2017 draftees.
For those looking to flip their achievement cards, they can be transferred to their Check Out My Cards account.
For more information and to keep an eye on how many sets have been redeemed, visit the Upper Deck Bounty Program's page for the Aurum White mission here.
Stephen Laroche is the editor of Beckett Hockey, Beckett Basketball, and Beckett Sports Card Monthly magazines. Have a comment, question or idea? Send an e-mail to him at slaroche@beckett.com or follow him on Twitter @Stephen_Laroche.