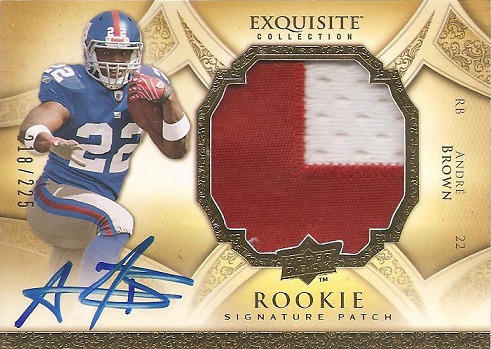 By Susan Lulgjuraj | Beckett Football Editor
When every single game is so important in football, a breakout game can change the perception and focus of that player.
Just look at card prices of Andre Brown and Ramses Barden of the New York Giants.
If that sentence was written a week ago, most collectors would have said, "Who?" Instead, after New York's 36-7 win over the Carolina Panthers on Thursday night, collectors are rummaging through their collections looking for cards of these back-up players.
At the start of the season, Brown was not a running back anyone talked about with the Giants. NFL experts expected rookie David Wilson to breakout this year. But – at least in Week 3 – it was Brown.
Brown rushed for 113 yards and two touchdowns on 20 carries.
This performance has caused his cards to spike in value.
One of his better Rookie Cards is a 2009 Upper Deck Exquisite patch autograph card numbered to 225. The card lists between $8-$20 in the Beckett Online Price Guide, which is around what the card sold for through last week.
This morning, things are different. Prices have gone anywhere from $50-$80 with the gold parallel pushing $100.
For collectors looking for more Brown cards, he has 609 cards on the market with 38 Rookies Cards, 251 autographs and 256 memorabilia cards.
Here are a few Brown cards to chase:
– 2009 Absolute Memorabilia #232 RC auto/jersey

– 2009 Bowman Chrome Rookie Autographs #134

– 2009 Bowman Sterling #173B

– 2009 Exquisite Collection #180 RC auto/jersey

– 2009 Finest Rookie Jersey Autographs #79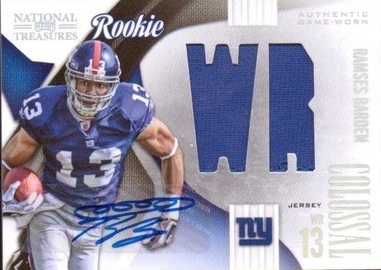 Brown's teammate Barden had a similar type of game. On a team with many standout wide receivers, the fourth-year player shined with 162 yards on nine catches. Barden filled in for WR Hakeem Nicks.
Barden combined for 336 yards in his previous seasons coming into this year. And much like Brown, Barden's cards are seeing a jump in price as well.
About 200 new listings of Barden's cards were added to eBay since the end of the Thursday night game, which is close to half of all of the Barden cards on the auction site.
Take Barden's 2009 Playoff National Treasures jersey autograph Rookie Card numbered to 99. It lists in the Beckett OPG from $10-$25.
Since last night's game, the card is now selling for about $40 and more.
Here is a list of Barden cards to chase:
– 2009 Bowman Chrome Rookie Autograph refractors #122

– 2009 Bowman Sterling #157B jersey/auto

– 2009 Donruss Threads #243 autograph /300

– 2009 Exquisite Collection #165 jersey/auto /225

– 2009 Playoff National Treasures #130 jersey/auto RC /99
Susan Lulgjuraj is the editor of Beckett Football magazine. You can email Susan here with ideas, comments and questions. Follow her on Twitter here.