Signed lithographs celebrate Jewish players in MLB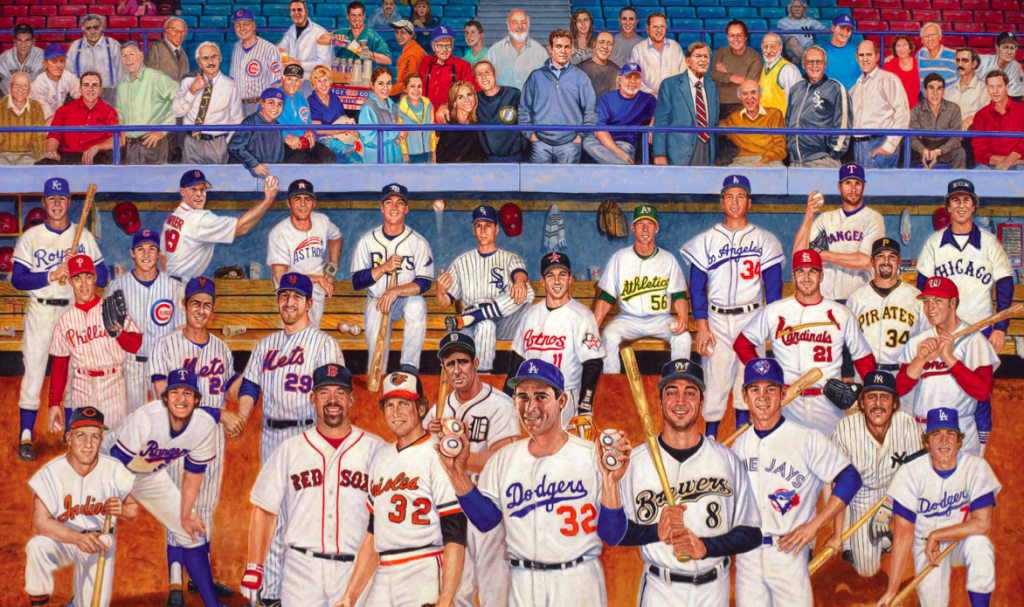 By Chris Olds | Beckett Baseball Editor
A new lithograph by artist Ron Lewis celebrates the place that Jewish players hold in MLB history.
The 24×36 piece showcases the 26 living Jewish players as well as the late Hank Greenberg along with 10 spectators who are notable contributors of the game — from Sandy Koufax to Ryan Braun and from Marvin Miller to Bud Selig. 
There will be five editions of the work, which will begin shipping on Nov. 7, and can be found via Art O Graphs Limited of Buffalo Grove, Ill., at JewishBaseballPlayer.com. Each version will be autographed with differing features.
Some of the players include Hall of Famer Sandy Koufax, Al Rosen, Ryan Braun, Ian Kinsler, Kevin Youkilis and Adam Greenberg — shown as a Cub, not a Marlin — while spectators include commissioner Bud Selig, White Sox owner Jerry Reinsdorf, Theo Epstein, 61* creator Billy Crystal and Larry King.
[youtube]http://www.youtube.com/watch?v=yR2fHpmFWjc[/youtube]
—
The five versions of the lithograph, each limited to 100, are: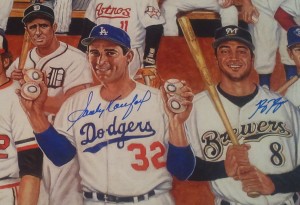 — The Rookie of the Year edition. This version is $6,500 for standard copies and $8,000 for seven selected "gold issue" numbers.
— The Cy Young edition. This version includes an extra inscription with each signature. They are $7,500 for standard versions and $9,000 for the golds.
 — The Most Valuable Player edition. These are 26.5×40 and printed on canvas and is $7,500/$9,000.
— The World Series Champion edition. This one has autographs from nine of the spectators: Selig, Miller, Reinsdorf, Epstein and King among others. Standards are $8,500, while golds are $10,000.
 — The Hall of Fame edition. Each print's number corresponds to 100 moments in Jewish baseball history and has a matching certificate that is signed by the featured player. These are $8,500, while the gold is print No. 1 and $10,000.
 Art O Graphs owner Greg Harris traveled the country to get the 500 lithographs signed.
"The logistics of putting this project together was daunting," Harris said. "We saw a tiny window of opportunity to complete this project … Of course, having seldom-seen Sandy Koufax agree to participate and enthusiastically get behind the litho was the icing on the cake.  This was well worth the undertaking as it is a historic litho that will stand the test of time."
Licensed by MLB as well as the MLB Players Association and signed by the artist, the prints will be sold starting with the lower-numbered prints for each edition. A DVD chronicling the making of the project and a booklet about the work will be included with every piece. Each item also will be authenticated by MLB. Meanwhile, a portion of the proceeds from each will go to a charity of each player's choice.
For more information, visit the JewishBaseballPlayer.com site.
Chris Olds is the editor of Beckett Baseball magazine. Have a comment, question or idea? Send an email to him at colds@beckett.com. Follow him on Twitter by clicking here.