New Retro: Super 7 Aims for Big, Old-Fashioned Entrance into Sports Figure Market
How do you break into an industry with a splash? Well, that's simple. Your product stands out.
And just as snapback hats and video game arcades have filtered their way back into American culture, so too, will retro baseball action figures.
Supersports by Super 7 just launched a new series aiming to fill the void of antique-looking models.
Currently, the market is held by companies that make figures that are life-like. It's great work, no doubt. But there is no sense of wonder or emotional resonance, according to Brian Flynn, Super 7 Founder and Owner.
Flynn grew up collecting baseball cards, as many have. When the opportunity came for Super 7 to get involved with the project, he jumped at it. Super 7, which is known for its outside-the-box approach to collectibles and holding specific licenses, reflects Flynn's philosophy.
"People weren't making the things we wanted to buy, so we went out and made it," Flynn said. "I wasn't interested in other toys…that wasn't what spoke to me. What would I want? It's not about selling the most. I'm not worried about that. If I make the ones I want and it fails, so be it."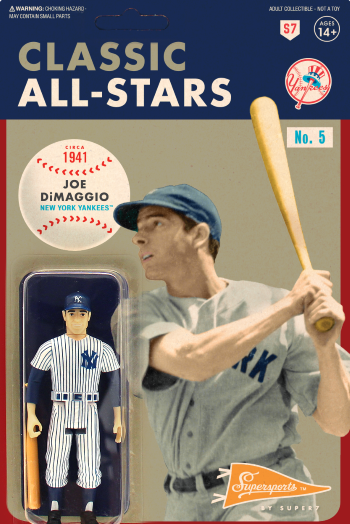 The figures were made to illustrate that point. The players chosen for the initial release are associated with the 1940-1960s era of America's Pastime. Besides the uniform and other attire – including the correct hat and sleeve style for the time – there is a look to the figures that is purposely universal, same as back in the day.
It plays to the imagination of the consumer. Young collectors let their mind wander while older collectors are taken back to a simpler time.
"I don't think it's jaded," Flynn said of the nostalgia element of the product. "It brings us back to moment when we saw things as pure. If you are 9, all you care about is Bryce Harper catches the ball and hits it out of the ballpark."
The first set showcases players from the Boston Red Sox, New York Yankees, Brooklyn/L.A. Dodgers and New York/San Francisco Giants.
Players featured:
• Joe DiMaggio
• Carl Yastrzemski
• Willie Mays
• Orlando Cepeda
• Roy Campanella
• Carlton Fisk
• Mickey Mantle
• Ted Williams
• Juan Marichal
• Yogi Berra
• Jackie Robinson
• Phillie Phanatic
The idea was to get off the ground with a simple theme, which in this case is west coast and east coast teams that are rivals.
"I wanted to dive in 25-30 players on Day 1," said Bart Silberman, Vice President of Sales and Licensing. "As I learned more and more, it's a different process from printing a T-shirt. It's easily a 10-to-12-month process. Brian wanted to proceed cautiously."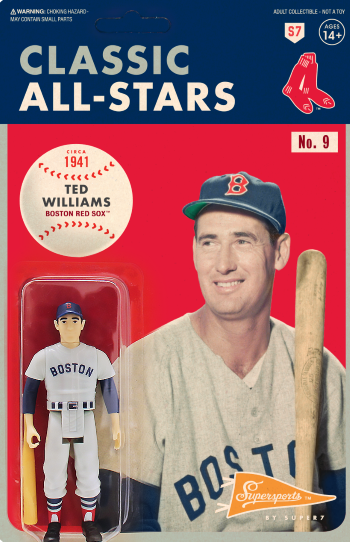 Going with classic players also allowed Super 7 to ensure no roster changes affected the release. Imagine agonizing over Bryce Harper's free agency decision with model designs and production on the line.
"To us, it was about safety," Silberman said. "We started 18 months prior. Mickey Mantle never changes. The number doesn't change. The jersey doesn't change."
The approach shows early signs of paying off. Models were brought to the National Baseball Hall of Fame and Museum during the 2019 induction weekend. They sold out, which is promising. To that end, further plans and expansion are coming.
Silberman's days are consumed with nailing down licensing agreements with leagues, unions and individual estates. Starting in 2020, the goal is for new releases every six to eight months all the way into 2022. There will be more classic players as well as current ballplayers. Apparel will soon follow. An NBA release is also in the works, again mixing classic and current ballers.
"The amount of times the phone is ringing combined with working with the teams that say, 'We want this and that,' it's really cool," Silberman said. "You are building up this great roster."