New Beckett Covers collection to be offered at the 2015 Fall Expo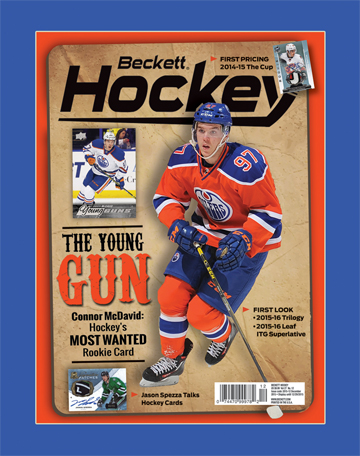 By Stephen Laroche | Beckett Hockey Editor
After its success at the National Sports Collectors Convention in recent years, Beckett Media is proud to reveal that is has created a set exclusive to attendees of next weekend's Fall 2015 Sportcard & Memorabilia Expo held at the International Centre near Toronto.
The Beckett Covers 2015 Fall Expo 25th Anniversary Collection will focus on some of our hottest issues from recent months which feature rookie phenom Connor McDavid along with several other players that changed the game forever.
"For three years the Beckett Covers sets have been a success at the National Sports Collectors Convention in the United States," said Beckett Media's Advertising Director, Bill Dumas. "It is our pleasure to bring this unique collector and family friendly experience to the 2015 Fall Toronto Expo. Beckett is proud and excited to support this show and the enthusiastic collectors in Canada."
How will collectors be able to get these cards? Find out after the jump.
The first four cards in the Beckett Covers 2015 Fall Expo 25th Anniversary Collection can be obtained on the show floor and they all have McDavid on them. The first one in the set features the cover of the upcoming issue of Beckett Hockey, which will be available at the Beckett Media booth, and can be obtained at the Big Leagues booth (#32) for free with a purchase of $10.00 or more.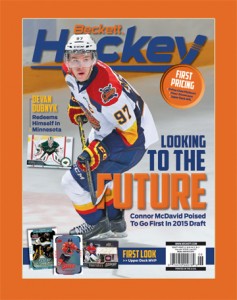 Next up, collectors can visit the Dave & Adams Card World booth and their card shows McDavid's first cover appearance from Beckett Hockey #274.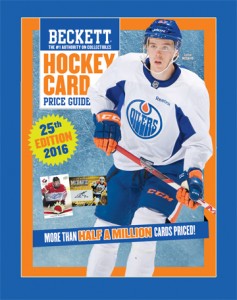 From there, the hunt moves on to the Cardboard Memories booth. With the purchase of a pack of 2015-16 Upper Deck Series One Hockey, all a collector needs to do is mention this promotion and they then receive a card of McDavid's appearance of the cover of the newly-released 2015 edition of the Beckett Hockey Card Price Guide.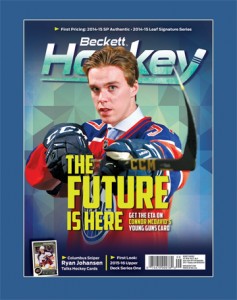 The fourth, and final, McDavid Beckett Covers card will be found at the Universal Distribution booth in the corporate area. Collectors will need to come to their booth with six packs of 2015-16 Upper Deck Overtime Hockey and break them open in order to get this card.
Once a collector has their four McDavid cards, they can then come to the Beckett Media booth and show their cards to a company representative. For their efforts, they then will receive Beckett's Game Changers five-card set which pays tribute to legendary players and is limited to 500 copies.
The checklist is as follows: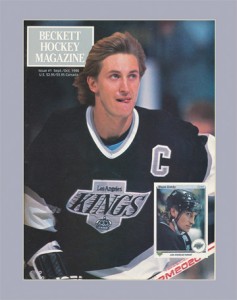 GC1 – Beckett Hockey #1 – Wayne Gretzky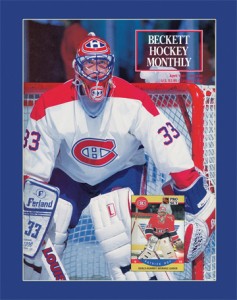 GC2 – Beckett Hockey #6 – Patrick Roy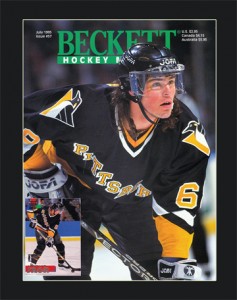 GC3 – Beckett Hockey #57 – Jaromir Jagr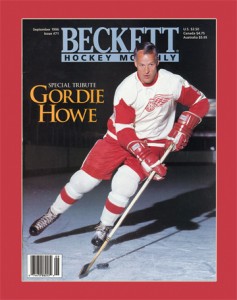 GC4 – Beckett Hockey #71 – Gordie Howe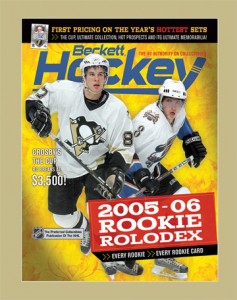 GC5 – Beckett Hockey #186 – Sidney Crosby/Alex Ovechkin
Cards are only available at booths while supplies last and quantities are limited. Redemptions may be limited on a daily basis.