Never Settle Until You Find the Perfect Card That's Just Right for Your Collection
We all have collecting regrets. Sometimes it's a lopsided trade you thought was good at the time. Or maybe you jumped the gun and sold too low. Many times, regrets come from passing on something only to never find it again. And sometimes, disappointment comes simply from settling.
Ever since Upper Deck started making Ken Griffey Jr. autograph cards, I wanted a Ken Griffey Jr. autograph card. I'm guessing most any collector thought the same. Even if you weren't a fan, you still had to respect his game.
I'm really not sure how you could not be a fan of Griffey back in the '90s unless you were like my grandpa and had weird, strict rules about hats and how they should be worn.
Through all of my pack busting, I've never pulled a Ken Griffey autograph — Jr. or Sr. But a while back, during Griffey's dark years just before the twilight of his career, I did buy not one but two of his autograph cards.
The first came from 2004 Upper Deck Etchings, a one-and-done product that didn't return in 2005. The other was a buyback of a his 1995 SP card. Both have Griffey's majestic penmanship. I don't remember exactly what I paid, but it would have been under $50 each.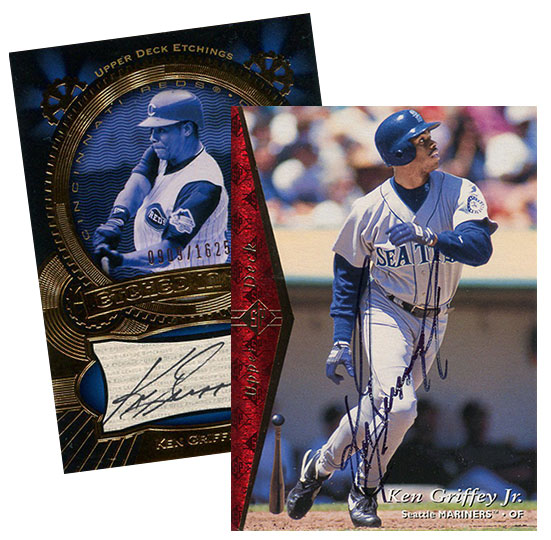 Both cards are nice, with a signature from not only one of baseball's all-time greats, but one of my all-time favorites.
And yet, I was never totally happy with either. Great cards? Absolutely. Cards that I wanted in my permanent personal collection? Not exactly.
I spent years trying to convince myself otherwise but I never could. Why? Because I compromised on what the strict standards I have for key parts of my personal collection to save a few dollars for the reward of instant gratification. And I could never get past that nagging feeling that I'd compromised to have something right away rather than waiting a little longer for what I really wanted.
I settled.
Setting the Perfect Criteria
When I'm searching out big autograph cards for my own collection, I don't usually have an exact card in mind. But I do have some criteria that such a card must fall under. And that's likely the case for many of us who are pursuing something but there are options. This might be which Rookie Card to go with, condition of a vintage card or any number of possible card collecting avenues.
It starts with price. If it's way above my means, I don't even consider such a card. In the case of Griffey, that eliminates the majority of possibilities. And that's fine. For me and my collection, it's the autograph and the card that matter most, not the serial number or high-end provenance.
The next is a personal choice, although I think it's something a lot of collectors share a preference on. Autograph cards that I buy as singles must have on-card signatures. If it's a sticker or something else, I still might enjoy it but it's not personal PC potential. The exception here would be if there is no hard-signed option.
That means fewer options. It also likely means a higher cost, which can be in direct conflict with my first criteria. Or it might just mean I'll have to save up a little longer.
Finally, there's the team. When I finally get around to pulling the trigger on a big card, I'm going to want something where they're with the team I identify them with. I don't want Frank Thomas on the Blue Jays. Michael Jordan in a Washington Wizards uniform? No, thanks.
Griffey playing for the White Sox? That's funny. Reds? Maybe for some, but the only real option for me here was a Mariners card. Again, it cuts the number of options. Most of the Ken Griffey Jr. autographs in my price range are from around 1999 to 2005. That means the majority of those are Cincinnati cards. But there's a small window to work.
Since retiring, the number of Mariners Griffey autograph cards has grown immensely. Lots of them are nice and fit my criteria except for the fact that they're too expensive.
All You Need Is Just a Little Patience
Once I got serious and set aside the money I was willing to spend for my Griffey autograph card, the hunt began.
I looked online. Nothing.
Walking the floor of the National. Nothing. Granted, I wasn't looking super close but nothing jumped out despite that being my main focus.
About a month later I finally found one that fit all my criteria. The price was right. The signature was on-card. Griffey was with the Mariners. And while I didn't have it set as a separate point, the card looked good.
I found my Goldilocks card that's just right. For me, this 2000 SPx Signatures Ken Griffey Jr. is perfect.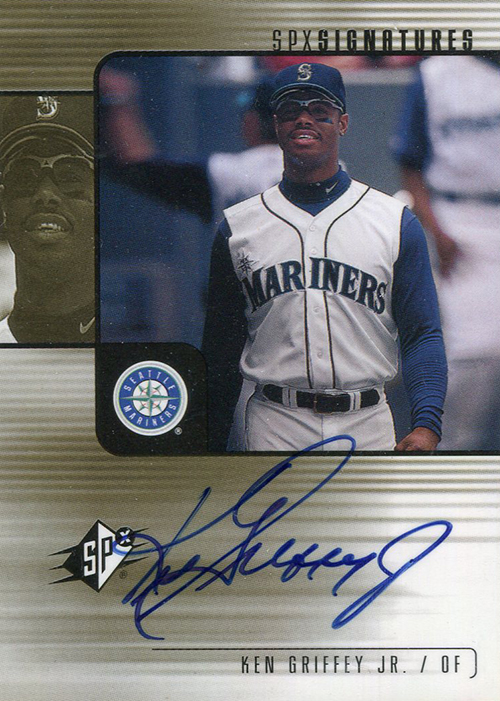 The internal nagging is gone. I'd settled before and I  wasn't happy. No matter how hard I tried to convince myself otherwise, the cards I had weren't forever cards. They were holdovers, similar to slotting in a creased card to fill a spot in an otherwise mint set so that a slot in a binder page isn't empty.
Now it's the opposite. Should I come across a Griffey autograph in a pack, I'm certainly not going to complain. But if I don't, that's fine, too. I've got one in my personal collection that I'm happy with. No compromises, no getting something that's "good enough," no settling. I planned out what would make me happy, laid out the criteria and went for it.
It took a little longer and cost a little more than if I compromised, but that's okay. Knowing what will making you truly happy pays off in different ways in the long run. This is true for Ken Griffey Jr. autographs, Rookie Cards of your favorite player and anything else you might want to collect.
What you're chasing might be different. You might have different criteria that makes you happy. It should go without saying that's perfectly fine. The challenge is knowing what it is that makes your Goldilocks card or collection piece so that you don't get those nagging feelings, knowing you could have landed something that hit all those preference boxes had you held out.
Building your collection shouldn't be seen as a race. Take that little extra time to figure out what you truly enjoy and how you can make it fit your means. It pays off in the long run with something that's just right for you.