Need the 2014 Topps Series 1 baseball card checklist? Download it here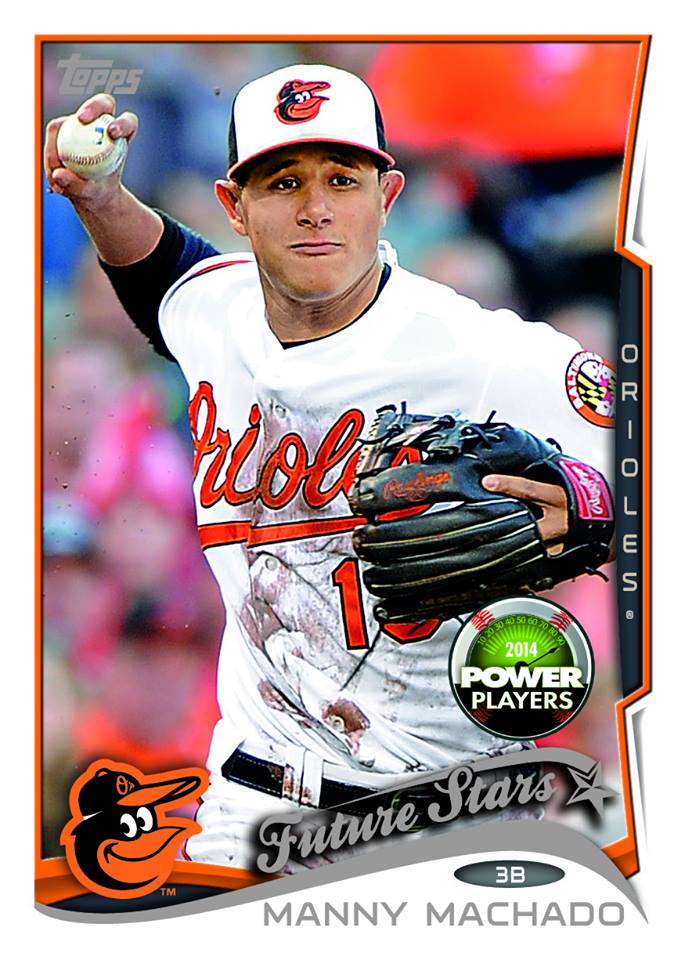 The final checklist for 2014 Topps Series 1 baseball cards has been released.
Click here to download and view all the details.
Look for an analysis of what's in store when the longest-running and best-selling brand in the hobby arrives next week right here later today (updated below).
—
By Chris Olds | Beckett Baseball Editor
The final checklist for 2014 Topps Series 1 has finally arrived five days before the official hobby-shop arrival of the cards themselves, and it's a mix of features in this one that might interest more than a few collectors in more than a few ways.
Here's a rundown of some of the ins and outs in 2014 Topps.
Rookie Cards
There are 34 standard Rookie Cards in the 330-card basic set, presuming no RC tag-eligible players were missed. (That has happened in past years.) Among them are Michael Choice, Billy Hamilton, Xander Bogaerts and Nick Castellanos.  Several other young players, such as Manny Machado above, have the Future Stars foil-stamping on them but are just your typical base cards. Among those players are Jurickson Profar, Will Middlebrooks and Mike Zunino to name a few.
Return of a "tradition"
When Topps abandoned a long-running trivial tradition of placing star players on card numbers that end with 50s or 00s, some collectors were offended and voiced their opinions. Why? That varied by person. This year, the key players are back on key numbers.  Mike Trout leads things off at No. 1, while No. 50 is Buster Posey, No. 100 is Bryce Harper, No. 150 is Andrew McCutchen and so on … card No. 331 — issued because No. 7 is retired for Mickey Mantle — is Yasiel Puig.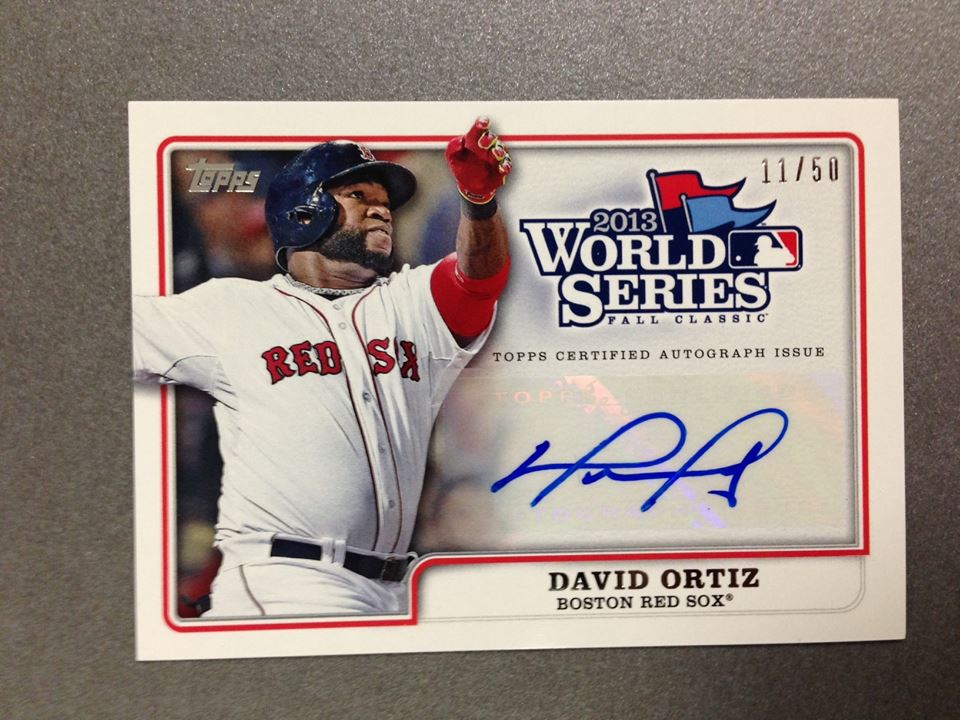 World Series highlights
Four cards in the 330-card set highlight memorable moments from the 2013 World Series. Mike Napoli, Jonny Gomes, Jon Lester and David Ortiz get the Fall Classic nod. Elsewhere in the product is a World Champions Autographs set where Ortiz, Napoli, Middlebrooks, Dustin Pedroia and Felix Dubront have cards noting their place on the title-winning team. For the Relic version, 15 members of the team are showcased.
Postseason performers
Nine players have autographed Relics in the Postseason Performance set where other feats from the fall are featured. Here, we get Anibal Sanchez, Clayton Kershaw, Ortiz, Evan Longoria, Miguel Cabrera, Michael Wacha, Matt Holliday, Yoenis Cespedes and Wil Myers. Can you ID which games are of note?
Chasing higher-end ink
Strata Signatures autographs won't be plentiful, but they include a mix of players not seen in Topps brands in recent years. While you have the current stars like Buster Posey, David Price, David Wright, Manny Machado, Yu Darvish and Jose Fernandez, you also have a few past players and a few have not been seen on cards regularly in recent years. Among them? Jose Canseco and Ivan Rodriguez.  There are also Strata cut autos to chase — and there are some big, big names here. Among them? Joe DiMaggio, Jimmie Foxx, Pee Wee Reese, Rogers Hornsby, Satchel Paige, Ted Williams and Hank Greenberg to name a few.
The Kid still has autos
Although Gary Carter died back in 2012, he'll have autographs in 2014 Topps thanks to stickers. He's among those featured on Upper Class autos.
The Future is Now. Now. Now.
The Future is Now autograph set is an interesting one where there's plenty of big names to go around — and they are around on the checklist more than once. Bryce Harper has two cards. Jurickson Profar has three as does Jean Segura, Shelby Miller and Zack Wheeler. Other two-timers include Machado, Fernandez, Trout, Myers, Darvish and Cespedes. The same repetition happens on the autographed Relic versions in this set.
Retail specials
Super Veterans will be a retail-only autograph and there are five — all big names. CC Sabathia, Johnny Bench, Jim Rice, Trout and Ken Griffey Jr. will be included.
Ruthian Relics
You'll probably be seeing  a lot of Trajectory Relics this year as that checklist is deep and varied. One player on the checklist you might not see a lot of — if at all, but he's in there — is Babe Ruth. Other past greats here include Hank Aaron, Ernie Banks, Mike Schmidt, Roberto Clemente, Ted Williams and Willie Mays.
1989 revisited
A total of 15 players will be found with 1989 Topps Mini Diecut Relics — all players who were around in 1989. Among the notables are Cal Ripken Jr., Don Mattingly, Greg Maddux, Nolan Ryan, Randy Johnson and new Hall of Famer Tom Glavine.
Spring Fever returns
The Spring Fever hobby shop promotion is back with 50 players on the cards in that one and 30 more players on autographed cards. Among the notables on the signing side are Don Mattingly, the late Duke Snider and Stan Musial, Josh Hamilton, Ken Griffey Jr., Pedro Martinez, Rickey Henderson and Tony Gwynn.
Walmart special
One player, one card — card No. 1 of Mike Trout — gets a Walmart promo variation, according to the checklist. What makes it so special? We'll find out when people start finding them.
No word yet …
The always popular — and always seemingly controversial (with some) — short-printed photo variation cards were not announced in either subjects, type of variation or quantities. That, too, will be discovered as collectors rip into packs of 2014 Topps beginning on Wednesday.
Chris Olds is the editor of Beckett Baseball and Beckett Sports Card Monthly magazines. Have a comment, question or idea? Send an email to him at colds@beckett.com. Follow him on Twitter by clicking here.