NBA's Big Men are Back and Better Than Ever in the Hobby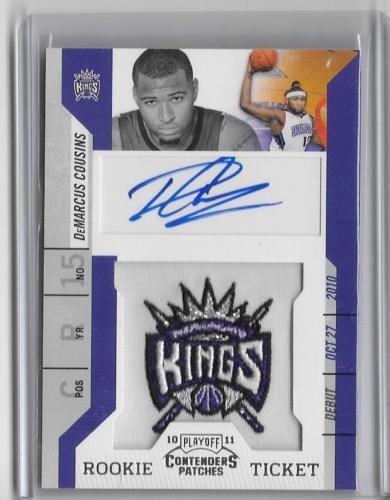 Collecting the "big man" was a huge part of the hobby in the 90s with Shaq, Hakeem, David Robinson, Alonzo Mourning, Kevin Garnett and others. And now a new generation of big men have set The Hobby on fire, albeit with a completely different skill set than the big men of years past. Now, in addition to low-post dominance, big men are expected to shoot the three and take people off the dribble.
Let's take a look at the next generation of big men and see what their hobby prospects have been so far and where they are headed in the future.
Karl-Anthony Towns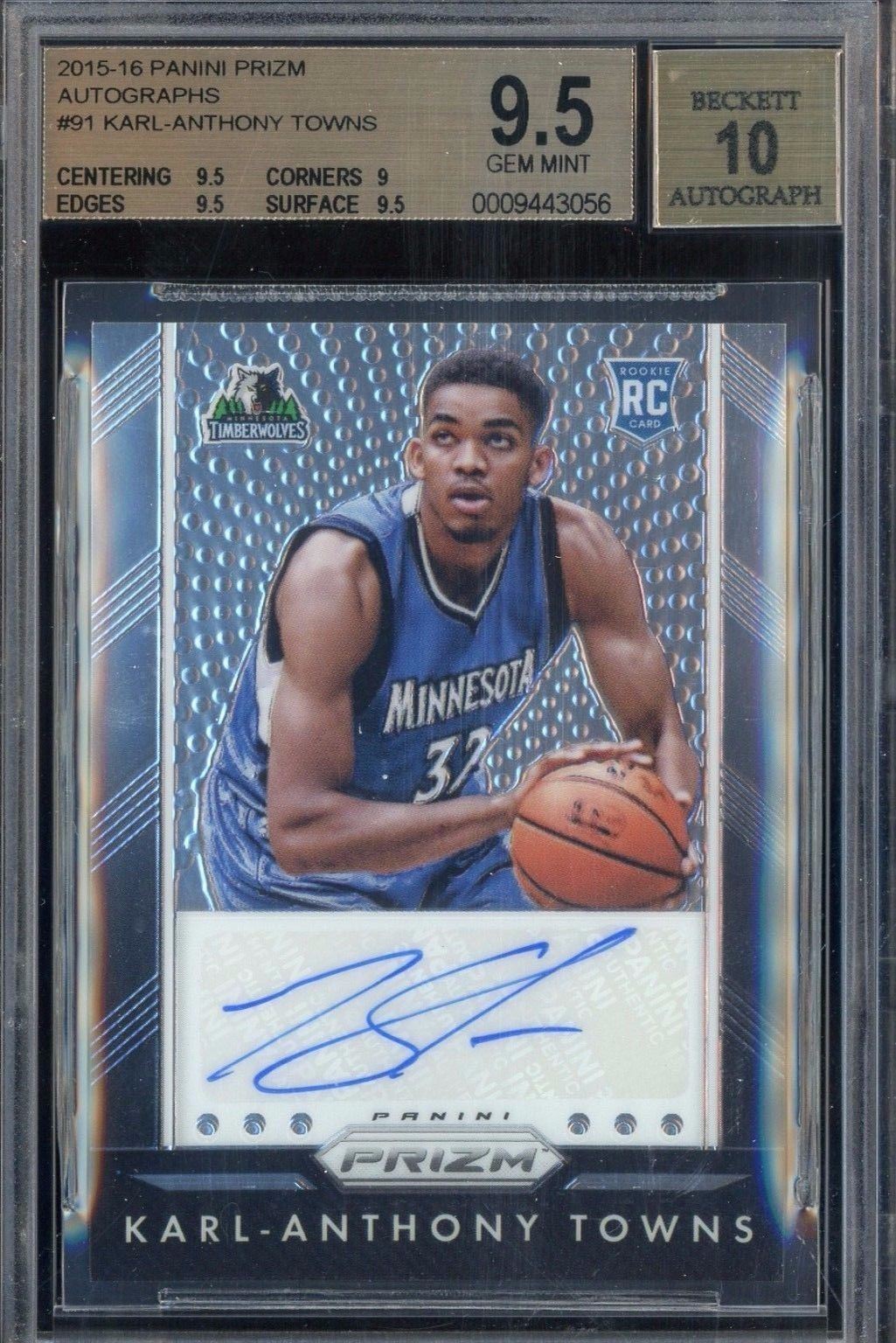 Towns has definitely lived up to the hype as the No. 1 overall pick during the 2015 NBA Draft. Last season Towns averaged a jaw-dropping 25 points per game and 12.3 rebounds per game. He is arguably one of the most skilled big men in the league and one of the most collectible players in the entire NBA. Towns features a rare combination of size, speed, power, great ball handling for a big man, as well as shot blocking ability, great mid-range and three-point shooting. Similar to last season, Towns remains a hot commodity in the hobby. A few of his key cards to look for are his Prizm rookies, especially parallel versions and his autographed rookies. A BGS 9.5 Red, White and Blue Prizm Parallel sold at eBay auction for $90 this month. One other recent example is his Prizm rookie autograph graded in a BGS 9.5 which also sold for $140 this month. This season Towns is right back on track from last year averaging 21 points per game and 11 rebounds per game.
Anthony Davis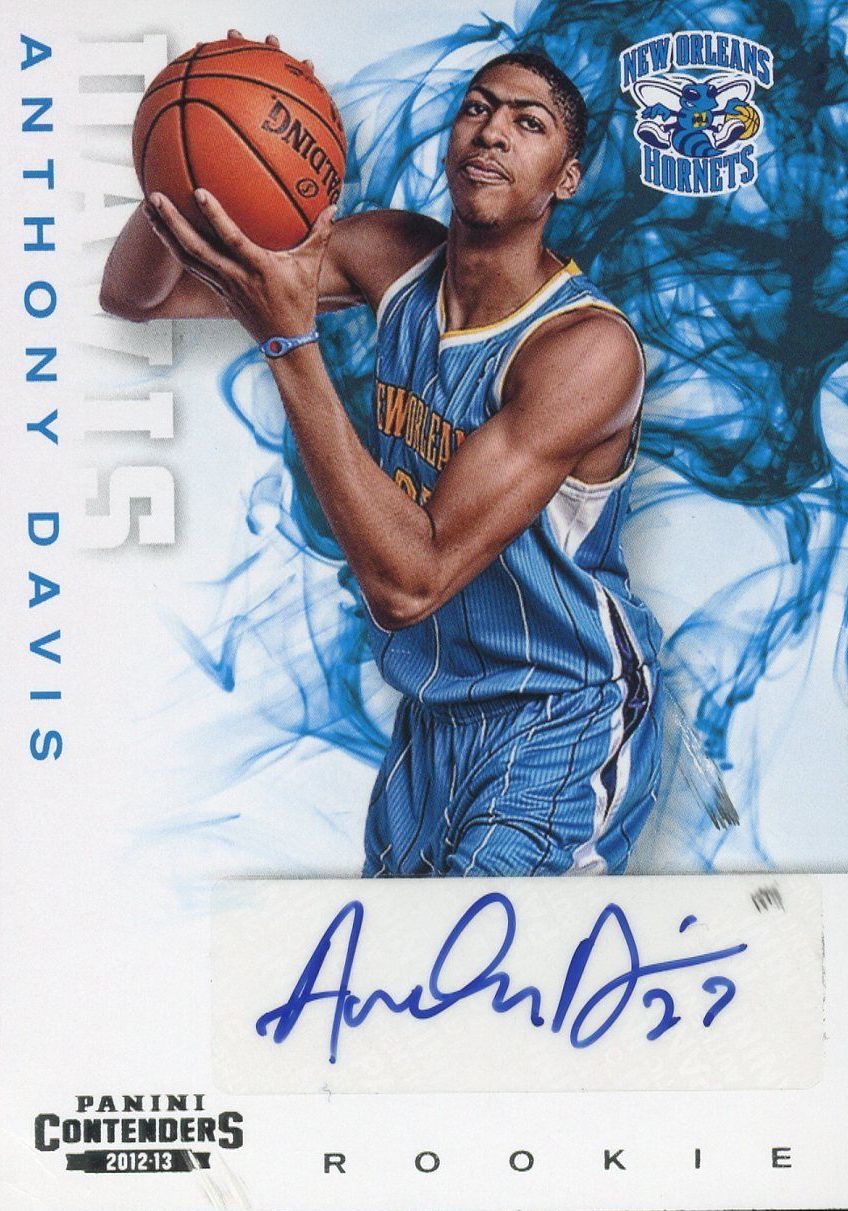 Since being named the No. 1 overall pick in the 2012 NBA Draft, Davis has been one of the best players in the NBA. Davis was one of the first players to emerge in this new wave of phenomenal big men. He averaged 28 points per game last season along with 11.8 rebounds per game and 2.2 blocks. This season his numbers are almost exactly in line with last year. Davis, similar to Towns, is one of the most collectible big men in the hobby. Many basketball experts would argue that Davis features the most talent of any big man in the league. He features a rare combination of size and incredible athletic ability, he's often seen on the highlight reel throwing down a monster dunk or blocking shots with great force. One of his key cards to target is his 2012-13 Panini Contenders Rookie Autograph, which recently sold for $120 at eBay auction. Prizm rookies of Davis are also very sought out, his refractor parallel versions of the card are becoming very difficult to obtain. A green Prizm Parallel version sold for $300 at eBay auction during the summer!
Kristaps Porzingis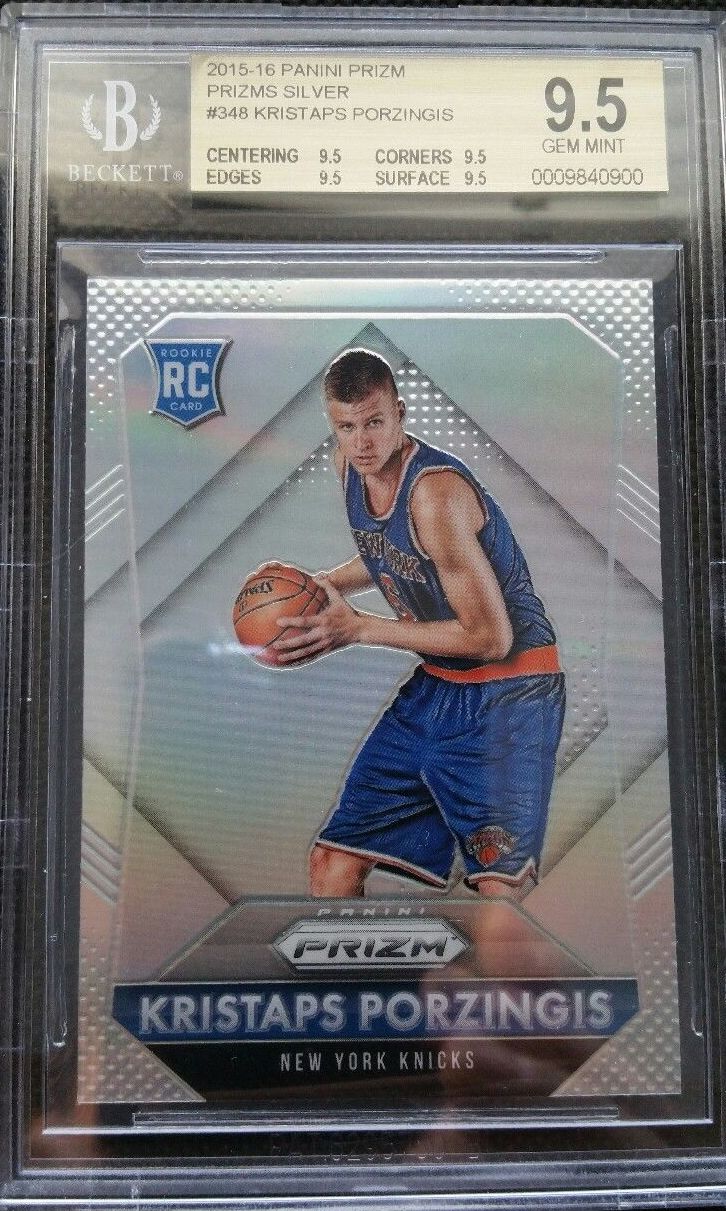 During his two seasons in the league, he's already been called "a basketball unicorn" by Kevin Durant. Porzingis, now in his third year with the Knick,s has been called upon to be the main focal point of his team. He features incredible length at 7′ 3″, with impressive quickness for his size, an ability to knock down 3s, a tremendous shot blocking ability. All this makes him a matchup nightmare for opposing players. KP is enjoying a breakout 2017 season averaging nearly 28 points-per-game and 8 rebounds. He is one of the most sought out big men in The Hobby and has already shown flashes of greatness in his young career. This season his cards have already received a big bump in value. KP's Prizm BGS 9.5 auto rookie has already gone up $50 within just the first two weeks of the season. Due to his outstanding play in the early going, his base Prizm rookie and parallels have also drawn lots of attention as well. His base in a BGS 9.5 sold for $45 at eBay auction this month and $460 in a silver version!
Joel Embiid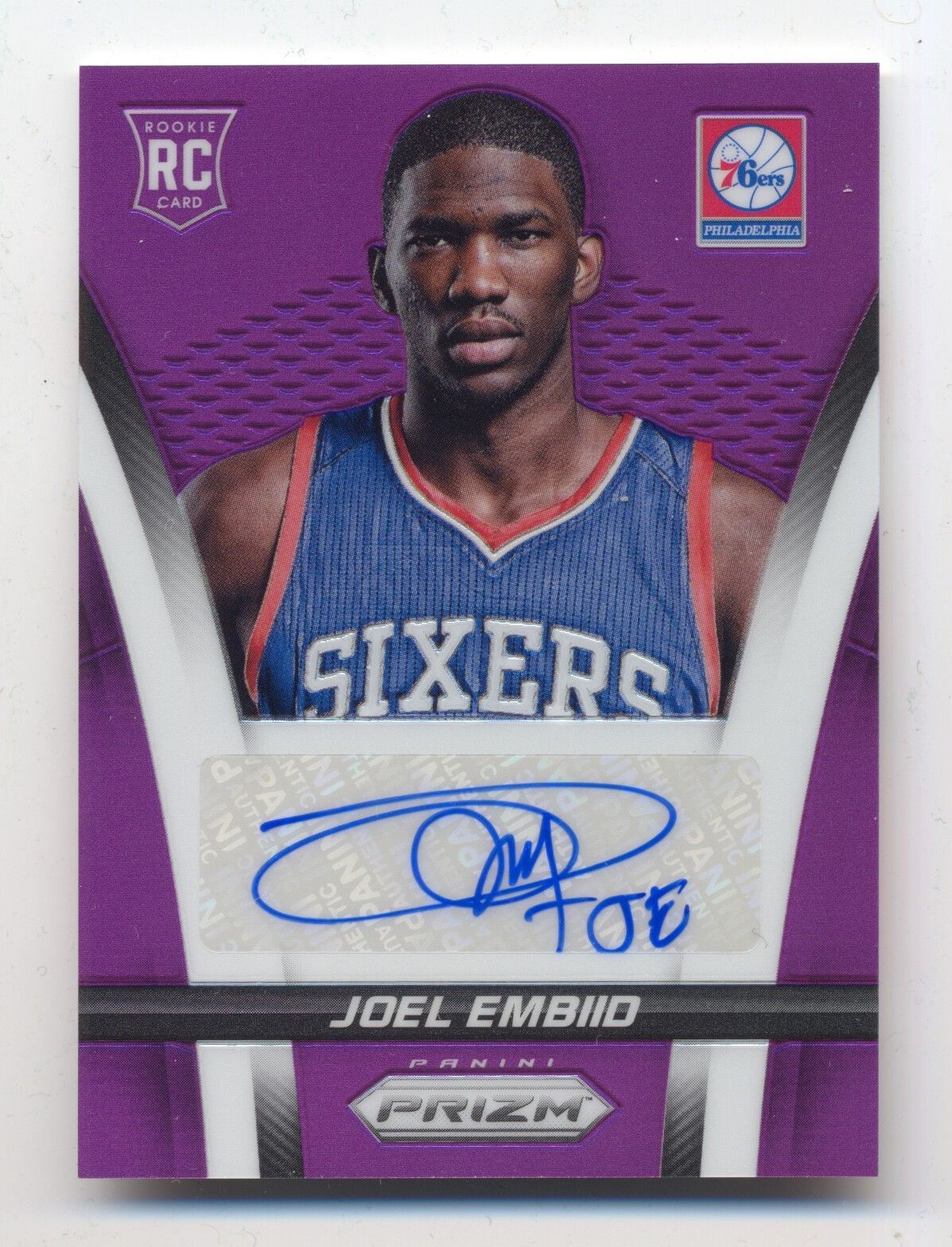 Last season Embiid enjoyed his breakout campaign and quickly wowed 76ers fans and the whole basketball universe. Although he played in just 31 games, he was so dominant that he was given a max contract this past summer worth $148 million for five years. Embiid averaged over 20 points per game last season on a minute restriction basis. In those limited minutes he showed incredible talent. He is the type of big man that can do a little bit of everything at a high level. This season he has gotten right back on track averaging over 20 points per game and 10 rebounds. Basketball collectors last season quickly invested heavily in Embiid and that trend has continued this season as well. One of his key cards is his color Prizm autograph rookies and parallel rookies from 2014-15. His purple color Prizm autographed rookie is selling for $115 at eBay auction. His Prizm silver refractor is selling at eBay auction for $300-325! Embiid is already becoming one of the best big men in the entire league and is one of the most popular players being collected throughout the entire NBA.
DeMarcus Cousins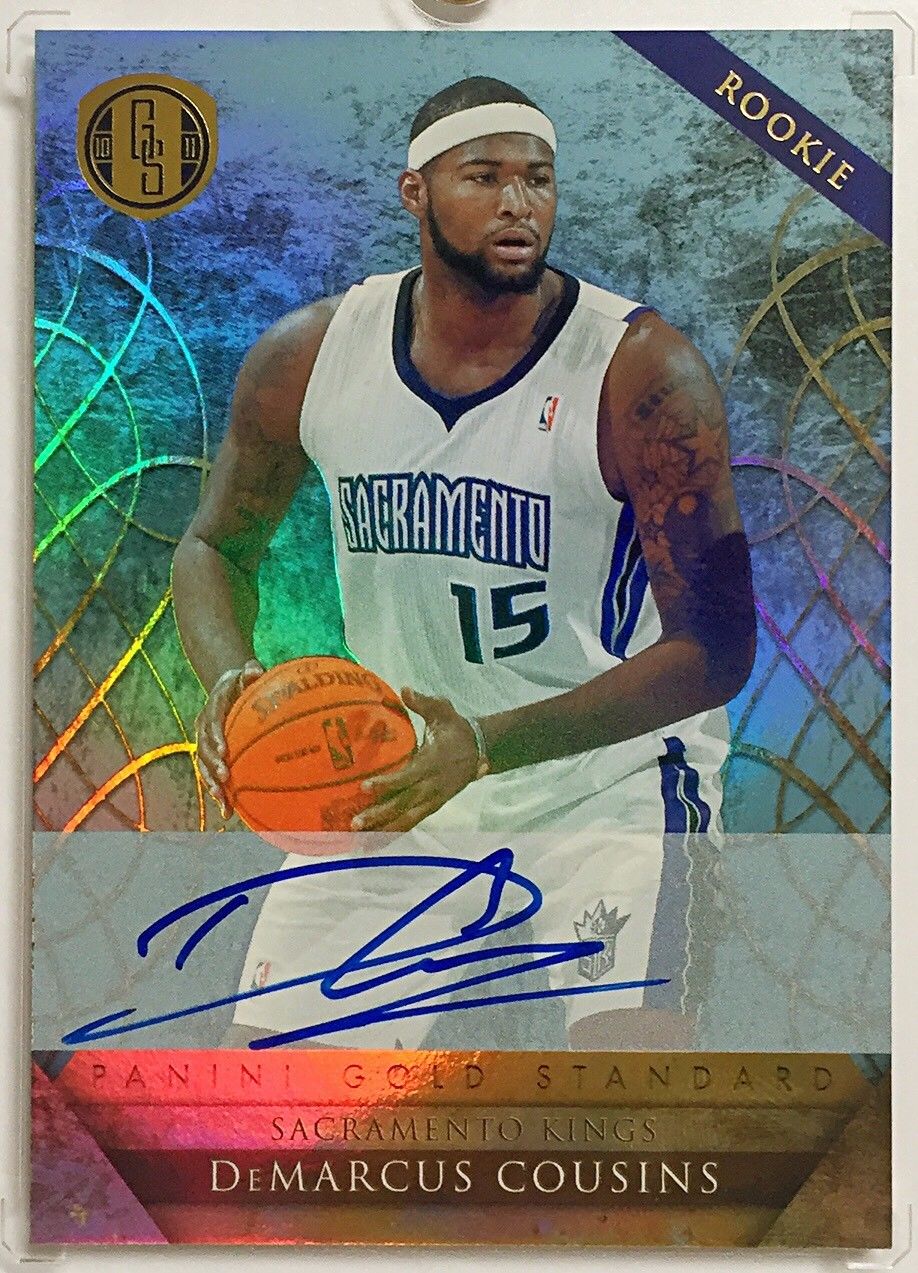 Already entering his 8th season and just 27-years-old DeMarcus Cousins is arguably the best big man in the league. Last season he was traded to the New Orleans Pelicans and teamed up with Anthony Davis to form undoubtedly the best big man duo in the league. This season Cousins has averaged an outstanding 30 points-per-game and 13 rebounds-per-game. Cousins has always been known for pure power post-moves, being a great rebounder and, like seemingly every big man, has added the 3 ball to his game. Having all of these skills and being able to put up monster statistics on any given night has collectors running to invest in Cousins. One of his key cards is his rookie Contender's autograph from 2010 which sells for $50 at eBay auction. Another key card is his Gold Standard rookie auto serial numbered to 25 which sold for $250 at eBay auction. Boogie has been dominant!