NBA Playoff Hot/Cold – Beckett Pricing Insider
As the NBA playoffs get underway, here's a quick check on who's hot on the basketball side of the hobby and who's not:
Hot
1. Stephen Curry, Golden State Warriors
Notable Sale: 2009-10 Certified JSY AU RC BGS 9.5 – $640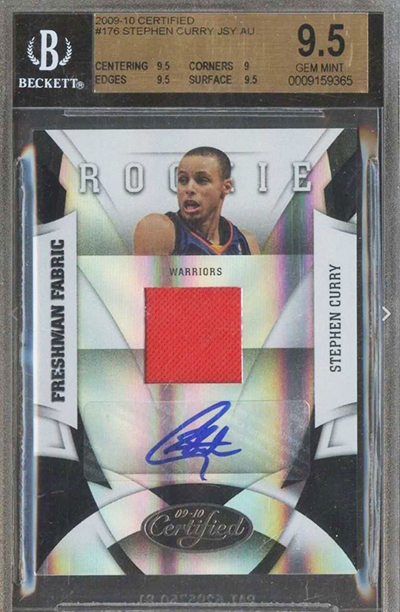 Curry cards remain steady sellers throughout the regular season, but they tend to heat up as the playoffs approach. This year is no different, and his cards are seeing a general uptick in price as the Warriors gear up for another championship run.
2. Giannis Antetokounmpo, Milwaukee Bucks
Notable Sale: 2013-14 Panini Prizm RC BGS 10 Black Label – $3,400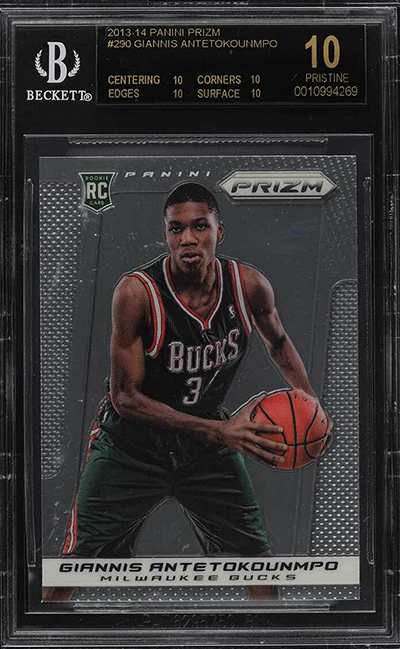 One of the leading candidates for MVP and Defensive Player of the Year, Antetokounmpo led the Bucks to the league's best record and has Milwaukee as the team to beat in the East. His Rookie Card prices continue to skyrocket and show no signs of slowing down, with his 2013-14 Panini Prizm RC the #1 card on the Beckett Hot List.
3. D'Angelo Russell, Brooklyn Nets
Notable Sale: 2015-16 Panini National Treasures JSY AU/99 RC – $887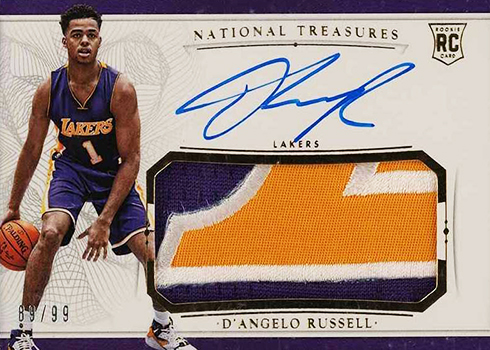 Russell achieved All-Star status this season, and he managed to lead Brooklyn into the playoffs for the first time in four years. His breakout campaign has his card prices rebounding nicely, as they're trending upward toward values not seen since his rookie year.
4. Pascal Siakam, Toronto Raptors
Notable Sale: 2016-17 Immaculate Collection JSY AU/99 RC – $117
Siakam is the favorite to win the award for Most Improved Player. His cards have been slowly and steadily rising since the beginning of the season, with his National Treasures RPA shooting past the $1,000 mark.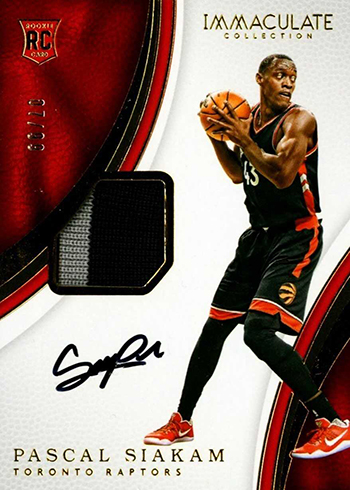 Cold
1. Myles Turner, Indiana Pacers
Turner simply hasn't taken that next step toward stardom many were anticipating this season. He's been solid, not spectacular, with statistics slightly better than last year. His card prices are soft as collectors look elsewhere.
2. Ben Simmons, Philadelphia 76ers
Simmons is an All-Star and his cards sell. But they're not selling at the high prices of the last two years. Teammate Joel Embiid has emerged as an MVP candidate, and he is the one garnering the majority of the hobby attention with his superstar turn.
3. Jayson Tatum, Boston Celtics
At this time last year, Tatum cards were among the hottest in the hobby. However, his sophomore season has been a bit of a disappointment resulting in down arrows for several of his Rookies.
4. Thon Maker, Detroit Pistons
The 2016 lottery pick registers nary a blip on the collecting radar anymore. A mid-season trade from Milwaukee to Detroit has done little to change his chilly hobby outlook.