NBA Hardcourt Heroes of the Week: LaVine, Whiteside, Teague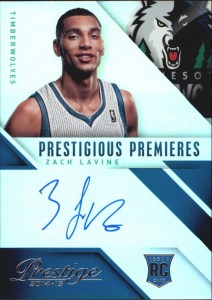 Each week, we will take a look inside the NBA and will give you the top three players of the week and provide a rundown on why collectors should take notice. Please feel free to leave your comments for a healthy debate.
By Derek Ficken | Beckett Basketball Analyst
Zach LaVine – PG – Minnesota Timberwolves
Winner of the Sprite Slam Dunk Contest
If you paid attention to the All Star festivities this past weekend, you knew that the rookie from UCLA stole the entire show. Zach LaVine had a lot of hype coming out of college, but fell on a bit of a cold streak with a Minnesota team that had plenty of young stars to share a limited amount of minutes. You have seen him in most, if not, all of Panini's 2014-15 products. With Panini Gold Standard just coming out, his autographs have started out on a high note with his JSY AU/149 selling at $80 and his 2013-14 Exquisite Collection '14-15 Rookie Autographs card, currently at $100, is now reaching prices close to $160. It's not a big jump compared to a player like Hassan Whiteside, but the collectors who invested high in LaVine should see a slight rise in his overall value. With the exposure of of this past All Star weekend, you would be smart to jump on his lower value autographs and see where it takes him into next year with a potential repeat in the Slam Dunk contest. Look into his cards like 2014-15 Totally Certified Rookie Roll Call Autographs ($25) or his 2014-15 Hoops Hot Signatures ($25) and hopefully reap the benefits down the road.
Key Cards to Collect:
2013-14 Exquisite Collection '14-15 Rookie Autographs #RZL ($100)
2014-15 Prestige Prestigious Premieres Signatures #PPZL ($25)
2014-15 Panini Gold Standard #219 JSY AU/199 RC ($60)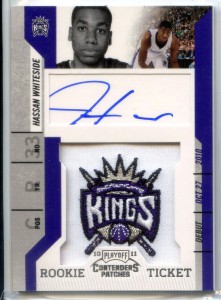 Hassan Whiteside – C – Miami Heat
Last Five Games: 14.8 PPG, 13.3 Reb, 2.3 Blk
Hassan Whiteside continues to wow basketball analysts and collectors alike. With his second inclusion on this list, he seems to be a hot commodity in the collecting world. With 3 (almost 4) triple doubles in the short month of February, he proves that his value is here to stay or potentially rise as the second half of the season starts on Thursday. If you haven't jumped on the Whiteside bandwagon, you better hurry before it is too late. With cards like his 2010-11 Limited RC, currently priced at $10 in the Beckett Online Price Guide, recent sales are showing in the range of $20-$30, so expect up arrows in the near future. If his lower value cards are jumping like this, you can only wonder what his high value cards are selling at. If you sleep on Hassan any more than you already have, you will be left behind, as he is proving a worthy candidate of Comeback Player of the Year. Look to grab his 2010-11 Timeless Treasures AU/286 RC ($8) or his 2010-11 Panini Threads RC ($10) before it's too late.
Key Cards to Collect:
2010-11 Playoff Contenders Patches #131 AU RC ($30)
2010-11 Absolute Memorabilia #181 JSY AU/499 RC ($8)
2010-11 Panini Threads #23 AU RC ($10)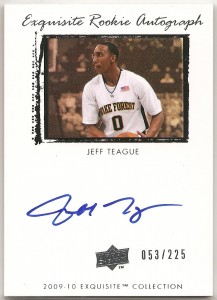 Jeff Teague – PG – Atlanta Hawks
Last Five Games: 16.2 PPG, 6 Ast, 1.8 Stl
I have been wanting to put an Atlanta Hawk on this weekly list ever since its inception, only problem being you didn't have a standout player in their starting five. You could easily make a case to have Kyle Korver or Paul Millsap on this list proving their value and how they are extremely undervalued on the secondary market. The reason for Jeff Teague being the lucky one on this week's list is how he handles to continue to rise each year in value and productivity. Secondary market sales has been pushing towards HI book value, which is great for collectors who are looking to buy on the cheap and invest in a potential juggernaut come playoff time. Look towards his cards like 2009-10 Court Kings AU RC ($10) or even his 2009-10 Timeless Treasures AU RC ($12), but also be aware of his key cards like 2009-10 Panini National Treasures JSY AU RC ($120) to potentially buy now and see his value soar as the Hawks have been throughout the season and hopefully into an NBA championship. One quick note to know about Teague, out of his 106 autographs in the Beckett Online Price Guide, only three exceed $100. That shows that there is plenty of room to grow on many of his certified autographs come June when they potentially could be in contention for the title.
Key Cards to Collect:
2009-10 Limited #167 JSY AU RC ($15)
2009-10 Rookies and Stars #148 AU/449 RC ($15)
2009-10 Exquisite Collection #57 AU RC ($50)