National Treasures Hockey Packs a Stanley Cup Surprise
The release of 2013-14 National Treasures from Panini America marked the end of an era for the company, but they are still making waves with hockey card collectors as the product flies off store shelves and delivers some monster hits along they way.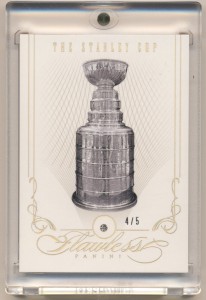 One of the craziest hits of them all, however, was not even announced as part of the final checklist and it is a remarkable piece that will be heavily chased for years to come. The game's greatest treasure, the Stanley Cup, is honored with a Flawless insert card limited to five copies and it has an actual diamond embedded into it. According to Panini Hockey Brand Manager Chris Barr, there is also a Platinum parallel version with a larger diamond piece that is a one-of-one.
Collector Lisa Su pulled the elusive card on the day of release and collectors almost instantly began buzzing about the unexpected treasure.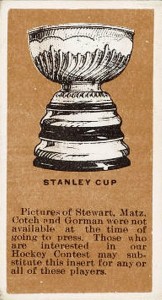 Strangely, the Stanley Cup itself has only rarely been featured by itself on a trading card. The first of them came in the 1924-25 Champ's Cigarettes set (which depicts the original bowl) and it was meant to act as a substitute for cards that the company could not produce in time for release. Vintage collectors can also chase down Beehive photos of Lord Stanley's Mug and see how it evolved over time. It was not until the 1969-70 O-Pee-Chee set that it was finally depicted on a standard-sized card and the company made two more over the next three seasons.
For nearly two decades afterward, collectors could only find the Stanley Cup in oddball sets and sticker albums. During the 1990-91 season, Pro Set made waves with a Stanley Cup Hologram that was numbered to 5,000 copies and it was the first serial-numbered hockey card. Today, it is still an important card and sales continue to be very strong for copies in top condition.
"I'd be lying if I said the Pro Set Stanley Cup Hologram wasn't part of the inspiration for the card," noted Barr. "It was the first real big super chase card that I could remember when I was collecting back then and just incredibly done. The card is legendary and still talked about highly today. I also wanted to do something unique for the Flawless subset in National Treasures and planned on doing one special unnumbered card for a surprise. The Stanley Cup Flawless card ended up being the one we went with."
As many collectors and dealers anticipated, the hobby has reacted in positive manner to Panini's final hockey release and Barr is quite pleased with how it has been received.
"I couldn't be more excited," he said. "Overall, the reaction has been overwhelmingly positive and collectors have been showing that with the number of cases flying off the shelves and the initial sales from the singles. It's bittersweet with National Treasures being our last hockey product, but it's simply amazing to see how well collectors are taking to it."
With a strong assortment of cards appearing to come out of most packs, Barr believes that the sole hockey edition of National Treasures will have a long-term impact on collectors.
"Ultimately, we hope it stays on the hobby radar for years down the line. The biggest compliment to the product will be collectors using it as a comparison to products released well after this one. I think in time, the innovations in the brand like the Buried Treasures, Treasured Steel and Treasure Chests will definitely be appreciated more since we won't be doing them again. In the future I hope they're going to view it for what it is, the best Panini had to offer them in a single launch. One thing I can say for sure based on the feedback I've received from numerous collectors and hobby shops, National Treasures will be missed next year."