2014 National Treasure Hunt: Friday Edition
With another day at the 2014 National Sports Collectors Convention drawing to a close, the thousands of collectors coming through the doors are undoubtedly relaxing and taking a good look at the amazing items they purchased today.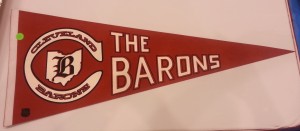 Once again, Beckett Media has taken to the show floor to look out for some unique collectibles and share them with readers. While many dealers are carrying a large amount of baseball and football-related items, there are some compelling hockey and basketball pieces that could be found with a little bit of digging.
1) Cleveland Barons Pennant
Before the 1976-77 season began, the NHL's California Golden Seals headed east to become the Cleveland Barons. The hard-luck club only lasted two seasons in nearby Richfield before folding and being merged with the Minnesota North Stars in 1978.
Many promising talents suited up for the Barons during their two years in the league including Dennis Maruk, Al MacAdam, Charlie Simmer and Gilles Meloche. The team name has also seen some use at the American Hockey League level in the past.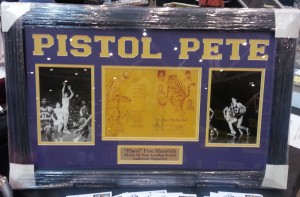 2) Framed Pete Maravich Autographed LSU Program
"Pistol Pete" autographs are sometimes a challenge to find, but any fan or collector of his memorabilia would certainly love to have a nicely presented framed piece like this. While the autograph itself is not the clearest or cleanest, its rariety trumps such concerns. For many years, his signature was quite difficult to obtain, but he softened his stance on giving autographs during the last few years of his life.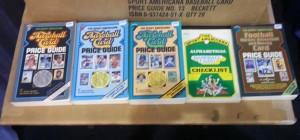 3) Vintage Sports Americana Price Guides
For many collectors on the floor, our first knowledge of the hobby's history came from the early work of hobby pioneer Dr. James Beckett.
These books evoke memories of a simpler time and laid the foundation for the magazine and the website you are reading today. Seeing such a wide selection is a rare treat and there are several others that can be spotted at the Beckett Media booth during the show as well.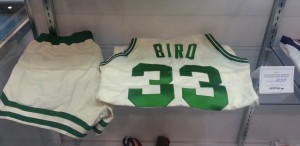 4) 1979-80 Larry Bird Boston Celtics Uniform
While it had been technically sold already, this phenomenal piece of NBA history was still on display at the Heritage Auctions booth today. The jersey and shorts worn by Bird at the beginning of his Hall of Fame career will certainly make some collector happy and are a true hobby treasure.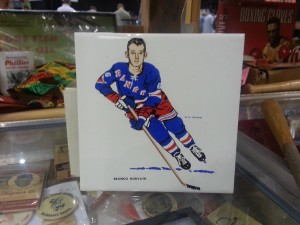 5) 1963 Bronco Horvath Cowan Tile
According to some researchers, these somewhat obscure ceramic tiles bearing the likeness of an NHL star were never officially released by Cowan Screenart. While these tiles likely never made it into home improvement projects since many were reportedly destroyed, they have developed a small collector following over the years. They are quite scarce today and command attention when put up for sale.
As for Horvath, he was one of the NHL's most feared shooters during his time with the Boston Bruins from 1957-58 to 1960-61 and led the league with 39 goals in 1959-60. He played for five of the Original Six teams and this item was made at some point near his brief 41-game run with New York during the 1962-63 campaign.