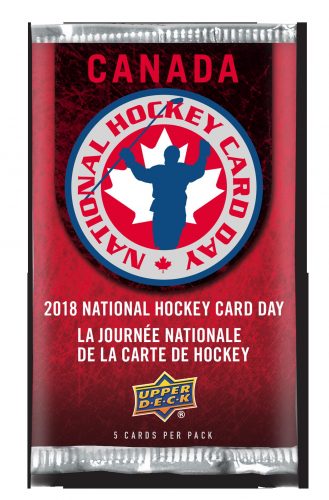 By Stephen Laroche | Beckett Hockey Editor
A hobby as beloved as hockey card collecting deserves to be celebrated and Upper Deck is once again ready to pay tribute to it on March 3, 2018 with National Hockey Card Day.
With celebrations taking place in both Canada and the United States, collectors will be able to visit their local card store or retail outlet that offers up Upper Deck products in order to get in on the action and break some complimentary packs of cards.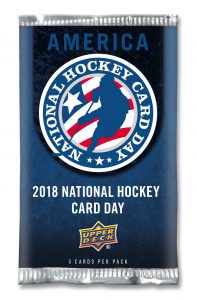 While details are only preliminary at this point, it has been confirmed that there will be distinct sets offered for both the American and Canadian markets. The sets will have 15 cards each, but there is also a 16th card with a Memorable Moments theme which is offered as a gift with purchase. It is also possible that mass market retail outlets will once again offer perforated sheets of cards instead of packs.
What else can collectors expect? A continuation of the Victory Black Rookies promotional set that begins at the Fall 2017 Sportcard & Memorabilia Expo should be found here as well as autographs that are long-odds pulls. Upper Deck could potentially announce additional content in the days and weeks leading up to National Hockey Card Day in addition to the possibility of unannounced surprises.
Typically, the event has been held in February, but this time, it will coincide with Hockey Weekend Across America. Dealers may also experience greater turnouts if the weather is better than in the past.
Dealers interested in participating in National Hockey Card Day should check with their distributors for additional information.
As we get closer to National Hockey Card Day, be sure to look for more information on this page.
Stephen Laroche is the editor of Beckett Hockey, Beckett Basketball, and Beckett Sports Card Monthly magazines. Have a comment, question or idea? Send an e-mail to him at slaroche@beckett.com or follow him on Twitter @Stephen_Laroche.