National Hockey Card Day is back again in 2016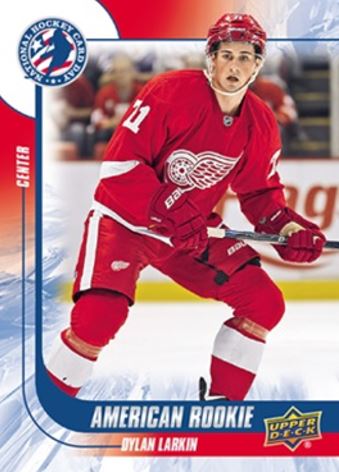 By Stephen Laroche | Beckett Hockey Editor
National Hockey Card Day is back again in 2016 and North American collectors will once again be able to visit their local card shop on Saturday, February 6 to celebrate the hobby with bonus packs created by Upper Deck. This season, the popular promotion will take place on the same day in the United States and Canada and each country has specific 15-card sets featuring top stars and rookies along with the game's legends.
No matter what side of the border a collector is on, they will have an opportunity to receive a special 16th card when making an in-store purchase of at least $10.00. At American shops, the bonus comes in the form of a Jack Eichel Memorable Moments card while participating Canadian stores will get a Connor McDavid Memorable Moments card. With interest in hockey cards being greater than usual in 2015-16, it is expected that there will be bigger crowds at card stores looking to score these packs.
"It is extremely exciting to support our retailers on National Hockey Card Day," said David Vatri of Universal Distribution. "National Hockey Card Day is an important promotion for many reasons. It is superb exposure for the industry and the retailer and an opportunity for retailers to interact with their community, lapsed or casual collectors. It is also an opportunity to give consumers a very positive experience and is a celebration of a national pastime."
Broken up into five-card subsets, the checklist starts with Stars in Stripes cards that focus on current stars (John Carlson, Phil Kessel, Zach Parise, Kevin Shattenkirk, and Cory Schneider). Today's hottest freshmen starring for clubs based in the United States make up the American Rookies subset (Jack Eichel, Dylan Larkin, Noah Hanifin, Artemi Panarin, and Oscar Lindberg) while the regular set concludes with American Icons (John Vanbiesbrouck, Doug Weight, Chris Chelios, Brett Hull, and John LeClair).
North of the 49th parallel, collectors can put together a set with similar themes. Pride of Canada will be made up of John Tavares, Carey Price, Taylor Hall, Andrew Ladd, and Sean Monahan. Canada's Rookies leads of with McDavid as expected, but the lineup also includes Sam Bennett, Robby Fabbri, Max Domi, and Nicolas Petan. Closing out the set are Hockey Heroes with Wayne Gretzky in his national team jersey plus Bobby Orr, Lanny McDonald, Glenn Anderson, and Doug Gilmour. Strangely, the checklist does not include players from the Ottawa Senators or Vancouver Canucks.
Upper Deck's Senior Social Media & Marketing Manager Chris Carlin spoke to the importance of the National Hockey Card Day program.
"No manufacturer goes to the lengths Upper Deck does to grow this hobby. For example, our partnership with Tim Horton's this season helped expose millions of potential customers to our brand and the fun of collecting NHL trading cards. Black Friday promotions at large retailers like Wal-Mart have been a tremendous success as well. We have always felt however that the real magic happens at the hobby shop level. This is why the National Hockey Card Day program has been so successful every year as it really is a partnership with our Certified Diamond dealers who invest in these packs to share at no cost to new and existing customers. Obviously this is a special year for NHL trading cards so we firmly believe shops will see more existing, lapsed and new collectors walk through their doors on February 6 than on any National Hockey Card Day in history."
While this promotion traditionally has additional bonuses such as randomly-inserted autographs and inserts, few specific details about them have been released at this time. Canadian packs will contain some inserts which feature some players from this season's rookie crop that are not part of the regular set.
Upper Deck has posted a list of participating shops in both the United States and Canada.
2016 National Hockey Card Day Checklist
American Set
Stars in Stripes
USA-1 John Carlson, Washington Capitals
USA-2 Phil Kessel, Pittsburgh Penguins
USA-3 Zach Parise, Minnesota Wild
USA-4 Kevin Shattenkirk, St. Louis Blues
USA-5 Corey Schneider, New Jersey Devils
America's Rookies
USA-6 Jack Eichel, Buffalo Sabres
USA-7 Dylan Larkin, Detroit Red Wings
USA-8 Noah Hannifin, Carolina Hurricanes
USA-9 Artemi Panarin, Chicago Blackhawks
USA-10 Oscar Lindberg, New York Rangers
American Icons
USA-11 John Vanbiesbrouck, New York Rangers
USA-12 Doug Weight, New York Islanders
USA-13 Chris Chelios, Detroit Red Wings
USA-14 Brett Hull, St. Louis Blues
USA-15 John LeClair, Philadelphia Flyers
Memorable Moments
USA-16 Jack Eichel, Buffalo Sabres
Canadian Set
Canadian Pride
CAN-1 John Tavares, New York Islanders
CAN-2 Carey Price, Montreal Canadiens
CAN-3 Taylor Hall, Edmonton Oilers
CAN-4 Andrew Ladd, Winnipeg Jets
CAN-5 Sean Monahan, Calgary Flames
Canada's Rookies
CAN-6 Connor McDavid, Edmonton Oilers
CAN-7 Sam Bennett, Calgary Flames
CAN-8 Robby Fabbri, St. Louis Blues
CAN-9 Max Domi, Arizona Coyotes
CAN-10 Nicolas Petan, Winnipeg Jets
Hockey Heroes
CAN-11 Wayne Gretzky, Team Canada
CAN-12 Bobby Orr, Boston Bruins
CAN-13 Lanny McDonald, Calgary Flames
CAN-14 Glenn Anderson, Edmonton Oilers
CAN-15 Doug Gilmour, Toronto Maple Leafs
Memorable Moments
CAN-16 Connor McDavid, Edmonton Oilers
Stephen Laroche is the editor of Beckett Hockey, Beckett Basketball, and Beckett Sports Card Monthly magazines. Have a comment, question or idea? Send an e-mail to him at slaroche@beckett.com or follow him on Twitter @Stephen_Laroche.