National Hobby Shop Day Slated for December 9
Card shops have been a hub of several special promotions and exclusive card sets over the past few weeks. Following in the footsteps of Topps Holiday, Panini Black Friday and Upper Deck Winter comes National Hobby Shop Day.
Running Saturday, December 9, the focus is on shops creating a festive atmosphere. GTS Distribution is supporting stores participating in National Hobby Shop Day. While there are no exclusive cards connected to the promotion, collectors can expect some free packs, prizes, sales and, possibly even snacks.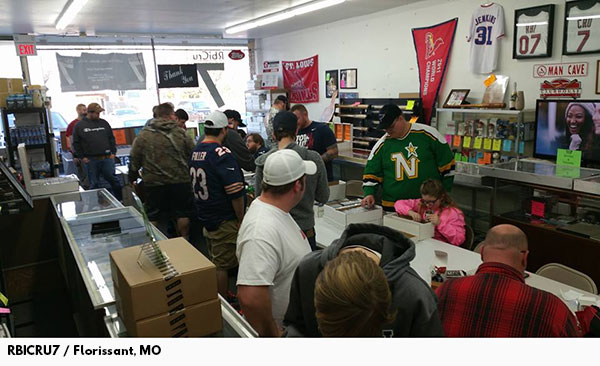 Individual shops are free to organize things as they wish so events will likely vary.
Wondering where the closest participating shop is? Here's a list of confirmed stores.
National Hobby Shop Day Store List
Please contact individual shop for specifics on what they have planned.
List arranged alphabetically by state.
Bosco's
2301 Spenard Road
Anchorage, AK
Phoenix Sports Cards/Sci-Fi Cards
5870 W Thunderbird Rd Ste A2
Phoenix, AZ
Mike's Stadium Sportscards
4032 S Parker Rd
Aurora, CO
DJ Sports
9102 W 88th Ave
Arvada, CO
Big League Cards
920 E. Semoran Blvd.
Casselberry, FL
Jerry's Rookie Shop
3021 West State St
Boise, ID
Heroes
8919 W 22nd St
North Riverside, IL
Steven's Collectibles
35 E Plainfield Rd Ste 2
Countryside, IL
Premium Investments
6501 N Grape Rd
Mishawaka, IN
Baseball Card Exchange
8519 Westfield Blvd
Indianapolis, IN
Bleachers
988 Bedford St.
Abington, MA
Baseball Card Outlet
7502 Eastern Ave
Baltimore, MD
Diamond King Sports
Gowens Corner – 1 Bayside Rd Ste 114
Greenland, MH
Collector Store
2416 Hwy 94 South Outer Rd
St Charles, MO
RBICRU7
1030 Saint Francois
Florrisant, MO
Cards Infinity
5725 Oleander Dr Unit A-6
Wilmington, NC
Big Nick's Sports Cards
3902 13th Ave S #110
Fargo, ND
Chris' Comics – Salem
341 S Broadway St
Salem, NH
Chris' Comics – Seabrook
919 Lafayette Rd
Seabrook, NH
Evan's Sports Cards and Collectibles
2999 East Evesham Rd Unit 15
Voorhees, NJ
All Pro Sports Cards
492 Graham Rd
Cuyahoga Falls, OH
Triple Play Sports Cards
Cherri Park Square 399 S State St #15
Westerville, OH
Sports America Sports Cards
6 State Rd Ste 101
Mechanicsburg, PA
Baseball Cards of Rhode Island
6861 Post Rd
North Kingstown, RI
Triple Play
3816 S. Western Ave
Sioux Falls, SD
All Star Sportscards
4421 Hwy 58 Ste 3
Chatanooga, TN
Sporftscards Plus
2251 Lockhill Selma Rd
San Antonio, TX
Collectors Cove
5338 George Washington Memorial Highway Ste 1
Yorktown, VA
Brewtown
7633 West Beloit Road
Milwaukee, WI
Comments? Questions? Contact Ryan Cracknell on Twitter @tradercracks or by email.