National Founder, Mike Berkus, Remembered in NSCC Main Stage Dedication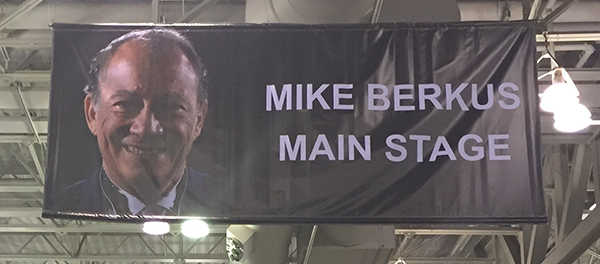 By Ryan Cracknell | Hobby Editor
When Mike Berkus passed away in November, he left behind a massive legacy. Founder of the National, he brought the hobby its biggest show. Over the years, he helped it evolve into what it is today. One of the more recent additions was a main stage where big things could happen at the show and be put on display. Seeing as how Mike was such an outgoing person, it was fitting that the stage carry on in his memory.
A ceremony was held on Wednesday, the first official day of the 2016 National, dedicating the main stage in Mike's honor.
The ceremony was a touching tribute that featured speeches from a handful of friends and family members.
"In November, we lost Mike. And the National will never be the same for it." said John Broggi, NSCC Executive Director. "But we're going to move on. I know his rule would have been, 'You've got to keep the show going. I created it in 1980 and we need it to keep going.' So that's what we're trying to do."
"It's a bittersweet day," said Tristar President, Jeff Rosenberg. "Mike was a true pioneer, a mentor and, most importantly, a friend. Mike Berkus will certainly be missed but he will absolutely never be forgotten. We will do what we can to continue to make you proud."
Both Dan and Nate Berkus, Mike's son's, took to the stage to pay tribute to their father and his passion for the National and the industry as a whole.
"He had a passion for life and that flowed into the most important things in his life: his family, his friends and his love for collecting. For him, this show embodied all of those things," remembered Dan. "In fact, I believe he founded the National simply to bring together family, friends and likeminded collectors. He loved this industry and this show is a product of that love."
Nate said, "His life and his world were always filled with stories: stories of all of you, stories of the card that he searched for, stories of the things that he found, stories of how excited he was as a boy growing up in St. Paul, Minnesota knocking on doors and asking people if they happened to have any baseball cards in their attic.
"It was the hunt and the passion of collecting and the discovery of the exact thing that he wanted that drove him and drives all of us still today. He left us with so many life lessons but most importantly he left us all with the passion of connecting and collecting."
Upper Deck's Chris Carlin also took to the stage to share kind words and show one of the special tribute cards Upper Deck produced of Berkus using the company's popular Piece of History 500 Home Run Club design.
During the tributes, a banner was unveiled of Mike that will hang over the main stage throughout the event.
Comments? Questions? Contact Ryan Cracknell on Twitter @tradercracks.