National Attendees Can Help Support Cards for a Cause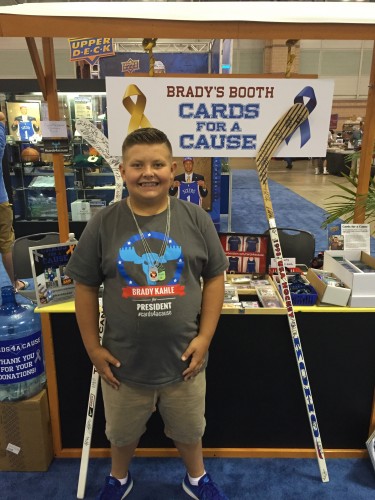 By Stephen Laroche | Beckett Sports Card Monthly Editor
Facing with the reality of his friend Landen Palatino battling brain cancer, young collector Brady Kahle has stepped up to help out and raise funds by selling his cards – and collectors attending the 37th National Sports Collectors Convention in Atlantic City can help him out as he sets up shop at Upper Deck's corporate booth.
"I thought that it was the right thing to do to sell some of my cards," he told Beckett Sports Card Monthly earlier this year. "I've got thousands of them, so I thought it would be a good idea to sell some of them to try to raise money."
His parents could not be prouder.
"The character I have seen in him throughout this whole thing, it started the middle of January when we found out that Landen was diagnosed," said Brady's mother, Jessie. "My husband and I were standing in our kitchen, and we've known (Landen's mother) Tina for a long time, and we were just talking about not being able to imagine being in her position. We have to help somehow, and in walks the nine-year-old and he says 'can I sell some of my cards to help Landen?' and I say yes! It's been crazy and he's been loving it. It's something that he loves and he has a grown man collector's mentality, so he's taking it very seriously.
"At just that one show, not counting outside donations, between 9:00 and 2:00, he raised $4,000.00. The first show, people were basically throwing money at him once they found out what he was doing."
Brady and Cards for a Cause raised over $7,000 over the course of two shows at his local Boys & Girls club in Springfield, MA. Donations have been coming in frequently for this cause and the Kahle family was contacted by Boston Red Sox and Brady and Landen were invited to game on April 21 and were recognized by a ceremony prior to the game. Brady is a big Red Sox fan and his favorite player is David Ortiz. He was surprised to receive so much money and support so far and has established a short-term goal for how much he hopes to raise, but is hopeful it may go further than that.
"Over $10,000. After that, I'm going to try for $50,000."
Jessie echoed the same sentiment and expressed her appreciation for the unexpected support that came from a card manufacturer.
"Upper Deck was very generous in donating some things and posted it," she said. "From that, we have had so many donations because that was when it hit the hobby world. So many amazingly kind people have reached out to me and they're just so nice. They really are just one giant family. It's just so kind. It really, really is."
"Pediatric brain cancer is one of the most insidious diseases that exists today and Upper Deck has worked to raise awareness for those affected and help to improve the quality of life for all those affected with our Heroic Inspirations Program," added Chris Carlin, Upper Deck's Senior Marketing & Social Media Manager. "Upper Deck has plans to do much more to shine a light on the good that Brady has done for his friend Landen. We hope Brady's example will raise awareness and funds to help with research and care for all those affected."
For more information on how to support Brady's effort, visit www.facebook.com/groups/cards4acause or be sure to stop by the Upper Deck booth at the National to make a donation or purchase.
Portions of this article previously appeared in Beckett Sports Card Monthly #374. Photo credit to Ryan Cracknell/Beckett Media.
Stephen Laroche is the editor of Beckett Hockey, Beckett Basketball, and Beckett Sports Card Monthly magazines. Have a comment, question or idea? Send an e-mail to him at slaroche@beckett.com or follow him on Twitter @Stephen_Laroche.