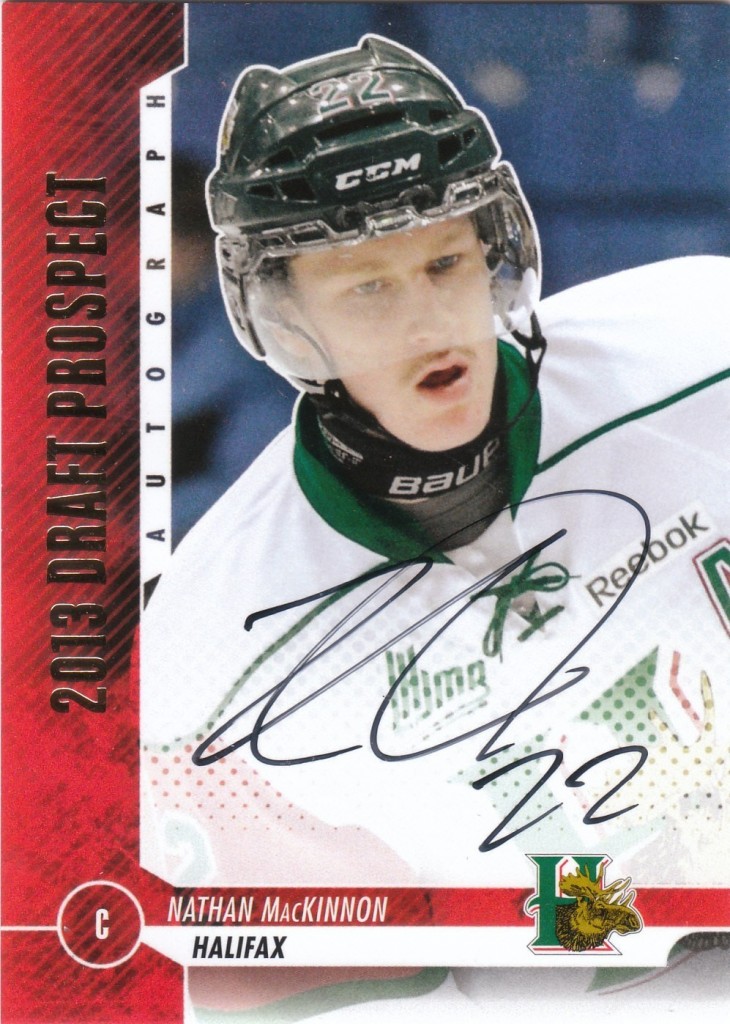 By Susan Lulgjuraj | Beckett Hockey Editor
Two days into the hockey season and we're already looking forward to the next wave of Rookie Cards.
That's because 2013 No. 1 draft pick Nathan MacKinnon had an exciting debut with the Colorado Avalanche. He had two assists and a roughing penalty.
The kid surely was able to hold his own in Colorado's 6-1 win over the Anaheim Ducks on Wednesday.
Collectors still have to wait about a month for his first Rookie Cards to hit the market – making Upper Deck Series 1 and Panini's Select two highly coveted products this season. Both will have the first official cards from the Double Rookie Class.
Young Guns from Upper Deck and autographs from Panini.
However, for collectors who cannot wait to get cards of MacKinnon, there is another way for now. He already has 129 cards on the market from In The Game dating back to the 2011-12 season. In that lot are 20 autograph cards.
These are pre-NHL cards – sort of like prospect cards in baseball – with MacKinnon in his junior league uniform. His autographs have sold well from ITG. His 2011-12 ITG Heroes and Prospects auto has a book value between $75 and $150.
The cheapest auto is currently his 2012-13 ITG Draft Prospects even though it's a short-print. These are selling for well under $100.
You can find his pre-Rookie Cards on the Beckett Marketplace and eBay.
By the way, other rookies with interesting games from the past two days include Jacob Trouba (a goal and an assist), Luke Gazdic, Zemgus Girgensons and Mark Scheifele, who all scored. Scheifele has Rookie Cards from the 2011-12 season.
Susan Lulgjuraj is an editor at Beckett Media. You can email her here with questions, comments or ideas. Follow her on Twitter here. Follow Beckett Media on Facebook and Twitter.