Nathan MacKinnon already a star with hockey collectors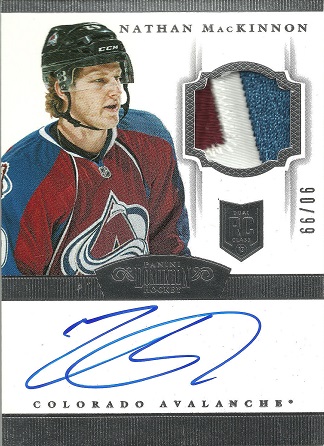 By Susan Lulgjuraj | Beckett Hockey Editor
You may not realize Nathan MacKinnon was 18 years old by watching him play hockey.
He moves across the ice with the presence of someone who has played on this level for years. He sees the ice well, finding intricate ways to get the puck on his teammates' sticks. MacKinnon can score too.
In two games in the Stanley Cup playoffs, the Colorado Avalanche rookie already has seven points, tying the record for the most points in the first two playoff games of a career. MacKinnon had three assists in Game 1 against the Minnesota Wild, and a goal and three assists in Game 2. Game 3 is tonight at 7 p.m. ET.
MacKinnon is the frontrunner for The Calder Cup, given to the best NHL rookie every year. During the regular season, he led all rookies with 63 points (24 goals, 39 assists).
When it comes to hockey cards, MacKinnon is already a star. Collectors scrambled to get his Rookie Cards the moment they appeared in sets starting with 2013-14 Select and 2013-14 Upper Deck Series 1. Since then, he's easily been the most collectible rookie out of the Double Rookie Class.
A handful full of rare cards have sold for more than $1,000 on the secondary market this season, but even his cheapest autograph will run collectors more than $100.
A unique situation occurred with this Upper Deck Young Guns Rookie Card where a number of cards had a printing defect. On MacKinnon's right arm, an area of red is lighter than the rest of the Colorado jersey, which hurts the condition of the card from third-party graders. But the defect caused a premium for cards without the mark, allowing BGS 9.5 (or better) and PSA 10 cards to sell for more than $125 on the secondary market.
For those looking to get MacKinnon autographs at a lower price, they should look at In The Game cards where MacKinnon signed for ITG while in junior hockey. These aren't Avalanche cards, but the equivalent of prospect cards in baseball.
Notable Nathan MacKinnon cards
2011-12 Heroes and Prospects Autographs #ANM

2012-13 ITG Draft Prospects Autographs

2013-14 Dominion #201 /99 AU

2013-14 Panini Titanium #233 /29

2013-14 Select #301 /399

2013-14 SP Game Used #152 /29

2013-14 SP Game Used Draft Day Marks

2013-14 Upper Deck ICE #123 /99 AU

2013-14 Upper Deck Young Guns #238
2013-14 Upper Deck Young Guns Acetate #238

2013-14 Upper Deck Trilogy #201 AU
Susan Lulgjuraj is an editor at Beckett Media. You can email her here with questions, comments or ideas. Follow her on Twitter here. Follow Beckett Media on Facebook and Twitter.