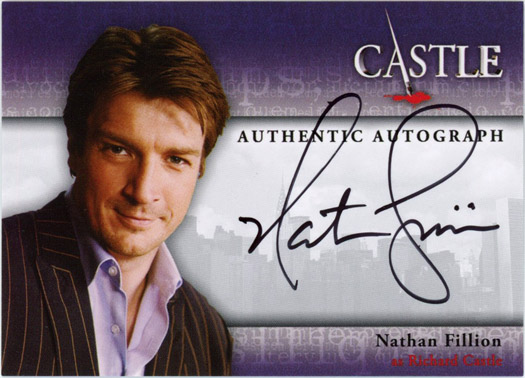 By Susan Lulgjuraj | Beckett Sports Card Monthly Editor
Castle fans will be excited to rip open the new cards from Cryptozoic. The company announced the inclusion of star Nathan Fillion as part of the autograph list.
Fillion has a passionate group of fans, stemming from his sci-fi days.
Fillion appeared on autograph cards in 2003 Buffy the Vampire Slayer Season Seven Autographs, 2005 Serenity Autographs and 2006 Firefly The Complete Collection Autographs.
Another highlight from the upcoming set – scheduled to release March 5 – is a redemption for an oversized cast wardrobe card. Costumes from eight characters will appear on this card, including Richard Castle, Kate Beckett and others.
Other autographs signees include Susan Sullivan, Arye Gross and Scott Paulin.
Susan Lulgjuraj is an editor of Beckett Sports Card Monthly. You can email her here with questions, comments or ideas. Follow her on Twitter here. Follow Beckett Media on Facebook.