My first Registry is easily beatable … or is it?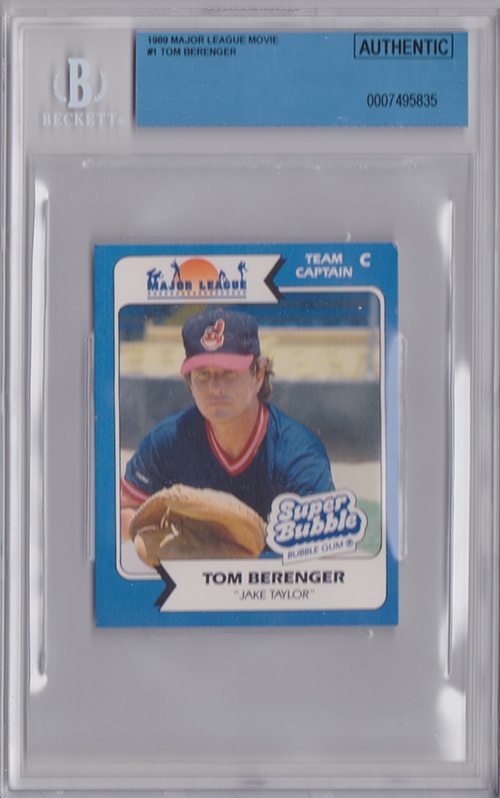 By Chris Olds | Beckett Baseball Editor | Commentary & Opinion
Sometimes, my grand ideas don't aways go to plan.
Not long ago, I wrote about one of my rarest graded cards and how I planned to have it be among my first registered cards. I was wrong and I was as predictable as can be once I saw that the Beckett Graded Registry was live today. I went back to my well — and instead registered my toughest find.
My first registry is "For Major Leaguers only" and it's for the toughest not-supposed-to-be-tough-set I know, the 1989 Major League Movie collection. You see, the Registry isn't for just the 1952 Topps collectors of the world — it's for any weird little niche you can find. And mine? Well, you all know by now …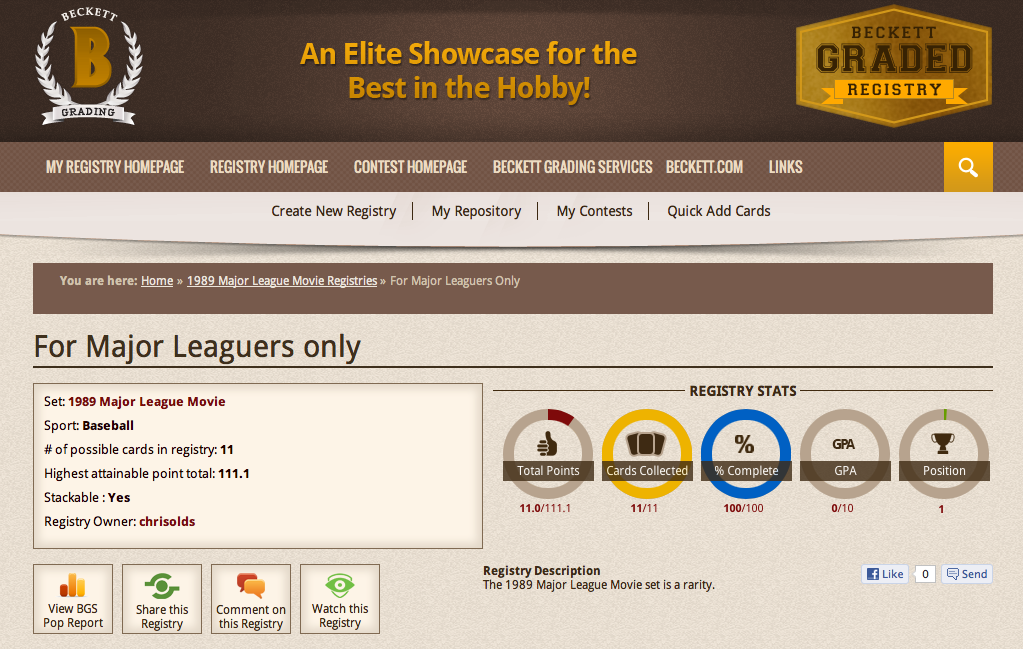 I've seen just two factory-sealed sets show up on eBay in five years or so and I paid dearly for this one. I recently let the second go unsold on eBay because, while I want to own as many sets as possible, I'd rather not pay even more dearily (sure, that's a word) for a second, even though it may have graded out even better than mine. (Why? I'm a bit like Jake Taylor in one regard … something about "league minimum.")
I entered all 11 of my cards in the set and it's an underachieving bunch if there ever was one. It's an authenticated-only set — a move because I knew that the wear of just being shrink-wrapped for all those years since my set was handed to an extra at Milwaukee's County Stadium during filming was not conducive to a Pristine 10. Or even a Gem Mint 9.5.  I knew that it wouldn't be pretty — even though I treated my cards like Honus Wagner T206s as I carefully opened the set, so I opted for a move that meant all of the slabs had matching blue labels.
This morning, I entered all 11 cards and the Registry tallied up my points — 11 out of 111.1 possible. My set? Complete at 100 percent. Its GPA? A big ol' zero.
But my position? No 1.
Now I'm pretty sure that there won't be many collectors out there with these kinds of stats, but are there other collectors with graded copies of the set?
Well, according to the population report, there aren't any. Not a single BGS 1 of the bunch, let alone any Pristine 10s.
So, for now, I definitely can say that my No. 1-ranking feels comfy.
My 1952 Topps ranking? Well, we'll not even go there …
Chris Olds is the editor of Beckett Baseball magazine. Have a comment, question or idea? Send an email to him at colds@beckett.com. Follow him on Twitter by clicking here.
–
Look for more on sports-related entertainment collectibles in the upcoming Sports Movies Issue of Beckett Sports Card Monthly, which begins shipping to hobby shops on April 3.