Mr. October and His Lost 1977 Topps Baltimore Orioles Card – Beckett Pricing Insider
When you click on links to various merchants on this site, like eBay, and make a purchase, this can result in this site earning a commission.
It's that time of year again — the MLB playoffs are here!
Who better to highlight than the player who excelled so much in the playoffs that he earned himself the nickname "Mr. October" — Reggie Jackson?
In 1971, a 25-year-old Jackson led the Athletics to the playoffs and that was just the beginning. Over the next 12 years, between the Athletics, Yankees and the Angels, he'd appear in the pre-Wild Card postseason a remarkable 10 times.
In 1976, Jackson played for a different team, the Baltimore Orioles. In the baseball card world, this is a year that is somewhat forgotten. Because of how short of a period of time he spent with the Orioles, there were no cards produced for national distribution that displayed Jackson in an Oriole uniform.
But in the '70s the industry was different and not everything was distributed on a national scale. We also didn't have nearly the number of sets we have today.
In 1976 there were several discs distributed through various vendors that showed Jackson as a member of the Orioles. All of these were basically parallels of the Crane Discs with different backs that were available from various restaurants, ice cream shops or inserted in different food products, such as potato chip bags, so access was limited. These sell for just a few dollars up to just over $30 for Gem Mint graded copies.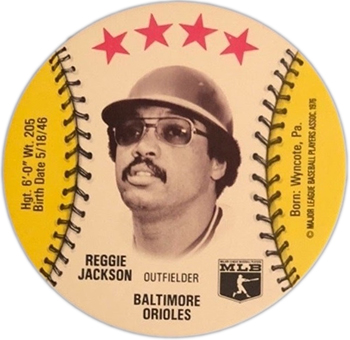 The Orioles also released a team postcard set that included Jackson. These are still just a few dollars. Additional versions of these discs exist with the Oakland Athletics showing as his team name. Because all of these have the same image of Jackson without any logos pictured, it can sometimes be hard to mix them.
Skipping ahead to the present, multiple mainstreams sets have cast Jackson from his Baltimore days. Both 2017 Topps Archives and 2010 Topps National Chicle, two products that are designed with the old-school collectors in mind, show Jackson as a member of the Orioles. These are, again, just regular cards available for a buck or two.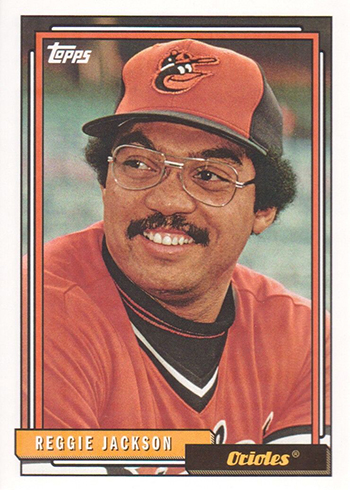 If you want something with some or his Oriole memorabilia or even an autograph, your selection gets limited but can still be found at a reasonable price. In 2001 Upper Deck Legends, he has both a Legendary Game Jersey and a Legendary Game Jersey Autograph with the Jersey selling for around $5 and the Jersey Autograph for $25 to $30. He also has many autograph and autograph relic cards in 2005 Upper Deck Hall of Fame but there aren't a lot out there now.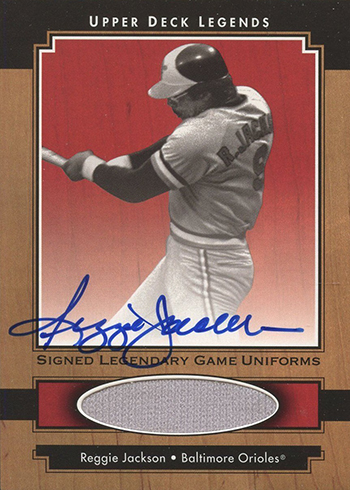 One 1977 Topps Baseball card proves Jackson played for the Orioles. On the front of card #546, the Baltimore Orioles Team Checklist, Jackson is pictured in the middle row on the far right of the team picture. This is a common card available for just around $1.
But Topps actually created a second card that one would assume would've been included had he not signed with the Yankees during the offseason. It's a test proof, or a card with the original design of him in an Oriole uniform instead of the image of him in an A's jersey where they airbrushed in an Yankees logo on his helmet. Today, it's a card of legend, a hobby unicorn of sorts.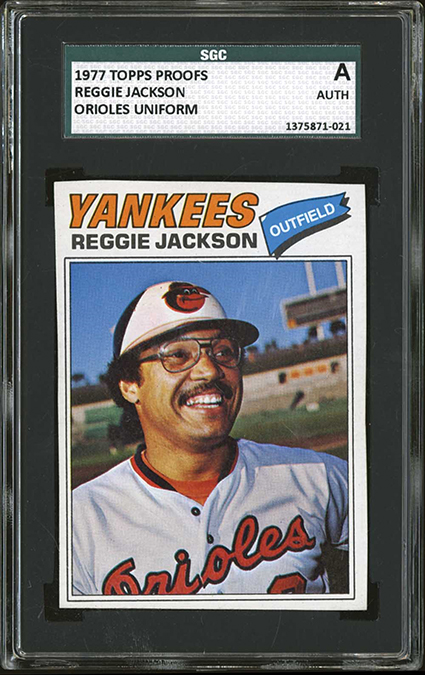 According to Keith Olbermann, there are only eight copies of the card known in existence. One, which was authenticated by SGC, sold in April, 2016 sold in a Robert Edward Auction for $60,000.
This edition of the Beckett Pricing Insider is sponsored by MVP Sports Collectibles.