Mr. Hockey is back In The Game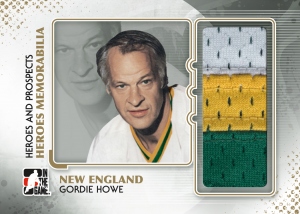 By Andrew Tolentino | Hockey Editor
Howe about that?
Adding allure to its upcoming Heroes & Prospects release, In The Game revealed that a certain Gordie Howe will be making a long-awaited return to the company's 2012 product lineup.
"It has been several years since Mr. Howe was prominently featured as part of In The Game's products and we are incredibly pleased to be working with him once again," explained ITG President Dr. Brian Price. "Our working relationship goes back even farther than that and collectors will be pleased to have an opportunity to get more cards of one of hockey's greatest icons."
Having been on a Howe hiatus since 2001-02, In The Game will be making the most of Mr. Hockey's presence with current collecting standards.  Starting on Feb. 23 with the release of 2011-12 Heroes & Prospects, collectors  can expect to see Howe's autographs and game-used memorabilia cards making their way into the mix.
Stay tuned to Beckett.com for more information on In The Game products set to include the living legend.