Kobe Bryant Rookie Card Power Rankings
When you click on links to various merchants on this site, like eBay, and make a purchase, this can result in this site earning a commission.
The Kobe Bryant Rookie Card checklist represents some of the most popular of the modern era. But he wasn't always an icon. Bryant entered the NBA in 1996-97 fresh out of high school and thrust into the bright spotlight that comes with playing in Los Angeles.
Between scoring titles, 18 All-Star selections and five NBA Championships, Bryant firmly established his legacy both as a player, a leader and in the hobby. He truly is a cultural icon across the globe who continues to influence basketball, business, leadership and more, even after his tragic passing.
Kobe Bryant Rookie Cards Overview
Kobe Bryant Rookie Cards came out at a time when most sets drew value from inserts. Serial numbered base sets didn't start to become more common until a couple years down the road. Autographed rookies were further still. As a result, there's not a lot of complexity in what's out there. Parallels add another layer, but there isn't near the quantity of different versions like there are today.
Kobe Bryant is part of strong first-year class that also includes Allen Iverson, Steve Nash and Ray Allen.
Curious about what Kobe Bryant Rookie Card is the most valuable? What's the most affordable? We've ranked them all.
Most Valuable Kobe Bryant Rookie Card Rankings
Rankings were determined using the Beckett Basketball Card Price Guide. Only base cards with the RC tag are listed, not inserts or parallels.
1. 1996-97 Topps Chrome Kobe Bryant Rookie Card #138
When it comes to value, the 1996-97 Topps Chrome Kobe Bryant rookie card is in a class of itself. The vast majority of his other cards with the RC tag are still very afford despite his accomplishments and status as a basketball icon. Topps Chrome is an entirely different beast. The product was designed with retail distribution in mind. It became an instant hit. That appeal has never failed. Centering is tough in this set so this is considered to be a condition-sensitive card.
Adding to the card's mystique is the Refractor parallel, one of the most desirable basketball cards of all-time. A Black Label BGS 10 sold for $58,100 a couple of months before Bryant's retirement. However, it has soared in the years since. The same exact card is slated to close at auction in March, 2021 for over $1 million.
One thing to watch for if you're shopping for a Topps Chrome Kobe Bryant rookie on eBay, several sellers list the base Topps NBA at 50 foil parallel with Chrome in the title to get more search hits. These cards are very different in both price and desirability.
Parallels: Refractors
Buy it on: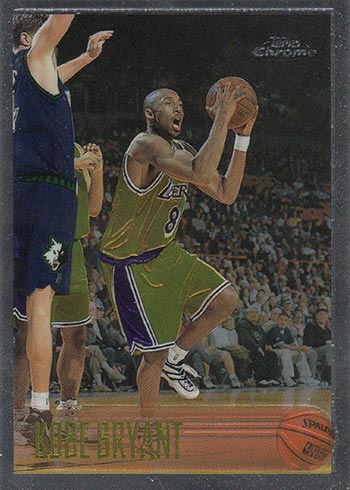 2. 1996-97 E-X2000 Kobe Bryant Rookie Card #30
1996-97 E-X2000 was unlike any other basketball cards at the time. Etched foil borders give way to a glossy die-cut player image and an acetate backdrop. Why clouds? Who knows, but it sure looks cool. The borders are prone to dings, so finding copies in top condition isn't the easiest task. The Credentials parallel, which is numbered to 499, comes with a massive price tag when they come up for sale.
Parallels: Credential (/499)
Buy it on: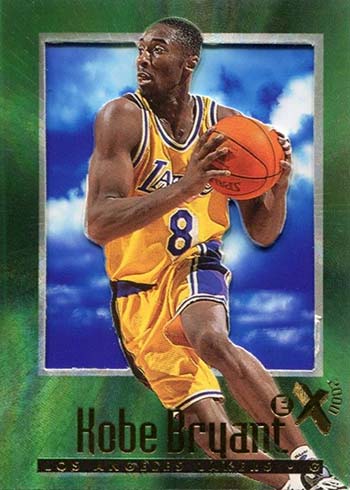 2. 1996-97 Bowman's Best Kobe Bryant Rookie Card #R23
Topps and chromium go together. And there was a time when Bowman's Best was considered the top of such releases from the card maker. It was a small window relegated primarily to baseball but it was that approach Topps appeared to be taking with 1996-97 Bowman's Best. Although numbered differently, rookies are considered to be part of the base set. Bryant's card comes with Refractor and Atomic Refractor parallels, both of which carry significantly more value.
As the rise in both chrome-style cards and the Bowman name, this Kobe Bryant Rookie Card has made tremendous gains and leapfrogged several of his other key cards in value.
Parallels: Refractors, Atomic Refractors
Buy it on: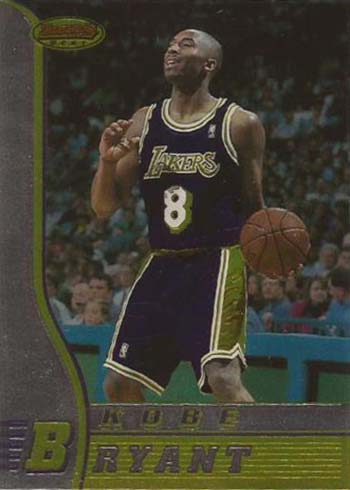 4. 1996-97 Topps Kobe Bryant Rookie Card #138
Don't discount the history of the Topps flagship brand, even in basketball. Bryant's base card hangs in the thick of things despite not having much in the way of premium elements. Perhaps it's that past or maybe it has something to do with a certain chromium Kobe that's led to the relative popularity of this card.
In addition to the basic version, there's a foil NBA at 50 parallel.
Parallels: NBA at 50
Buy it on: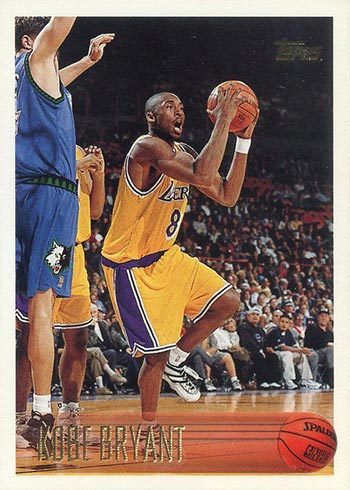 5. 1996-97 Finest Kobe Bryant Rookie Card #74
For its first couple of seasons on the hardwood, Finest was the premium Topps basketball brand. And if it weren't for a late release that caused a major stir in the hobby, this would have remained the case with 1996-97 Finest Basketball. Like Flair, the main checklist has a tiered structure. Rather than Rows, Finest took a common, uncommon and rare approach (also referred to as bronze, silver and gold). Bryant's rookie card in the product is part of the Series 1 Apprentices subset. Bryant also appears in Series 2 on a separate rare card. It's the more valuable of the two. Both have Refractor parallels.
1996-97 Finest Basketball cards originally came with a protective film. Whether it's still on or not doesn't have any major impact on the value.
Parallels: Refractors
Buy it on: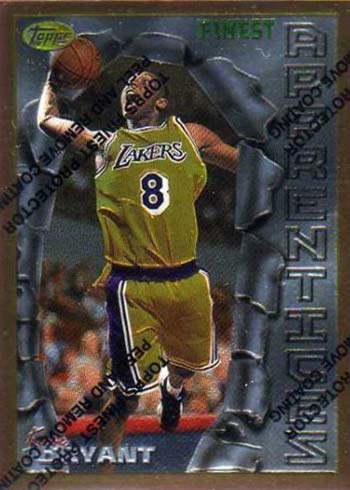 6. 1996-97 Flair Showcase Row 2 Kobe Bryant Rookie Card #31
It's tough to argue against the beauty of 1996-97 Flair Showcase Basketball. The rainbow foil, multiple player shots and flow fonts make for a design that's elegant and distinct. It also has a tiered structure with three "Rows." Row 2 is the most common and, as such, is considered the base version. Row 1 and Row 0 come with separate designs. All three cards have Legacy parallels serial numbered to 150. These are some of the most coveted of all 1996-97 Kobe Bryant cards.
Parallels: Legacy Collection (/150)
Buy it on: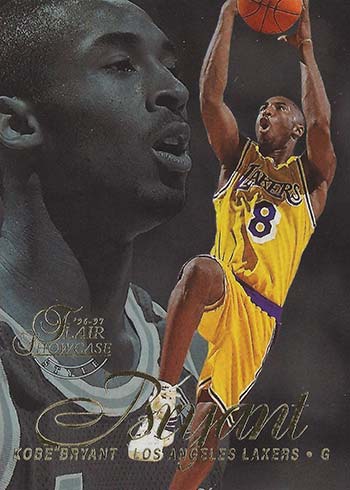 7. 1996-97 SkyBox Premium Kobe Bryant Rookie Card #55
Just because this card has "premium" in its name, it doesn't make it so. That said, it manages to be distinct without going too far over the top. Bryant is shown from a unique angle against a backdrop that's reminiscent of the moon. It's almost like a tame Costacos Brothers poster. And while somewhat glossy, the card, which is found in Series 1 packs, comes on fairly thin stock.
Parallels: Rubies
Buy it on: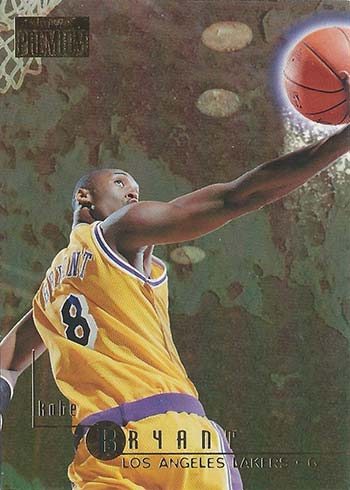 8. 1996-97 UD3 Kobe Bryant RC #19
It's too bad that UD3 never really found its footing as a brand. Despite being one of the more up-scale Kobe Bryant rookie cards, it's value is more in the median range. Looking beyond the fact that it has a cool Bryant leaning up against a brick wall, there's a fair bit going on here. The card lives up to its Hardwood Prospects subset with a textured stock that resembles wood. It's clearly more glossy, but it still has that tactile aspect. It's balanced against the rainbow foil shot of Bryant for some added pop.
Buy it on: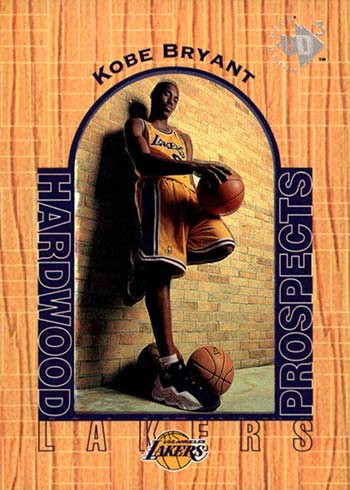 9. 1996-97 Ultra Kobe Bryant RC #52
Here's some of that intensity. At this point, Ultra had firmly established itself as a set for great photos and a glossy feel. The 1996-97 Ultra Kobe Bryant Rookie Card has both of those, showcasing a young star-in-the-making locked in and focused.
Buy it on: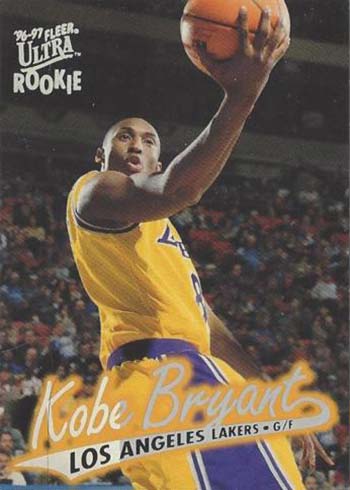 10. 1996-97 Metal Kobe Bryant RC #137
Let's put those quaint design aside for a bit. The 1996-97 Metal Kobe Bryant Rookie Card is anything but. From its foil stock to the loud "Fresh Foundation" font, this one screams 1990s. And let's not forget Bryant's cap. Those were the days. The photo comes from the press conference after the Lakers acquired Bryant not long after the 1996 NBA Draft from the Charlotte Hornets.
The Metal name has gained some larger recognition over the years, but that's more because of its next evolution, Metal Universe, and the ensuing Precious Metal Gems.
Buy it on: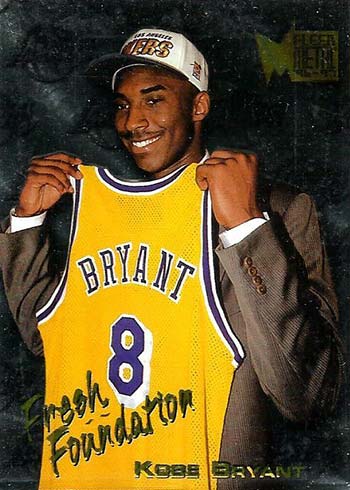 11. 1996-97 SP Kobe Bryant RC #134
The Upper Deck basketball portfolio wasn't very big in 1996-97. SP was as premium as it got. However, the brand was still a couple of years away from adding serial numbers to rookies and adopting the full SP Authentic name. As a result, this card is still very much on the affordable side despite its higher quality.
Buy it on: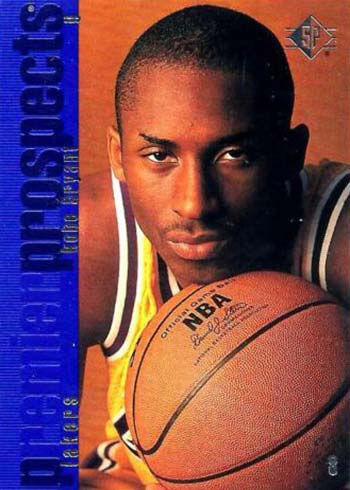 12. 1996-97 Z-Force Kobe Bryant RC #142
1996-97 Z-Force might not be the most valuable Kobe Bryant Rookie Card, but it certainly wins for having the busiest design. It's tough to know where to start between the many colors, handful of fonts and shredded curtain background. And what's up with Bryant? It's almost as though he's getting ready to go Hulk Hogan and rip his jersey in half. Although not exactly the same, 1997 Circa Baseball has a similar design.
Buy it on: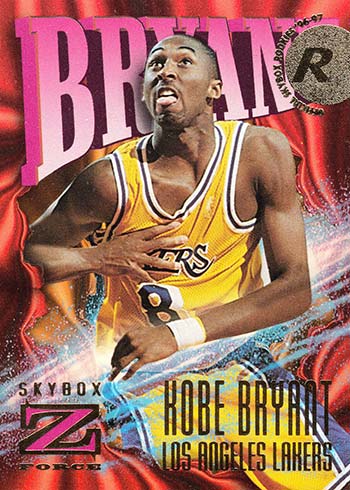 13. 1996-97 Upper Deck Kobe Bryant RC #58
Here's a rare card that shows a softer side to Bryant that's not often shown. Even as a teenager there was an intensity about him that would only grow as time went on. Upper Deck is always dependable for a slick base set that emphasizes photos over everything else. A nice touch on the 1996-97 set was the dated photos that add a layer of meaning.
Buy it on: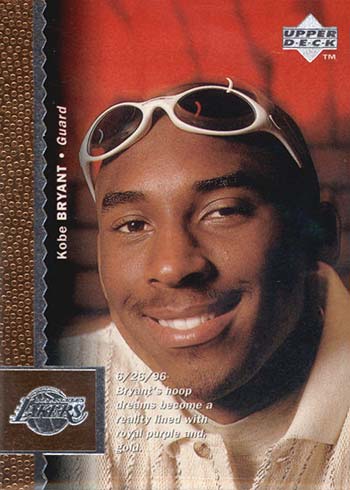 14. 1996-97 Hoops Kobe Bryant RC #281
Another simple card, the Hoops Kobe Bryant Rookie Card has a little bit going on, but most of the focus is on the largely full-bleed design. There are a couple of foil highlights with the name and somewhat large "Rookie" logo. As a base-level card, prices remain soft and this card can be had for about what you'd pay for lunch at a fast food restaurant.
Buy it on: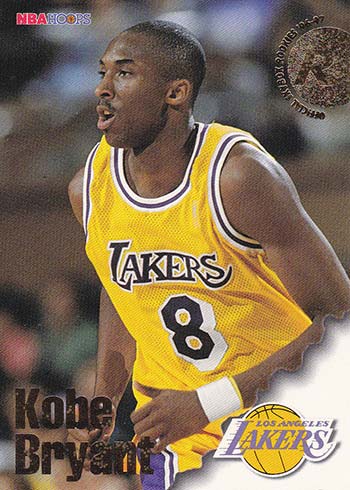 15. 1996-97 Fleer Kobe Bryant RC #203
Today, when we look back on Fleer's basketball sets from the 1990s, we think more about the wild sets that came out in the latter part of the decade once they were joined by SkyBox. While base Fleer basketball does have a history, much of that dates back to the 1980s with the landmark 1986-87 set. The Fleer Kobe Bryant Rookie Card doesn't have nearly the same lasting appeal as Michael Jordan's. Still, it offers a simple design that's clean.
Buy it on: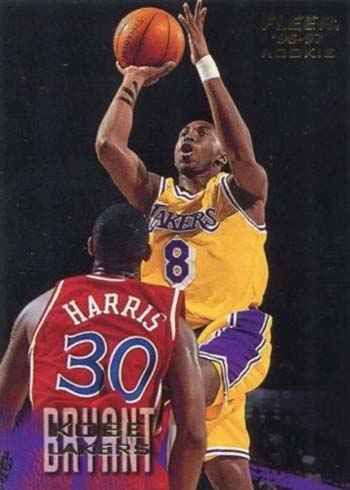 16. 1996-97 Collector's Choice Kobe Bryant Rookie Card #267
Like so many of the Kobe Bryant Rookie Cards, this one is very much affordable. While it doesn't have a premium feel to it, the look of Collector's Choice isn't bad. The photo has a lot more action than most of his other rookies. That said, the entry-level product has never been driven by value, which is apparent here.
Buy it on: