Most Intriguing 2016 Topps Allen & Ginter Autographs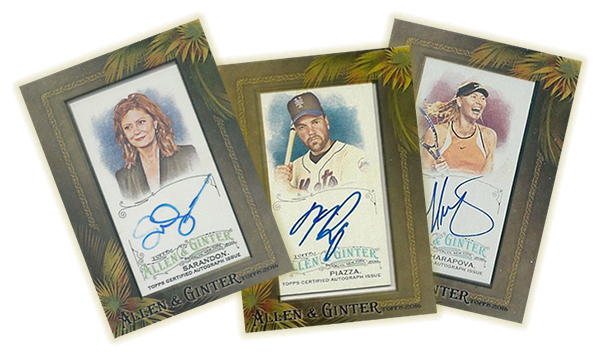 By Ryan Cracknell | Hobby Editor
It's tough to pin down the lasting appeal of Topps Allen & Ginter to one thing other than the fact that it has so much going on. However, a big part of it is the autographs. Over the years, the checklist has consistently mixed some of the top names in baseball with champions from other sports, both mainstream and far from it, and pop culture figures.
While not all of the Allen & Ginter autographs bring big values, the majority are interesting for their own reasons. The 2016 Topps Allen & Ginter Autographs are no different. The set takes a similar approach to previous years, mixing big and not-so-big names from baseball and beyond. With more than 100 signers to choose from, here are some of the most intriguing.
The following cards are interesting for their own reasons. While some are likely to be popular on the secondary market, that's not necessarily the focus here.
Intriguing 2016 Topps Allen & Ginter Autographs
Kevin Costner
We've seen Kevin Costner autographs before in 2015 Leaf Trinity and 2016 Topps Archives. Even without the "being first" sheen, we're still talking Kevin Costner here. And it's not your typical celebrity autograph either. It's an official Field of Dreams autograph where he's noted as Ray Kinsella, his character from the baseball classic. If we can't have a full set for the movie, this will do just fine.
Mike Piazza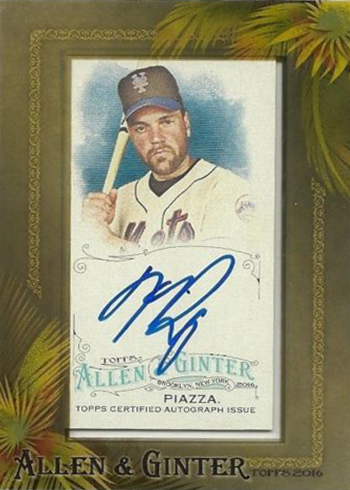 Now in its eleventh year, Allen & Ginter is starting to see repeats among their big-name baseball signers. Naturally, this can lead to diminishing returns and excitement. This is the first time Mike Piazza has a signed card for the brand. While it might not add much to the value, the fact that the set's release coincides with his induction into the Hall of Fame gives it a bit of an added backstory.
Jen Welter
Jen Welter might not be a household name, but she is a sports pioneer. A short stint with the Arizona Cardinals in 2015 made her the first female coach in the NFL. It was an internship that lasted through training camp and a couple of preseason games, but it still broke barriers. Welter played as a running back for the Texas Revolution in the Indoor Football League in 2014.
Susan Sarandon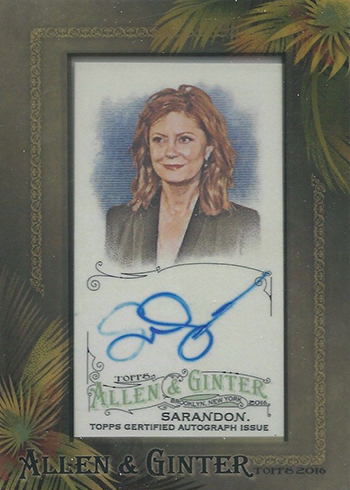 Susan Sarandon has been one of Hollywood's leading ladies for more than four decades. From Rocky Horror to Bull Durham to Thelma and Louise, she's reached both critical and mass appeal. This may not have the direct connection to Bull Durham like her 2016 Topps Archives autograph, but who's going to complain about a Susan Sarandon autograph?
Leigh Steinberg
Under normal circumstances, a sports agent might not be an interesting pull. Leigh Steinberg is one of the exceptions. Credited as being the inspiration for Jerry Maguire, he was also a consultant for For Love of the Game and Any Given Sunday, two other sports films. Over the years, Steinberg's client list has included Troy Aikman, Steve Young, Evander Holyfield, Thurman Thomas and Paxton Lynch.
Maria Sharapova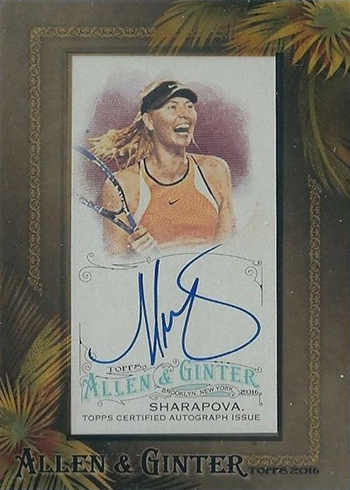 Given Maria Sharapova's recent suspension from tennis, the timing couldn't be worse for this card. That said, Sharapova is still one of the biggest names in not just tennis but all of sports. She's had autographs before but the vast majority are from old Ace Authentic sets that aren't known for being particularly attractive or wide-reaching.
Morgan Spurlock
If you eat nothing but McDonald's for a month, you deserve as trading card. Morgan Spurlock rose to fame for making Super Size Me, a documentary that sparked change and debate in the fast food industry. Although that may be his most popular film, Spurlock continues to be one of the most prolific and recognized documentarians in the industry today.
Andres Galarraga
If there was such a thing as the Hall of Really Good, Andres Galarraga would be a first-ballot inductee. He might not have a Cooperstown resumé, but he was still one of the best hitters of his time. A funny thing happened, though. Thanks to a small group of collectors, Galarraga can sometimes command big bucks for his rarest cards. Once the first couple of these 2016 Topps Allen & Ginter Autographs sell, there won't be massive prices. Still, it's an appropriate stop for one of the hobby's most surprising stars.
Michele Steele/Rick Klein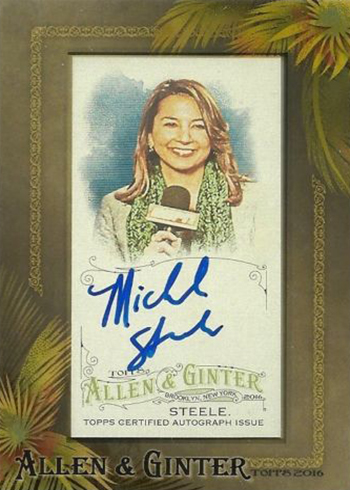 Michele Steele and Rick Klein join a growing number of media personalities to appear in Allen & Ginter over the years. What might make them stand out to collectors is their hobby connections. Steele was one of the host's for ESPN's Mint Condition segment that looked at cards and collectibles. She still works with ESPN as a reporter.
Laurence Levy
When it comes to major sporting events, Laurence Levy seems to not only be there, but there in plain sight of the TV cameras. The name "Laurence Levy" might not ring many bells, though. How about Marlins Man? This is the guy.
The Sklar Brothers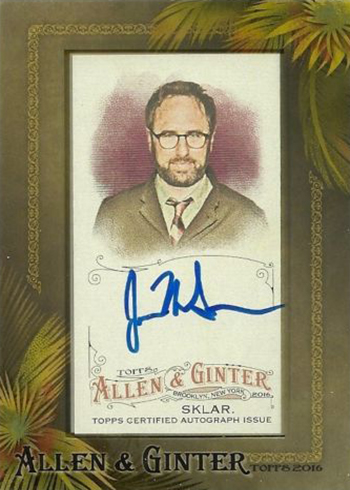 One could view the 2016 Topps Allen & Ginter Sklar Brothers autographs as joining the 2014 Michael Eisner as unofficial Topps employee cards. Eisner's role with the company as one of the owners is clear. For the Sklar Brothers, it's not quite so direct. A few years ago, they starred in the mockumentary-style web series Back on Topps about two brothers who inherited the company.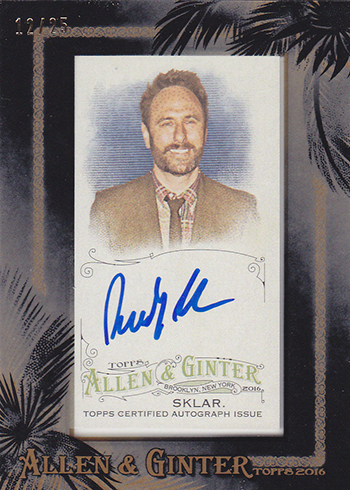 Comments? Questions? Contact Ryan Cracknell on Twitter @tradercracks.