Mookie Betts 3-Pack Picks – Beckett Pricing Insider
As the Red Sox continue their historic season, one player who has been in the spotlight is right fielder Markus Lynn "Mookie" Betts.
Last Thursday, Betts became the first player in MLB this season to hit for the cycle. It was just another example of how Betts has grown into one baseball's best talents. Voted in as a starter for the last three All-Star Games, he also has two Gold Gloves under his belt already.
Coinciding with his ascension into MLB's best, his card values have followed the same path, particularly this season. With almost 3,000 cards, there are many that stand out. Here are a few:
The Rookie – 2014 Stadium Club #140 Mookie Betts RC
The return of the brand for the first time since 2008, it doesn't carry the value of his RCs from Update or Heritage. That said, the 2014 Stadium Club Mookie Betts has made a huge jump since the beginning of the year. Available for just around $5 in March, sales now range between $15-$25. There are multiple parallels of this card, including Electric Foil, Gold, Members Only, Rainbow and a Foilboard that's numbered to 25.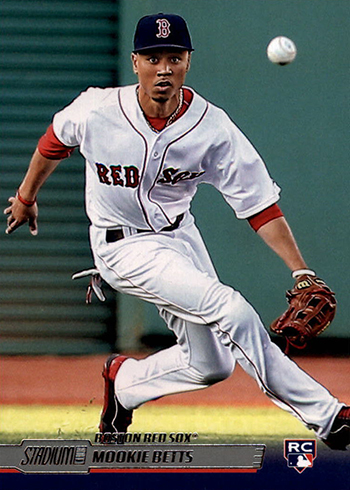 The Low-Price Autograph – 2015 Topps Spring Fever Autograph SFA-MB /225
With almost 200 autograph cards to his name so far, there is some selection out there. If you're looking for a deal on a low-priced Betts auto, 2015 Topps Spring Fever may be where you should look. Part of a hobby shop promotion at the beginning 2015 season, these were included in special packs given for spending more at the store. Autographs were randomly inserted. With recent sales around $60, this card provides an affordable option for collectors trying to get in while Betts is hot.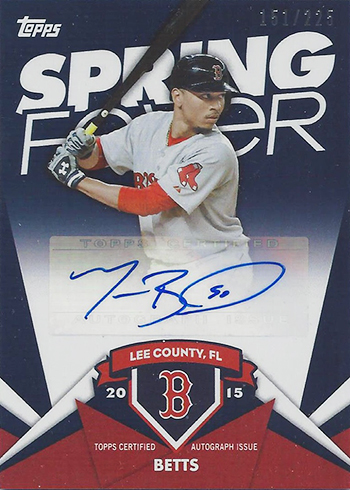 The Crème de la Crème – 2014 Bowman Chrome Prospect Autographs BCAPMB
Included in boxes of 2014 Bowman Baseball, like many players Bowman Chrome Prospect Autographs, this card carries the highest value of any of Betts' cards. The jumps that this card have made are tremendous. Until early 2016, it could be found for less than $80. By the 2016 All-Star Game it was around $120. By the end of 2016, it was up to the $200 range. Another spike $300 came around this time last year before dropping back down to about $175 by the end of 2017.
If you wanted this card, hopefully you got in then because by April this year, it was up to $350. Today sales are around $400.
As most Bowman Chrome sets, there are many parallels, including 17 different Refractor versions and four printing plates.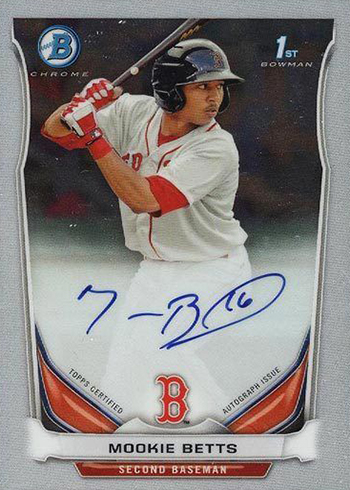 With the season the Red Sox are having and Betts' production I think his cards should stay on the upward slope. They will eventually slow down at some point but we could see another jump if the Red Sox end up winning the World Series.
Also something to note about Betts' is he also a professionaly bowler and has competed in multiple PBA events. He has bowled three perfect games, including one during the 2017 World Series of Bowling. So he may have some collectors from outside the baseball world.
This edition of the Beckett Pricing Insider is sponsored by MVP Sports Collectibles.