Moneyball: Just enjoy the show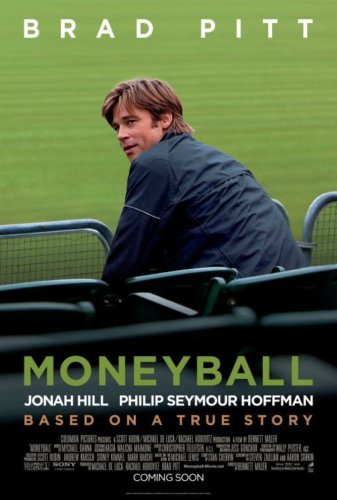 Monday Update: The film brought in $20.6 million during its opening weekend, good for second place. It's the largest opening weekend for any baseball movie, according to BoxOfficeMojo.com.
—
By Chris Olds | Beckett Baseball Editor | Commentary
Just enjoy the show.
You'll understand that when you see the new Brad Pitt baseball movie Moneyball, a film that's really not just a baseball movie — it's a drama that's one part sports film, one part business film and, without a doubt, a Film that will resonate for a few people for different reasons.
I have a few, which are reflected in my collection as well as moments in my career.
Sports fans probably all know how the Moneyball philosophy — finding undervalued talent via non-traditional statistical analysis vs. gut feeling and traditional methods — has worked out for the Oakland A's and GM Billy Beane since 2002. And we all know the outcome of that season, too.
But the film's finish — its message — is quite special.
To me, pair of moments — one on the field, one not — make the underlying message of the movie clear. And, of course, it's perfectly fitting that, of those two moments, one actually happened and the other is a bit of a Hollywood creation. (Neither of these is the real-life Hollywood moment in the film — Scott Hatteberg's home run that clinched Oakland's record 20th consecutive win. That's "the moment" for those thinking it's just a baseball movie … )
Moneyball is not just about sports — it's about life. And, more importantly, there's a reminder that the haves and have-nots are part of that, especially as seen in baseball. The film makes that aspect quite obvious in its opening moments after it opens with a Mickey Mantle quote.
"It's unbelievable how much you don't know about the game you've been playing your whole life."
Immediately after that, the film recaps the 2001 American League Division Series in which Beane's small-market A's were sent home by the New York Yankees in five games, noting the payroll disparity right on the screen to etch it into viewers' minds. (It's about a $80 million difference.) For a long-time Oakland A's fan, seeing that much Yankee — that much Derek Jeter — at the start of an A's film was painful. At least The Flip wasn't shown — that would have made me ill, and it would have messed up some of the Hollywood "adjustments" made about the 2002 A's roster and season, which most of the film focuses on.
Reason 1: Moneyball resonates with me because I'm an A's fan. (And I have the baseball cards to prove it!)
—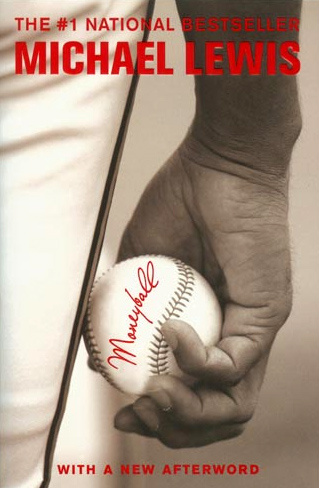 My first encounter with Michael Lewis' best-selling book, Moneyball: The Art of Winning an Unfair Game, came on May 26, 2003, in a Waterstone's bookstore in the Atlanta airport — all these years later my receipt remains my bookmark. I examined the magazine section of the store, finding nothing that appealed during a lengthy layover. I headed to the sports section and one book's starkly designed red and white spine with an unusual name jumped out at me from the shelf.
I flipped through the book, discovering it was about the A's — I hadn't heard about the book as I was living deep in college football territory at the time, Tuscaloosa, Ala., home of the Alabama Crimson Tide — and flipped through the pages, landing at Chapter 5.
The chapter's name? "The Jeremy Brown Blue Plate Special."
After reading a bit, I quickly realized it was that Jeremy Brown, the Crimson Tide's catcher who had been drafted by the A's in 2002.
Needless to say, I bought the book — and it became one of my favorites, if not the favorite of my collection. It was $25.39 well spent.
Reason 2: It resonates because of some unexpected hometown ties.
—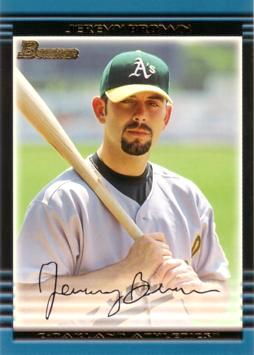 I remember the day Brown was drafted pretty well working in the sports department of The Tuscaloosa News — it was June 4, 2002, to be precise. I was working the front page of the sports section (click here to see it) and we had to re-do everything when Brown surprisingly was taken in the first round — just the third first-rounder in the history of the program. While the headline I wrote read "A's draft Tide catcher in first round," the story behind how that happened is found in the book, where Oakland's drafting strategy is chronicled along with the rest of its team-building philosophies.
Beane's discussions with the scouts about Brown — which didn't make the movie (save for perhaps a single line) — weren't flattering. An excerpt:
"This kid wears a large pair of underwear," says another old scout.

"Okay," says Billy.

"It's soft body," says the most vocal old scout. "A fleshy kind of a body."

"Oh, you mean like Babe Ruth?" says Billy. Everyone laughs, the guys on Billy's side of the room more happily than the older scouts across from him.

"I don't know," says the scout. "A body like that can be low energy."

"Sometimes low energy is just being cool," says Billy.

"Yeah," says the scout. "Well, in this case low energy is because when he walks, his thighs stick together."

"I repeat: we're not selling jeans here," says Billy.

"That's good," says the scout. "Because if you put him in corduroys, he'd start a fire."
How Brown was such a high draft pick, despite not being a top prospect, was because the Moneyball philosophy valued the ability to get on base more than other aspects of the game. Plus, the team agreed to draft him early so it could save money and sign him for less than the typical player at that spot.
Ultimately, though, Brown never lived up to his billing — he retired in 2008 at age 28 with a total of 10 at-bats in the major leagues. Yet, of all the big-league talent talked about in the book taken in the "Moneyball Draft" — New York Yankees All-Star Nick Swisher (my favorite player; make that Reason 3) and former Phillies starter Joe Blanton, for example — only Brown has a moment on the big screen where he is mentioned by name.
I won't give away what happens in the film, but it's an embarrassing play — yes, it happened — that is a metaphor for what Beane had just accomplished with the A's. It's also a play prompts one of the more memorable lines from Pitt — one that might end up being quoted by fans for some time.
"How can you not be romantic about baseball?"
Reason 4: Jeremy Brown's redemption. (Makes me feel much better about that late-night game-used bat purchase on eBay some time ago … I like it even more now.)
—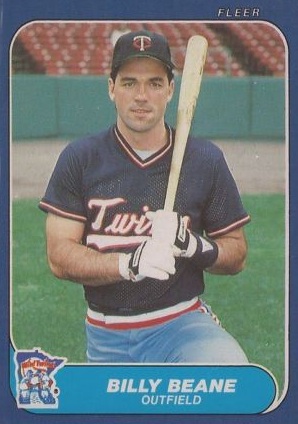 As a player, Beane was a bust. His playing career is quickly recapped in a few scenes to bring the point home in the film. However, his temper was showcased a bit, too  — though perhaps not as much as in the book — along with his competitive outlook of how he wanted to win it all in Oakland so they could show how they had changed the game.
Anyone who has opted to chase achievements or set goals for their career — or make decisions about their path in life — can appreciate this, especially if you're one of the "have-nots" trying to become a "have." Same goes for the use of data and analysis in gauging one's success vs. traditional, formulaic thinking — that's something that anyone in the business world should relate to.
One has to wonder whether Beane's disposition has tempered through the years and whether his decision to not take the Boston GM job resonate with him to this day. Interestingly, the details from real life — he took the job and then didn't — did not make the film.
Reason 5: Beane's disposition and drive — and how it perhaps evolves. (Makes me a bigger fan, reminding me of the baseball cards I still need!)
The second moment of the film, one partially created for dramatic effect, suggests that Beane's outlook might have changed or that he'd decided to just enjoy the show, enjoy his accomplishments, enjoy life — perhaps that's a message to those watching in the theater.
But that's all I'll say as I don't want to give away anything about the film's final scene. Instead, I'll recommend that you just enjoy the show.
I know I did.
Chris Olds is the editor of Beckett Baseball magazine. Have a comment, question or idea? Send an email to him at colds@beckett.com. Follow him on Twitter by clicking here.
—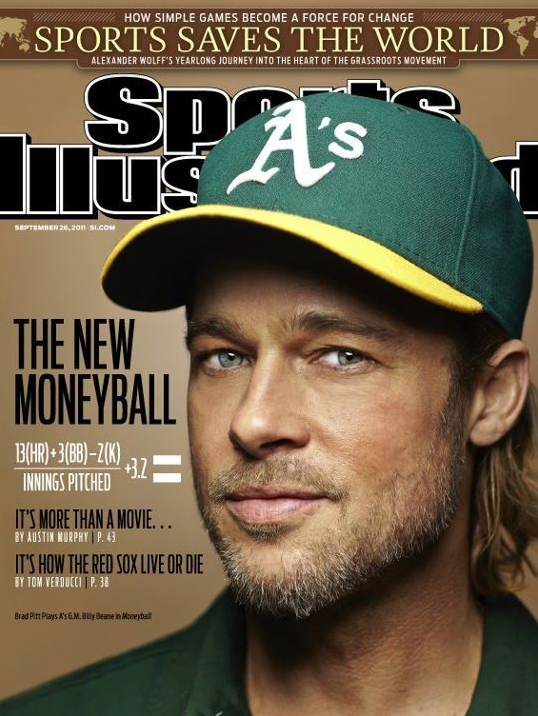 MORE MONEYBALL & MEMORABILIA
This month's Beckett Sports Card Monthly — The Sports Movie Issue

Sept. 19 — Collecting Moneyball won't be too tough
Aug. 10 — Second Moneyball teaser poster arrives
July 21 — Coming soon … Moneyball and its memorabilia
Oct. 21, 2008 — Casting Moneyball — the movie