Moneyball is almost here … and collecting the movie's memorabilia won't be too tough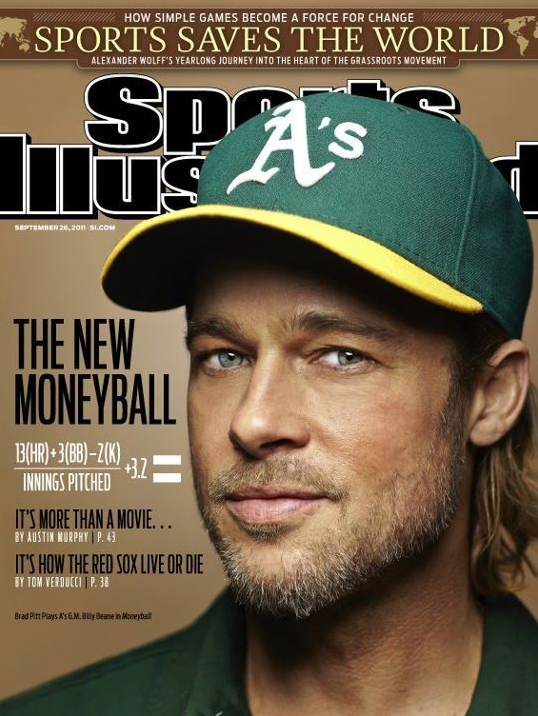 By Chris Olds | Beckett Baseball Editor | Commentary
The economics of Major League Baseball are set to play out on the big screen on Friday with Moneyball, and it's almost fitting that there's been a surge in interest for some of the baseball cards for some of the biggest names involved as well as some of the memorabilia involved.
A small surge of interest — one befitting a small-market team with a small cashflow. We can all relate to that, right?
We'll find out this weekend whether this latest sports movie — with Brad Pitt playing Oakland A's GM Billy Beane — cashes in at the box office, but here's a look at some of the stuff you can collect. You know … some of the cards, items and other pieces of memorabilia relating to the film.
First, have you seen the movie's trailer yet? It's right here …
[youtube]http://www.youtube.com/watch?v=AiAHlZVgXjk[/youtube]
—
WHAT'S NEW?
The newest piece of Moneyball memorabilia is this week's issue of Sports Illustrated, which features Pitt on the cover. While the issue hasn't technically hit newsstands just yet, that hasn't stopped some eBayers from trying to fetch $10 and up for the actor's first appearance on the magazine's cover. This is sure to be a popular item for sports-minded autograph seekers to get signed — and it could carry a distinct premium compared to other Pitt-signed items (which aren't cheap) once they arrive on the secondary market.
Of course, a limited number of copies also will be available in Uncirculated form directly from SI via Beckett Grading Service's program with the magazine, SI Uncirculated, very soon, too. (I already have one reserved — so it's not just a blatant plug!)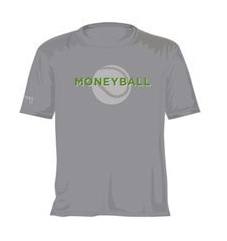 The magazine's arrival comes right on the heels of the Moneyball t-shirt giveaway Sunday in Oakland where the A's gave the first 10,000 fans in the stadium a shirt branded with the movie's name and a baseball. Believe it or not, these have sold for as much as $15 on eBay so far.
—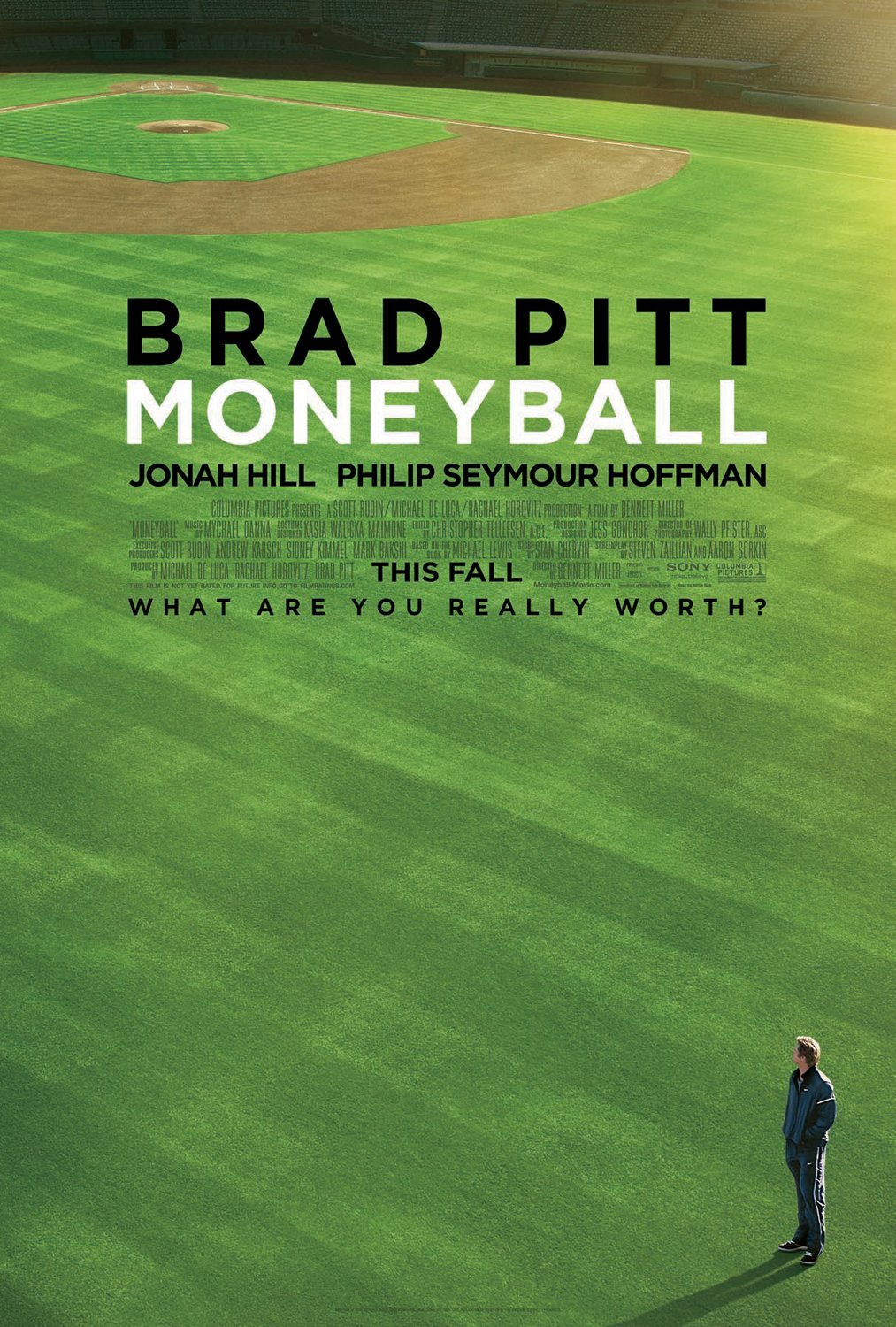 THE POSTERS
As mentioned in The Sports Movies Issue of Beckett Sports Card Monthly — in hobby shops and select bookstores now — there were a few posters created in advance of the film's release available in a few sizes and nothing comes close to beating the one-sheet when it comes to traditional movie collectors' biggest targets. The earliest poster is the version seen above, while there were three other one-sheets made for the film in the last couple of months. The other three are just slightly different from each other, and all are selling for roughly the same amounts ($20 or less). Larger bus shelter and banner posters can command a bit more as they're not as common — but, like most movie memorabilia, none will really break the bank.  (Find the issue, below, for more basics on movie memorabilia collecting as well as some other fun stuff.)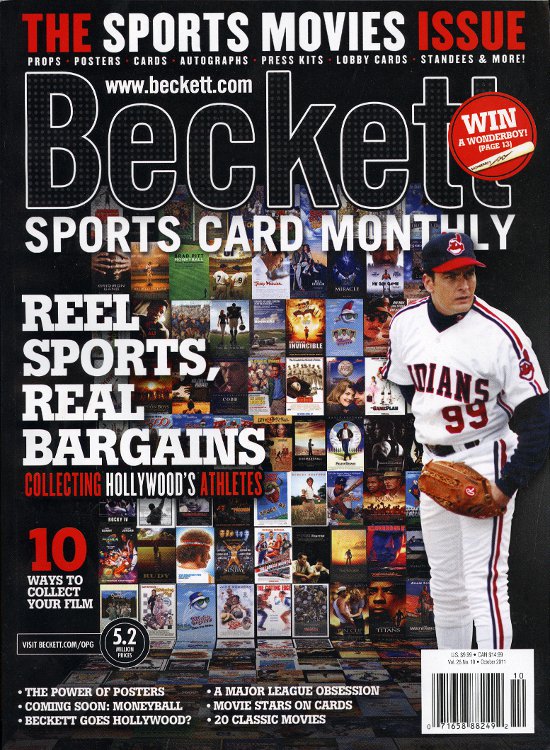 —
Then, of course, there's a pretty fundamental item …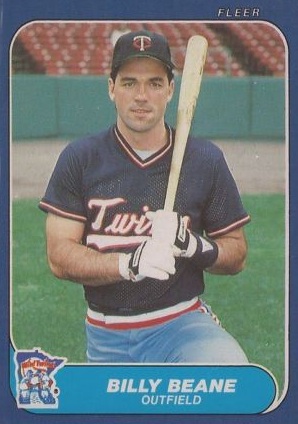 … THE BASEBALL CARD
It goes without saying that a movie about a real-life baseball team has plenty of cardboard tie-ins. While some of the players mentioned in the book might have some ebbs and flows in demand for their cards due to their performances on the field (and others are long-gone from baseball), there's been one winner so far in a few auctions and it's the guy who you might have seen alongside Pitt on ESPN today — Beane.
Beane, who was a bust as a highly touted prospect, is fittingly small-money on even the best baseball cards released during his playing days — two cards released in 1986. Both his 1986 Fleer Update XRC (above) and 1986 Donruss Rookie Card — his lone RC — typically sell for pocket change, maybe as much as $1. But that hasn't stopped one from selling for about $3 recently on eBay and asking prices currently in that ballpark among active auctions. (Like I said, small surge of interest so far — but who knows how things will shake out this week. The green-carpet world premiere is taking place tonight in Oakland.)
In all, Beane appears on just 17 cards with a total value of $38 (or less) in the Beckett.com database. How inexpensive are Beane' cards? Well, $25 of that total is attached to his 2004 Topps All-Time Fan Favorites certified autograph card. Interestingly, none of those have sold on eBay in the last couple of weeks.
Other former Oakland players mentioned in the book that Moneyball is based on who also appear on cardboard include: Miguel Tejada, Barry Zito, Mark Mulder, Tim Hudson, Nick Swisher, Jeremy Brown, Joe Blanton, Mark Teahen, Chad Bradford, David Justice and countless others. All could be part of a Moneyball collection quite easily.
Oh, and, for the record, Pitt appears on 10 trading cards as himself.
—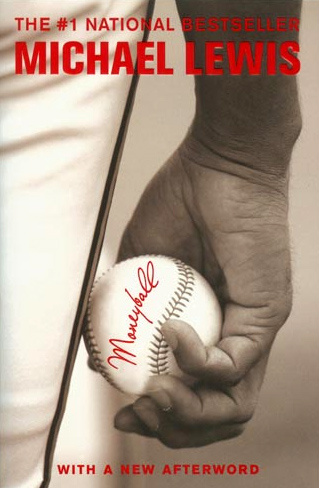 THE BOOK
Michael Lewis' 2003 best-selling book, Moneyball: The Art of Winning an Unfair Game, has been re-released with a cover matching the advance poster. Could first hardcover printings or signed copies be in higher demand now? I'm no book collector, but it might have been in demand already in some circles. It's an influential book that's praised as much as it's also criticized.
—
A uniform used in the filming of Moneyball. (SportsRobe photo)
THE PROPS
The uniforms used in the movie were provided by Sports Studio, a Culver City, Calif.-based company that specializes in aiding production companies in casting of films as well as providing accurate uniforms. The company's props division, SportsRobe, previously had been its own standalone company. (You name the film and its unis were probably made by them.)
Unfortunately for collectors, Sports Studio is not contractually allowed to sell or auction uniforms from this movie because of its business deals with the studio and Major League Baseball, according to CEO Mark Koesterer. However, any uniforms in Sony/Columbia's possession just might hit the auction block — and it wouldn't be shocking if the Oakland A's or MLB Auctions might have something up their sleeves soon.
For more details about Moneyball — and collecting sports movie memorabilia — check out the current issue of Beckett Sports Card Monthly.
Chris Olds is the editor of Beckett Baseball magazine. Have a comment, question or idea? Send an email to him at colds@beckett.com. Follow him on Twitter by clicking here.