Moneyball gives small sports memorabilia company some big exposure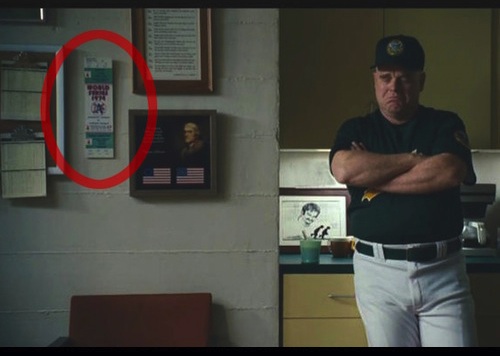 By Chris Olds | Beckett Baseball Editor
That's My Ticket's business plan is a simple one as it sells enlarged ticket stubs from notable past sports events as wall art — in essence making a big deal out of something small.
But with the arrival of Moneyball and the Hollywood big-screen, though, even its tickets got bigger.
"As soon as the movie released, we starting getting phone call and emails from customers saying 'I saw a Mega Ticket in Moneyball,'" said Dean Macchi, the Medway, Mass.-based company's president. "It's nice to know your making a product that is recognizable."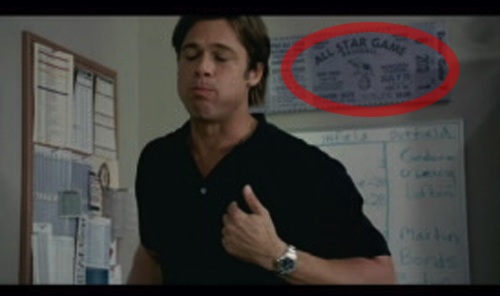 The film, which tells the story of the 2002 Oakland Athletics and GM Billy Beane as played by Brad Pitt, opened at No. 2 in theaters last weekend, bringing in $20.6 million. It was the largest opening-weekend total for any baseball movie.
Macchi said that the tickets' inclusion wasn't a surprise — but that it also wasn't a given that they'd make the cut, either.
"Major League Baseball contacted us first and said the folks from Moneyball needed our products for the set. Then we heard directly from Columbia Pictures," Macchi said. "So we sent them the same Oakland A's Mega Tickets currently hanging in their offices. But it was a leap of faith, we didn't know if they'd actually show up on film."
In one scene from the trailer (top), manager Art Howe, played by Philip Seymour Hoffman, stands in an office with a 1974 World Series mini ticket on the wall beside him. Another ticket, a 1960 All-Star Game stub, can be seen in a different scene (above).
Click here for a past Beckett.com story about the memorabilia company.
Chris Olds is the editor of Beckett Baseball magazine. Have a comment, question or idea? Send an email to him at colds@beckett.com. Follow him on Twitter by clicking here.