By Dan Hitt | Sports Data Publishing Manager
Every Monday morning throughout the NFL season, we selected our rookie, veteran and breakout players of the week with a run down on why collectors should take notice. For the postseason we'll select three standout players for each round. Here are our picks for the Wild Card round of the 2011 NFL Playoffs: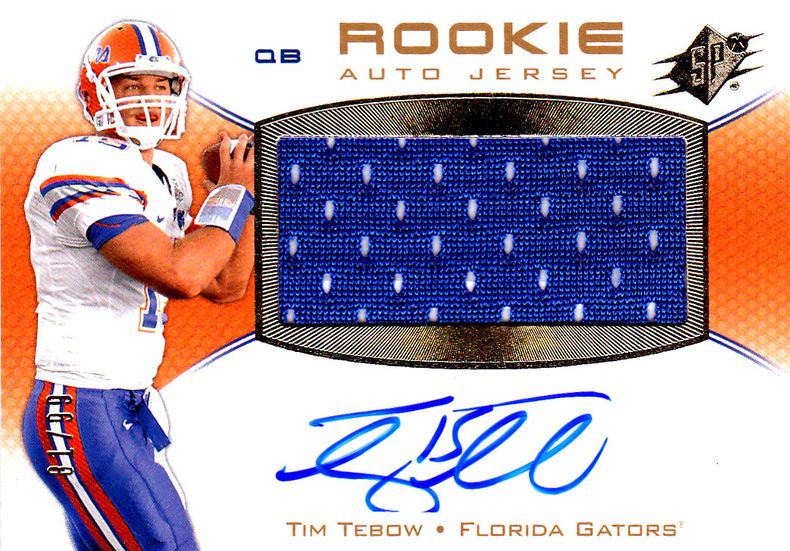 Tim Tebow, QB, Broncos
(316 yards passing, 2 TD passes, 50 yards rushing, 1 TD rushing)
 To call Tim Tebow's performance on Sunday incredible would be an understatement. In fact I'm not sure there are words to describe the unlikely occurrence of the Tebow led 8-8 Broncos defeat of the defending AFC Champion Steelers. The Steelers seemed to have everything on their side except for Tim Tebow and that's seems to be all the Broncos really needed.
 It's certain that we'll see more collectors jump on Tim Tebow cards this week. He's been hot all along but very few of his top cards have taken dramatic leaps upward in price. That may change this week leading up to the match-up with the Patriots – we'll be watching.
 Cards to Grab:
2010 Playoff Contenders #234A/B AU/400* RC ($175)
2010 SPx #102 JSY AU/99 RC ($400)
2010 Topps Five Star #180 JSY AU/50 RC ($300)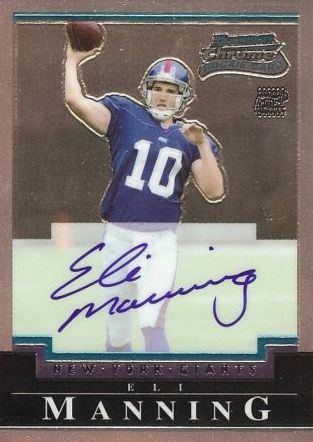 Eli Manning, QB, Giants
(277 yards passing, 3 touchdowns)
 Eli Manning has been one of the hottest names in football cards since entering the league in 2004. His autographed cards have been highly collected from the first appearance of them around Draft Day that year. Since that time, there is no telling how many tens of thousands of transactions have occurred on just a few of Eli's best 2004 signed Rookie Cards like SP Authentic, Playoff Contenders, and Bowman Chrome. Those cards were relatively volatile in his first four years in the league but have been stable since. If Manning and the Giants, with their great defense, can continue deeper into the playoffs it will be at the expense of the defending Super Bowl Champion Green Bay Packers. If that happens, watch for Manning's best cards to once again move higher.
 Cards to Grab:
 2004 Bowman Chrome #225 AU/199 RC ($250)
2004 Playoff Contenders #131 AU/372* RC ($250)
2004 SPx #221 JSY AU/375 RC ($135)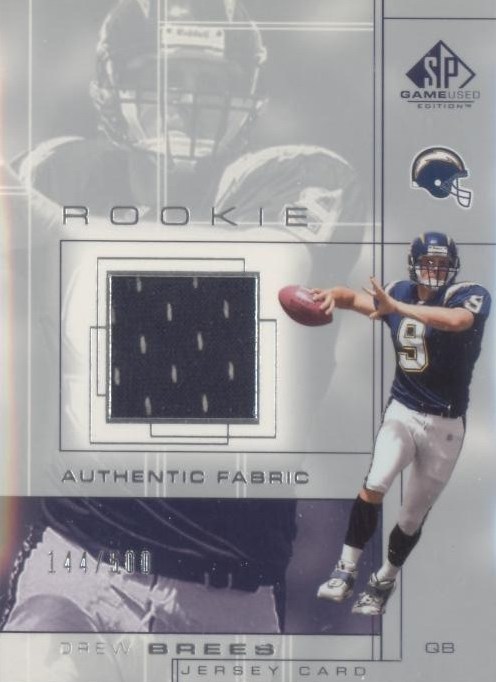 Drew Brees, QB, Saints
(466 yards passing, 3 TD passes)
 It's often said that the NFL is a quarterback league. That thought played itself out in the first round of the NFL Playoffs with some of the best quarterbacks in the league leading their teams to victory. Possibly none played as well as Drew Brees.
 Brees continued his assault on the record books by throwing for more than 450 yards against one of the toughest defenses of 2011. It's been more than two months now since Brees has passed for less than 300 yards in a game. In return, collectors have targeted Drew Brees' top 2001 cards in recent weeks making them some of the hottest in the entire hobby. His 2001 Playoff Contenders ($750), SP Authentic ($350), and SPx ($350) Rookie Cards have hit new all-time highs. Of course most of the rest of Brees' 2001 RCs have skyrocketed right along side of them. However, there could be some bargain priced Rookie Cards yet to be found if Brees' record setting season continues.
 Cards to Grab:
 2001 Playoff Honors #203 JSY/725 RC ($50)
2001 Select #272 RC ($30)
2001 SP Game Used Edition #93 JSY/500 RC ($60)