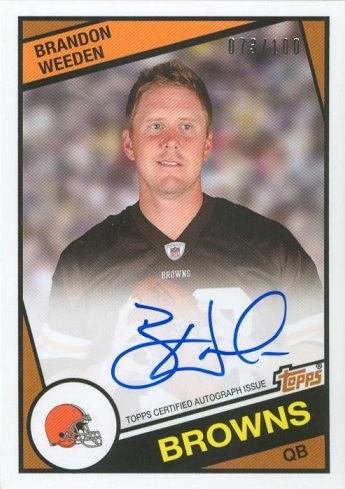 Update: The rookie stats for the quarterbacks were corrected to reflect just Week 2 statistics.
By Susan Lulgjuraj | Beckett Football Editor
The second week of football season has already seen some interesting storylines: the Philadelphia Eagles are somehow undefeated, the New Orleans Saints are winless and the rookie quarterbacks shined on Sunday.
The Monday Morning Collector is here to take a look at some of the performances and who collectors might want to check out on cards.
Rookie of the Week
Brandon Weeden, Cleveland Browns (Online price guide and player checklist): The 28-year-old rookie shocked the football world with his performance on Sunday, especially considering his abysmal debut. Weeden completed 26-of-37 yards for 322 yards and two touchdowns, but never hit any long passes. His longest pass against the Cincinnati Bengals was 27 yards.
Weeden's card value took a dip after last week, but he a player to monitor. He's probably a player in between these two starts. Better than a four-interception game and he's not going to throw for 440 yards every game.
Here's a look at the other rookie QBs this week, who all had very good games.
Robert Griffin III: 20-for-29, 206yards, 1 TD, 1 INT, 82 rushing yards and two rushing touchdowns.
Andrew Luck: 20-for-31, 224 yards, 2 TD
Ryan Tannehill: 18-for-30, 200 yards, 1 TD, 14 rushing yards and one rushing touchdown.
Russell Wilson: 15-for-20, 151 yards, 1 TD.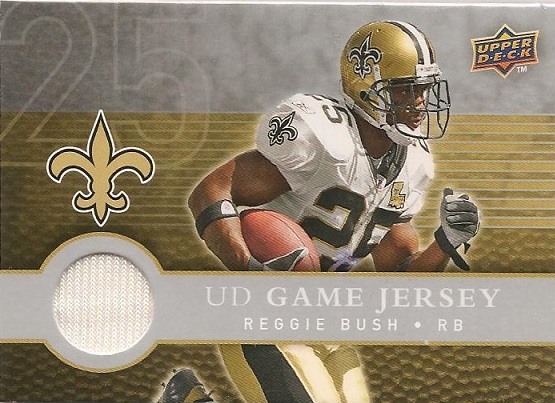 Veteran of the Week
Reggie Bush, Miami Dolphins (OPG and checklist): Bush is one of the few offensive threats for the Dolphins until Ryan Tannehill gets more acquainted with the NFL. Bush had 172 yards and two touchdowns on 26 carries. The USC graduate was highly touted out of college, but things didn't work out in New Orleans. His best season was 2007 when he rushed for 581 yards. The Dolphins will continue to use Bush as much as they can as they wait for Tannehill to adjust to the NFL.
Some of Bush's best Rookie Cards include
– 2006 Ultimate #206
auto /99 
– 2006 Leaf Rookies and Stars #273
jersey/auto /99
– 2006 Topps Chrome #221
Honorable mentions: There were some impressive performances this week from some of the NFL's veterans who deserve to be noticed. Eli Manning could have gotten the honor with his career-best 510 passing yards, but three interceptions hurt him. The beneficiaries of Manning's arm were Hakeem Nicks and Victor Cruz with 199 and 179 yards, respectively.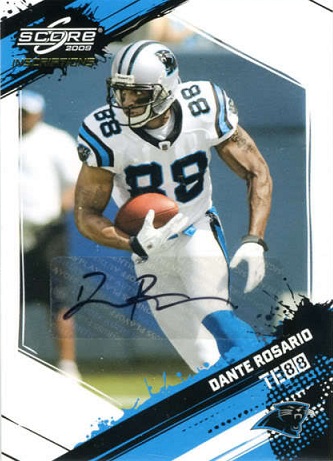 Breakout Performance of the Week
Dante Rosario, San Diego Chargers (OPG and checklist): Rosario didn't have the most yards in San Diego's 38-10 win over Tennessee, but the tight end hauled in three touchdowns on four catches. Rosario had five career touchdowns since 2007 coming into the game.
Rosario has just 93 cards and seven Rookie Cards. His Rookie Cards are all attainable with collectors being able to pick up most of them for just a few bucks. His highest valued RC is 2007 Playoff National Treasures autograph, which has a high book value of $20.
Honorable mention: In his third year in the league, C.J. Spiller had one of his best performances with the Buffalo Bills with 123 yards and two touchdowns on 15 carries in a 35-17 win over Kansas City.
Susan Lulgjuraj is the editor of Beckett Football magazine. You can email Susan here with ideas, comments and questions. Follow her on Twitter here.