Monday Morning Collector: Super Bowl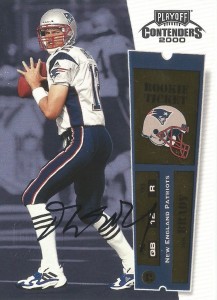 By Justin Grunert and Dan Hitt
Tom Brady, QB, Patriots
(328 yards passing, four touchdowns, 101.1 QB Rating)
Brady set a new standard for quarterbacks in the Patriots' Super Bowl win over the Seattle Seahawks. He now has the most total touchdowns in Super Bowl history (13), total yards (1,524), and completions (37). He also tied Joe Montana with his third MVP trophy. It wasn't a smooth victory by any means. He threw two interceptions and was sacked once. The Patriots also had to overcome a 10-point deficit in the fourth quarter, which is the biggest in Super Bowl history. With touchdown passes to Danny Amendola and Julian Edelman, Brady led the Patriots to their fourth Super Bowl title. Brady was easily the most-collected player on the field. Even though he was a sixth-round draft pick, he still has 44 Rookie Cards. Only his Playoff Contenders card has an autograph. We might see a few of his card values rise slightly, primarily lower-priced RCs and low-numbered parallels from highly collected brands. It's not feasible to expect all of Brady's cards to rise in value quickly since he has more than 7,800 different cards — that is one of the downsides of being a Brady collector. We should see a tightening of the market for the best Brady cards, though, making them very difficult to find at the lower end of the price range.
Cards to Grab:
2000 Bowman #236 RC ($60)
2000 Playoff Contenders #144 AU RC ($1,000)
2000 SP Authentic #118 RC/1,250 ($1,000)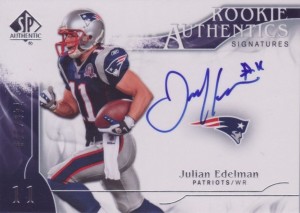 Julian Edelman, WR, Patriots
(nine receptions, 109 yards receiving, one touchdown)
Last season was a big one for Edelman. He was one of Brady's favorite receivers and finished with 92 catches and 972 yards. Edelman also had the best receiving numbers in the Super Bowl. He was the only Patriot to have more than 100 yards receiving from nine catches and added the game-winning touchdown, too. Edelman's card value has on the rise lately. Since 2013, several of his autographs have doubled in value. After his performance in the Super Bowl, his value definitely has room to grow. Consider that Edelman has just eight total Rookie Cards and that only four of those are autographed. With demand on the rise and collectors' focused on RCs, expect to see plenty of market activity in those Rookie Cards.
Cards to Grab:
2009 Exquisite Collection #158 AU/99 RC ($60)
2009 Playoff National Treasures #161 AU/99 RC ($40)
2009 SP Authentic #305 AU/999 RC ($35)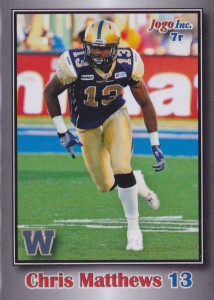 Chris Matthews, WR, Seahawks
(four receptions, 109 yards receiving, one touchdown)
Who in the world is Matthews? He is the guy who would be least expected to have a huge impact in the Super Bowl. Before this game, he had only 26 offensive snaps under his belt in the NFL and not one catch. After doing some research, people should not be too surprised by his performance. He was drafted by the Browns in 2011, but was stuck on the practice squad for the season. Matthews then went to Canada and he had a breakout year in the CFL, winning Rookie of the Year in 2012. The Seahawks then signed him this year. He did not have a pass thrown his way in all of the games he played in until the biggest game of them all. His 109 yards led the Seahawks in receiving yards, and if they had won he had a strong case for Super Bowl MVP. Matthews has an interesting hobby history in his short time as a pro. He has one 2011 Rookie Card in Panini Gridiron Gear. Matthews wasn't an official NFL rookie. though, since he never played in a game. Finally, four years after he was drafted, he is an official rookie with the Seattle Seahawks. Matthews' card value has skyrocketed (his RC went from $2 to $40) in the hours following his breakout performance.
Cards to Grab:
2011 Panini Gridiron Gear #243 RC ($40)
2011 Panini Gridiron Gear Silver O's/X's/250 #243 ($50)
2012 JOGO Rookies #7R/175* ($40)
—
Russell Wilson, QB, Seahawks
(247 yards passing, two touchdowns, 110.6 QB Rating)
Wilson was one yard away from being a Super Bowl hero. Instead, he threw his only interception of the game that ended the game for the Seahawks. Just two plays before, he connected with Jermaine Kearse for a completed pass that was more improbable than David Tyree's helmet catch. It seemed to spark life back into Wilson and the Seahawks, but it was not meant to be. Wilson had one of the most disappointing first halves for a quarterback in Super Bowl history. He didn't complete a pass until there was five minutes left in the second, but somehow managed to be tied at 14 going into halftime. The second half was another story for Wilson leading the Seahawks to a 10-point lead in the third quarter before losing. This game shouldn't have a huge negative impact on Wilson's card values. We believe that collectors will realize that in only three years in the league he has led his team to two Super Bowls and won one of them. Wilson's best card prices likely will not rise in the offseason, but don't count on people dumping them either. For those collectors convinced that Wilson can rebound from this disappointing loss, it may have opened up a good buying opportunity. It's possible that we could see some of Wilson's highest-priced cards being offered at low book values which may be a short-term value buy for some collectors.
Cards to Grab:
2012 Panini Contenders #225A AU/550* RC ($400)
2012 Panini National Treasures #325 JSY AU/99 RC ($1,200)
2012 Topps Chrome #40A RC ($15)